10 Mobile Tech Predictions for 2014
What does 2014 have in store for mobile technology? Experts, analysts and others share their predictions for smartphones, tablets, platforms, wireless network technologies, video and mobile banking in the coming year.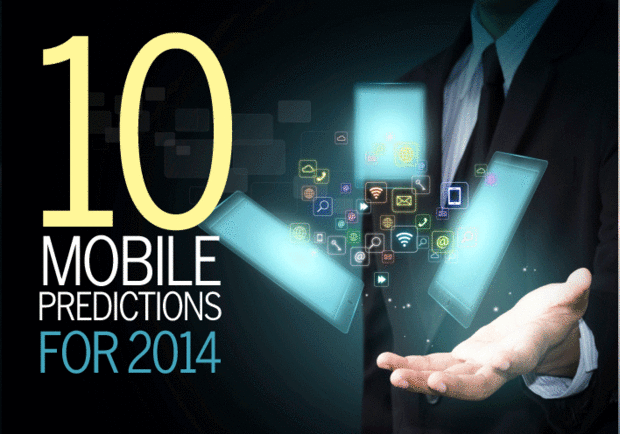 Mobile Tech in 2014
The year 2013 was a big one for mobile technology, and the pace of mobile advancement is expected to only increase in the coming year. Here are 10 predictions - from analysts, experts and companies that deliver various mobile services - on what to expect in mobile tech in 2014.
Phone/Tablet Sales to Dwarf PC Sales in 2014
The PC may not be dead, but it certainly isn't healthy, at least not according to IDC. Smartphone and tablet sales will continue to outpace PC sales by a factor of 2.5 to 1, IDC says. The PC slide will continue as spending drops by 6 percent, compared to 2013's 10 percent decrease in PC spending, according to IDC.
iOS, Android and Windows Phone to Duke it Out in 2014
IDC also predicts that Apple will see strong iOS-device growth and will maintain a 2-to-1 value per unit edge over Android, but it will also face a volume deficit of 3 to 1 vs. Google's OS. IDC thinks Google's Play Store will make serious progress toward rivaling the revenue collected by Apple's popular App Store, which could be a significant blow to Apple. As for Microsoft, "the clock is ticking" for its Windows Phone mobile OS, and IDC says the company needs to "increase developer interest by 50 – 100 percent to stay in the game."
The Rise of Mobile Video in 2014
In 2014, mobile video viewing levels will equal PC viewing for the first time, according to research firm Yankee Group. The change will be due to the availability of better devices, faster wireless networks and cheaper data plans. This will result in people spending more time watching video, or longer, TV-like content, on mobile devices, according to Yankee Group. Mobile video viewing will also begin to rival TV and DVR video consumption in 2014, the company predicts.
Consolidation in Mobile PoS Space in 2014
Mobile payments and mobile point of sale (mPoS) systems are really just starting to take off, but there's been no shortage of players trying to get into the game. Yankee Group predicts that consolidation will be the main trend in this space during the coming year. "We predict a surge of consolidation as several players look to exit the market," Yankee Group says. The company suggests that the slowest growth of mPoS in 2014 will be among merchants with one to 20 employees, which happens to be the main clientele of popular mPoS providers Square and PayAnywhere.
Mobile Banking to Make Strides in 2014
In 2014, some banks will begin to experiment with wearable gadgets, such as Google Glass and smartwatches, to let customers receive balance alerts and more using the tech, according to ACI Worldwide, a company that powers electronic payments. Banks will also investigate mobile person-to-person (P2P) payment tech further, according to ACI, and mobile P2P will replace remote deposit capture as "the next thing" banks need in mobile in 2014. Finally, ACI thinks banks will start to offer "mobile-only experiences" or features that are available exclusively via mobile.
Tablets Apps to Usher in True Death of PC in 2014
The year 2014 will not only see the sheer volume of mobile apps in the enterprise increase exponentially, but CIOs and IT shops will begin to focus on building apps for tablets and mobile form factors first then adapting to desktops, when necessary, according to CA Technologies CTO John Michelsen. "We will end up embracing tablets," in 2014, Michelson says. "I think the tablet becomes the primary form factor in 2014." Michelson thinks the real death of the PC form factor in business will begin when enterprise developers build apps specifically for tablets and scale them to fit desktops – a reversal of the traditional scaling down from desktop to smartphone or tablet.
SMS to Steal Spotlight from Apps in 2014
Steve French, VP of product management at OpenMarket, a mobile messaging and payments company, thinks the mobile "app frenzy will begin to fade" and "more enterprises in 2014 will increase usage of SMS, especially given consumer and employee familiarity with it." French says many CIOs will decide mobile apps are too expensive to build and maintain. French also thinks global businesses will rely more on SMS in 2014 due to its ubiquity and ease of use. "Consumers and employees actually prefer the quick and easy communication provided by SMS -- both to receive information from brands or to respond or inquire to brands themselves," French says.
LTE Security to Improve in 2014
All of the major U.S. carriers have LTE networks today, but according to Vikash Varma, CEO of Stoke, which provides wireless-network security products, "security used to be the red-headed stepchild whose attendance at the LTE party was optional at best." Wireless network operators will begin to take LTE security seriously in 2014, in response to "more intense cybercrime focus on mobile networks and a rising incidence of hack, such as eavesdropping, man-in-the-middle attacks and packet insertion." LTE security advancements and improvements will give carriers a competitive advantage, according to Varma, as enterprises seek out networks with proven security.
Wearable Tech, Gamification and Mobile Payments to Integrate in 2014
Lisa Falzone, CEO and co-founder of Revel Systems, which offers an iPad-based mPoS system, predicts that popular fitness and personal data trackers such as Fuelband, Fitbit and Up will begin to integrate with mPoS systems in 2014, to help consumers make informed decisions at restaurants or store checkouts about calories in food, for example. Falzone also suggests that gamification, in which users earn badges and rewards for activities, will start to play a role in mobile commerce. mPos systems could offer rewards, discounts and deals to customers based on usage or loyalty.
Mobile and Digital Currency to Go Mainstream in 2014
Revel Systems' Falzone also predicts the rise of digital currency such as PayPal and Bitcoin at checkout counters, where consumers will increasingly be able to use mobile apps and mobile services to pay for purchases. Falzone says the retail industry is at the forefront of breakthrough technologies and is headed towards a more integrated and user-friendly approach to retail, with mobile payments leading the way. Digital currency will prove to be a viable retail payment method in 2014, Falzone says.
Copyright © 2013 IDG Communications, Inc.
Next Up: Check out these related slideshows