CES 2014 Celebrity Watch: Tim Tebow, Janelle Monae & Very Motley Crue
Stars of sports, music, movies and TV to get their geek on.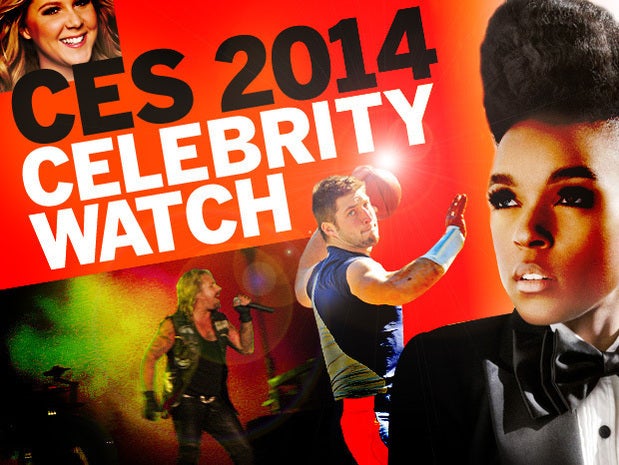 Pharrell Williams
The singer/songwriter/producer/fashionista, featured on this past year's Daft Punk hit song "Get Lucky" and Robin Thicke hit "Blurred Lines," will shill for a waterproof smartphone case company.


Maria Menounos
The ubiquitous TV host and roaming reporter will serve as ambassador for the Entertainment Matters program at CES developed for Hollywood's film, television and digital communities.
Fresh stars Olivia Munn, Janelle Monae & more
Variety is doling out its "Breakthrough of the Year Awards," which will bring the likes of America's Got Talent's Nick Cannon, Iron Man 2's Olivia Munn, musician Janelle Monae, comedian Amy Schumer, Veronica Mars' Kristen Bell and to CES.
50 Cent
Rapper Curtis "50 Cent" Jackson will be grooving at an audio company's booth.
Marley brothers
Rohan Marley and Ky-mani Marley, sons of reggae icon Bob Marley, will only be worried about promoting Earth-friendly headphones and audio gear.
Surfer god


Garrett McNamara, American professional big wave surfer known for breaking the world record for largest wave ever surfed in Nazaré, Portugal, will be riding the smartphone device case wave at CES.
Quinton "Rampage" Jackson

Professional mixed martial artist and actor will promote kick-ass phone cases.
Checkmate
World Chess Champion Magnus Carlsen will play chess in public at CES for the first time since winning the championship in Chennai, India in November 2013.  He'll be pitching for Nordic Semiconductor, which will host a press conference with Carlsen and present a Nordic-enabled heart rate monitor wristband that will give the audience the chance to see all chess players' heart rates on a large screen as they play.
Tim Tebow
The star college quarterback turned NFL QB turned football analyst will add "ambassador" for an audio electronics company to his resume.
INTELLIGENCE
Former "Lost" actor Josh Holloway stars alongside Marg Helgenberger (("CSI") and Meghan Ory ("Once Upon a Time") in the techie new CBS series INTELLIGENCE, which premieres during CES week. They'll be at the electronics show drumming up support for the TV show.
Motley Crue's Vince Neil
The lead vocalist for heavy metal band Motley Crue will be selling for a headphones company.
Mafia in the house
All music types will be at CES, including DJ Steve Angello of electronic dance music trio Swedish House Mafia. Yup, another headphone company pitchman.
NBA's Robert Horry
The seven-time NBA champion basketball player will be hooping it up for ZTE.
LeVar Burton
The Roots, Reading Rainbow and Star Trek: Next Generation star will be focused on the Kids@Play conference track at CES, including a panel discussion.
Chef Kerry Simon
Celebrity "Rock n' Roll" Chef Kerry Simon, who happens to work in Vegas, will be treating the press to a fancy feast. He'll be promoting the techiest of all gear at CES: Grills.
NFL player Reed Doughty
The Washington Redskins safety will discuss his experience with hearing loss and will be pitching for Siemens and its hearing products.
Copyright © 2014 IDG Communications, Inc.
Next Up: Check out these related slideshows