The Latest in un-PCs: Phablets, Transformers and Hybrid PCs
Computex in Taipei a coming-out party for Intel Haswell-powered devices.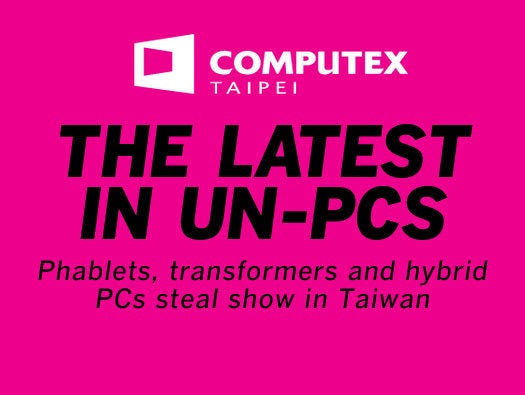 Just in case you haven't been keeping up with the doings in Taipei, Taiwan, this week at the Computex show, here's the scoop: Intel has ended the teasers over its fourth-generation Core processors, dubbed Haswell, and formally started shipping this more powerful and energy-efficient hardware. Quad-core models will power laptops and desktops, while dual-core Haswell processors will show up in PCs, laptops and tablets. Here's a look at some of the first products designed to use the Intel processors, plus a smattering of those based on other chips (product news reported by Agam Shah and Michael Kan of IDG News Service).
[RELATED: Windows Blue and Haswell: The Perfect Match?]
The Dell XPS 12 laptop-tablet hybrid will offer up to 9.5 hours of battery life, 3 hours more than its predecessor. This thin and light system will feature Intel's new Core i5 or i7 chips, depending on the configuration. The XPS 12 offers laptop and tablet functionality thanks to a revolving screen attached to the hinge. Starting at $1,119, the XPS 12 comes with Windows 8 Pro.
Cyberpower announced the $1,579 FangBook EVO HX7-200 laptop, which focuses more on performance than battery life. The laptop is geared for gaming with a 17.3-inch 1920 x 1080 pixel screen, a quad-core 2.4GHz Intel Core i7-4700MQ processor and an Nvidia GeForce GTX 780M graphics card. 
Just a day after Intel launched its new Haswell mobile processor, Sony unveiled two new laptops based on the chip. The VAIO Duo is a slider, that can be used as a tablet PC or, with the screen angled back, a laptop while the VAIO Pro is a thin and light Ultrabook. The VAIO Duo 13 will be available June 9 in Carbon Black and Carbon White and will cost $1,400, while the VAIO Pro models will be available in Carbon Black and Carbon Silver on June 9 and are expected to cost from $1,150 to $1,250.
U.S.-based Micro Center announced the PowerSpec G411 desktop for gamers starting at $1,399. The desktop comes with the new Intel Core i7-4770K unlocked processor, which will allow enthusiasts to crank up performance of the PC. The desktop also has the Nvidia GTX660Ti graphics card.
Dell has expanded its range of hybrid devices with the Haswell-based XPS 11, which can transform from tablet to laptop with the flip of a screen. The XPS 11 has a hinge that allows the panel holding its 11.6-inch screen to be folded almost 360 degrees so that the device can be used as a tablet. The design is similar to that of Lenovo's IdeaPad Yoga hybrids. The XPS 11 keyboard is tightly integrated into the chassis, so the keyboard buttons don't stick out when the device is being used in tablet mode. It will ship later this year with Windows 8.1, code-named Blue. Pricing was not disclosed. The 2560 x 1440 pixel display has a Gorilla Glass layer for durability.
Asustek Computer introduced a new "phablet" device called the Asus Fonepad Note FHD6, which is part Android phone, part tablet. The 6-inch phablet can be used for 3G phone calls, or to watch full-HD movies on its 1920 x 1080 pixel display. The company did not say how much the FHD6 will cost or when it will go on sale. The phablet has an Intel Atom Z2560 chip code-named Clover Trail+, which runs at 1.6GHz. Clover Trail+ was originally meant for smartphones, but is being adopted for tablets. Other features include an 8-megapixel rear camera and a 1.2-megaixel front camera. The device has front-facing stereo speakers.


Asus showed one of the most intriguing designs at Computex in its Transformer Book Trio, a dual-OS device that Chairman Jonney Shih described as a laptop, tablet and desktop all rolled into one. The Trio can start life as an 11.6-inch Android tablet running on an Intel Atom chip. It can be turned into a Windows 8 laptop by attaching a keyboard accessory. But the keyboard, which has its own Core i7 processor, can function independently as a Windows 8 desktop when connected to a wireless display. The Trio has a 1920 x 1080 pixel screen, and up to 64GB of storage. Pricing and a launch date weren't provided.
Acer unveiled the Iconia W3, which is an 8-inch Windows 8 tablet to be priced between $400 and $500 (Acer says it will be the first tablet of this size to run Win8). The Iconia W3 has a 1280 x 800 pixel resolution and is equipped with Intel's Atom Z2760 processor, a dual-core chip with a clock speed of 1.8GHz. It weighs 500 grams, comes in white, and has a battery life of up to 8 hours. Both the front and rear have a 2-megapixel camera. The tablet's small size makes it ideal for use with one hand, said Acer President Jim Wong.
Asustek Computer's Asus Memo Pad FHD7 is an Android tablet that weighs 302 grams and has a 7-inch display with a resolution of 1280 x 800 pixels, a 1.2-megapixel front camera and a 5-megapixel rear camera. It has a low-power Cortex-A7 quad-core processor. It will be available in emerging markets for $129 with 8GB of storage, but elsewhere the entry-level model will have 16GB of storage and cost $149.
Copyright © 2013 IDG Communications, Inc.
Next Up: Check out these related slideshows