11 Unique Uses for Google Glass, Demonstrated by Celebs
Think Google Glass is only for geeks? You might be right, for now, but it's only a matter of time before celebrities hop aboard the Glass bandwagon. Here's why.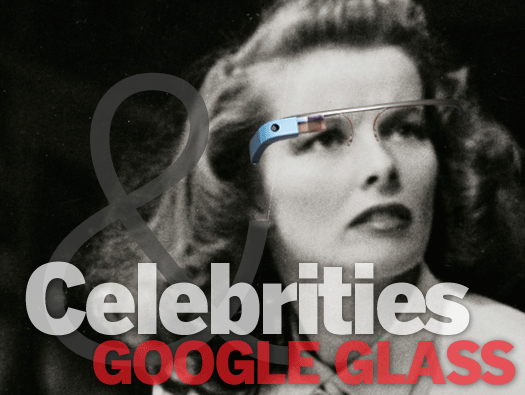 Celebrities and Google Glass
The common perception of Google Glass outside of tech circles is that it's an awkward looking, and kind of creepy, wearable camera. It is. But Glass is also much more. (Read "5 Things You Need to Know About Google Glass" for details.) The following slides offer a humorous take on some potential real-world uses of Google Glass, along with images of notable celebrities sporting Glass-es. (Big shout out to my longtime editor and friend, Shane O'Neill, who helped come up with the idea for this slide show.)
U.S. President Barack Obama and Google Glass
President Barack Obama is a bit of a gadget geek. The commander in chief made headlines during the past years with his public BlackBerry use and frequent iPad sightings. So it could only be a matter of time before he's seen exiting Air Force One rocking a customized, and secure, version of Google Glass. Glass could come in handy during the delivery of a State of the Union address. (Think: Mini teleprompter.) Glass could prompt the Prez with facts about foreign leaders and diplomats as he meets and converses with them. And Glass would also lend the Leader of the Free World some cred among younger, gadget-crazed citizens.
Angelina Jolie and Google Glass
I picture über celebrity, sex symbol and philanthropist Angelia Jolie reading scripts and memorizing lines for her latest starring roles inside a large, claw-foot tub made of ivory in a candle-lit bathroom that's bigger than my apartment, in some mountaintop villa in the Swiss Alps. Wearing Glass, and nothing else. What better way to avoid wet, wrinkly pages, or a submerged tablet, while simultaneously sipping Syrah than with digital scripts read on Glass? Ms. Jolie could also record point-of-view videos of her many red-carpet marches to share with her brood in the future or to bask in her glory days in old age.
The Dalia Lama and Google Glass
Being one of the most high-profile spiritual leaders in the world can't be easy. And neither can coming up with, and remembering, all those great quotes. Glass could assist His Holiness the 14th Dalia Lama in instantly recording and/or jotting down his insightful sentiments as they come to mind, without using his hands to start a recorder or launch an app. And Glass could display the appropriate quotes when prompted so the Dalia Lama could seamlessly read them without anyone knowing that they're not all actually memorized.
Mick Jagger and Google Glass
Mick and The Stones have been singing the same great, songs for decades. But let's face it; old age is clearly setting in, and Mick and Co. haven't exactly been storing up extra brain cells since the sixties. Belting out all those lyrics while gyrating on stage can't be easy. Glass could display song lyrics and other relevant show prompts during performances—and help cover up those crow's feet.
Tim Tebow and Google Glass
NFL superstar, friend o' Jesus and chick magnet Tim Tebow may have a lot of free time on the sidelines this year; as a member of the New England Patriots it's almost certain he will not be taking over the quarterback position from Pat's Heartthrob in Chief, Tom Brady. Tebow could use Glass not only study a digital version of New England's playbook while pretending to be watching the game on his Glass display, he could also brush up on the Good Book and read prayers to some of the heathens on the team. Amen.
Tim Cook and Google Glass
Apple's notorious for "borrowing" other companies' ideas, improving upon them and then selling them for exorbitant fees. Apple CEO could use Glass to, well, come up with a better version of Glass, add an "i" to its name and then task his marketing people with finding ways to make you buy it, regardless of price. iGlass hasn't even been announced yet—and it might not ever exist—but I already want one. Right now. iPlease?
Stephen King and Google Glass
America's Horrormeister Stephen King, who frequently imagines and writes about the fate of technology-obsessed societies in his novels and stories, could actually find a friend in Glass. The remarkably-prolific novelist could use spoken commands to search, research and record spur-of-the-moment thoughts and ideas, while writing, and then view search results without looking away or ever stopping his key clacking. King already wears goofy-looking Coke bottle glasses, so Glass might be an improvement in the style department.
Stephen Colbert and Google Glass
Stephen Colbert asked Google Executive Chairman Eric Schmidt for a pair of Glass-es, and when he was denied, the comedian built his own. Colbert clearly sees the (comedic) value in Glass, for things like reading and delivering lengthy jokes or on-the-fly show research. And he could also use Glass to instantly record jokes while keeping his hands free for wacky gesturing. Colbert's job is also to make people laugh, and he looks hilarious wearing Glass. So there's that.
Jenna Jameson and Google Glass
The good folks in the adult entertainment industry aren't wasting any time jumping on the Glass bandwagon. News of the first pornographic apps for Glass broke last month. And you can bet it will only be a matter of time before the Heavy Hitters in porn, including Jenna Jameson, add Glass to their collections of "toys." Point-of-view films are already popular forms of adult entertainment. (So I'm told…) And the possibilities are truly endless—come on, use your imagination. Glass could also be used to watch adult material, so in the future you should definitely steer clear of that creeper on the train wearing Glass-es.
Chef Gordon Ramsay and Google Glass
Any and all culinary creators could benefit from Glass; recipes and quick how-to videos could be viewed on Glass's tiny display, to free up hands. But Gordon Ramsay, the crankiest and most-caffeinated chef on TV, would give new meaning to the term "Glass-hole." Ramsay could bring up lists of reasons to blast frightened contestants on his various kitchen-themed shows. And Glass could add to Ramsay's intimidation factor. The gadget makes even the most mentally-stable folks look crazy; just imagine what it could do for a lunatic like Chef Ramsay.
Journalists and Google Glass
I've been poking fun at Glass ever since I saw it unveiled last year at Google's I/O developer conference, so I kind of hate to admit that the gadget could be quite valuable to journalists, editors and writers like me. I write a lot of how-to tips and tricks stories and product reviews, and Glass could help me capture product demonstrations and step-by-step walkthroughs from a first-person, user perspective. And then there's the illustrious unboxing video! The world clearly needs more PoV product unboxings, and Glass should take the traditional unboxing to the next level. I don't know about you, but I can't wait.
Copyright © 2013 IDG Communications, Inc.
Next Up: Check out these related slideshows