The Weirdest Tech Stories of 2013
From bathroom malware and the mystery Google barge to Chinese Moon landings and humanoid robots it has been one wacky high-tech year.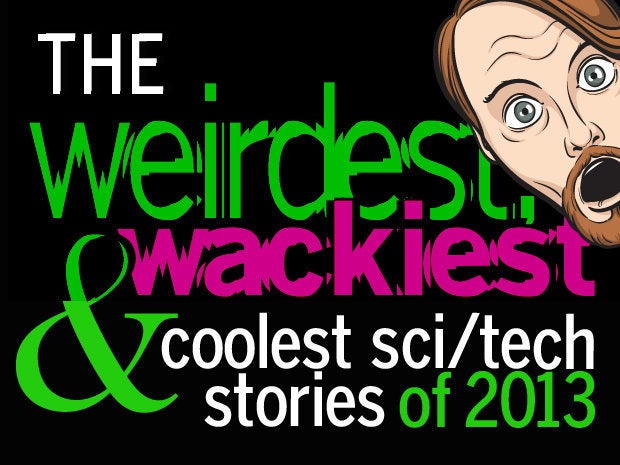 It's always a tall order to decide which high-tech stories are the wackiest or coolest of the year but we aren't shy about trying. This year we find all manner of interesting items from NASA's Voyager 1 spacecraft leaving our solar system and Microsoft developing sensory bra technology to a Verizon employee being locked underground and a man being arrested for stealing 5 cents worth of electricity.
Here we go!
Here we see the Armadillo-T, a foldable electric vehicle, at the Korea Advanced Institute of Science and Technology (KAIST). With a click on a smartphone, the experimental "Armadillo-T" electric car made in South Korea will park itself and fold nearly in half, freeing up space in crowded cities.
A prototype "parcelcopter" of German postal and logistics group Deutsche Post DHL flies in front of the company's headquarters in Bonn. Deutsche Post DHL recently said it had a drone called the "parcelcopter" that could be used to deliver packages. Amazon's Jeff Bezos caused a stir recently saying that Amazon was experimenting with a delivery drone service as well. But UPS and FedEx are also on the drone radar.
Sunlight is reflected from the Walkie Talkie tower in central London. The developers of a London skyscraper that reflects sunlight at such intense levels that it warped panels and melted mirrors on a parked car will not need to break the bank to fix the problem, a project source told Reuters.
Gold scale model of China's lunar rover "Yutu", or Jade Rabbit, on display in a glass case in Nanjing, Jiangsu province. China launched its first ever extraterrestrial landing craft into orbit en route for the moon in the small hours of Dec. 2, in a major milestone for its space program. The rover, carried by the Chang'e-3 lunar probe, landed on the moon in mid-December.
Dr. Bertholt Meyer (R) and James Pope assist the robot "The Incredible Bionic Man" while it walks at the Smithsonian National Air and Space Museum in Washington. The robot is the world's first-ever functioning bionic man made of prosthetic parts and artificial organ implants.
NASA in September said its 36-year-old Voyager 1 spacecraft had officially become the first human-made object to enter into interstellar space. For the past couple of years scientists have been arguing whether the venerable spacecraft had in fact left our solar system.  But in a press conference today Don Gurnett and the plasma wave science team at the University of Iowa said new data obtained around Aug. 25, 2012 indicated Voyager had indeed moved into interstellar space.
Who knows, maybe this is more complicated then Windows security. Microsoft researcher said they were set to develop sensors that could be tucked inside a bra to detect emotional circumstances that lead to overeating in time to head off binges. In combination with a smartphone app that receives the emotional data in real time, the technology could help overeaters stop themselves before they give in to the impulse. The bra was the garment of choice because it is worn near the heart to accommodate an EKG and if placed on the side the skin-conductivity sensor sits over an area moist enough to give good readings, a Microsoft whitepaper on the subject states.
"Smart Tooth", which is about one centimeter long, is a sensor designed to be embedded in the artificial tooth in order to track people's daily habits like chewing, smoking, drinking, coughing or overeating. The sensor can detect mouth movements and the attached wires can send data to researchers, according to Kelvin Li, a "Smart Tooth" researcher at the university.
Twelve-year-old Leon McCarthy (R) rests his prosthetic hand on a MarkerBot Replicator 2 Desktop 3D Printer, while talking to the company's CEO Bre Pettis, at the new MakerBot store in Boston. McCarthy, whose prosthetic hand is made of parts printed from a MakerBot 3D printer, broke a piece of it while playing football, so he printed a new finger to repair it.
The Turanor PlanetSolar, the world's largest solar-powered boat, travels on the Seine river in Epinay-sur-Seine, near Paris. PlanetSolar, a catamaran powered exclusively by solar energy, completed the first solar-powered trip around the world last year after travelling over 60,000 km (37,282 miles) in 584 days.
Professor Karl Oldhafer, chief physician of general and visceral surgery at the Asklepios Hospital Hamburg-Barmbek, performs liver surgery, one of the first surgeries of its kind in Germany with the support of a tablet computer to access and visualize planning data. The tablet computer uses augmented reality, which allows the liver to be filmed with an iPad and overlaid during an operation with virtual 3D models reconstructed from the real organ. Developed by Fraunhofer MEVIS in Bremen, this procedure helps locate critical structures such as tumors and vessels and is expected to improve the quality of transferring pre-operational resection plans into actual surgery.
Mechatronics engineer Ben Schaefer (R) interacts with humanoid robot bartender "Carl" as it prepares a drink for a guest at the Robots Bar and Lounge in the eastern German town of Ilmenau. The Humanoid robot bartender "Carl", developed and built by Schaefer who runs a company for humanoid robots, prepares spirits for the mixing of cocktails and is able to interact with customers in small conversations.
The mystery Google barge. A barge built with four levels of shipping containers is seen at Pier 1 at Treasure Island in San Francisco.  Google says the barge is "an interactive space where people can learn about new technology." But who knows?
The wide-angle camera on NASA's Cassini spacecraft has captured Saturn's rings and planet Earth and its moon in the same frame in this rare image taken on July 19, 2013. A robotic space probe nearly 900 million miles (1.5 billion km) from Earth turned its gaze away from Saturn and its entourage of moons to take a picture of its home planet, NASA said on Monday. The resulting image shows Earth as a very small, blue-tinged dot - paler and tinier than in other photos - overshadowed by the giant Saturn's rings in foreground.
Virgin Galactic's SpaceShipTwo flies over the Mojave Desert in California April 29, 2013 shortly before successfully completing a test flight that broke the sound barrier. Owner Virgin Galactic plans to start flying people aboard SpaceShipTwo as soon as test flights are complete.
The Robonaut 2, the first humanoid robot in space, is shown here onboard the International Space Station. Robonaut was designed with the intention of eventually taking over tasks deemed too dangerous or mundane for astronauts, perhaps even venturing outside the complex to assist spacewalkers.
NASA's new Earth-bound rover, GROVER, which stands for both Greenland Rover and Goddard Remotely Operated Vehicle for Exploration and Research, in Summit Camp, the highest spot in Greenland. GROVER is an autonomous, solar-operated robot that carries a ground-penetrating radar to examine the layers of Greenland's ice sheet. Its findings will help scientists understand how the massive ice sheet gains and loses ice.
Here we see a piece of a meteorite was lifted from the bottom of the Chebarkul Lake, placed on display in a local museum in Chelyabinsk, according to Reuters. The meteorite exploded over central Russia in February, raining fireballs over a vast area and causing a shock wave that smashed windows, damaged buildings and injured more than 1,000 people, according to local media.
Scientists launched the 135-partner institution of the Human Brain Project which will use supercomouters such as the IBM Blue Gene Q to develop research and develop a deep understanding of how the human brain operates.
Private Mars mission planners said recently that Lockheed Martin is onboard to build the spacecraft that would land a technology demonstration robot on the Red Planet by 2018. The Mars One group ultimately wants to establish a human outpost on Mars. The lander robot would use technology Lockheed previously built for NASA's Phoenix lander which touched down on Mars in 2008. 
The Defense Advanced Research Projects Agency is looking to shelve the heavy glass lenses and mirrors that make up the key components of space telescopes. The agency said it successfully demonstrated a ground-based prototype telescope that used lightweight polymer membrane optics to replace traditional glass mirrors as part of its Membrane Optic Imager Real-Time Exploitation (MOIRE) project. DARPA says MOIRE aims to create technologies that would let future high-resolution orbital telescopes provide real-time video and images of the Earth from Geosynchronous Earth Orbit (GEO)-roughly 22,000 miles above the planet's surface. Size, weight and cost limitations have so far prevented placing large-scale imaging satellites in GEO. 
One of the most interesting predictions by Gartner this year: By 2024, at least 10 percent of activities potentially injurious to human life will require mandatory use of a non-overideable "smart system."
The idea is cool enough - build a reusable aircraft-like system that could easily and relatively cheaply launch satellites into orbit. The Defense Advanced Research Projects Agency (DARPA) announced the XS-1 program which is set to design, build, and demonstrate a reusable Mach 10 aircraft capable of carrying and deploying an upper stage that inserts 3,000 to 5,000 pound payloads into low earth orbit (LEO) at a target cost of less than $5 million per launch.
What might have started out a whimsical protest against government surveillance tactics has morphed into a little more than that as a small town in Colorado has found itself overwhelmed with requests and cash for a unmanned aircraft hunting license that doesn't exist  - yet. In June a resident of Deer Trail, Colo., proposed a town wide ordinance that would offer $25 licenses to hunt and shoot down government drones if they flew within 1,000 feet above private property -- with a $100 bounty if one actually got shot down. As of this writing, a district court is looking into whether the ordinance would be legal.
Men are supposed to be from Mars as John Gray's iconic relationship book would have you think, but new research presented this summer suggested that in reality; we all may hail from the Red Planet. "The evidence seems to be building that we are actually all Martians; that life started on Mars and came to Earth on a rock. It's lucky that we ended up here nevertheless, as certainly Earth has been the better of the two planets for sustaining life. If our hypothetical Martian ancestors had remained on Mars, there might not have been a story to tell." Professor Steven Benner of The Westheimer Institute for Science and Technology told the Goldschmidt geochemistry conference.
The now former Secretary of Homeland Security Janet Napolitano told a gathering at the  at the National Press Club in August that the United States will among other security challenges - "face a major cyber event that will have a serious effect on our lives, our economy, and the everyday functioning of our society." In what she called an "Open Letter to My Successor, she stated "by "while we have built systems, protections and a framework to identify attacks and intrusions, … and develop plans and capabilities to mitigate the damage, more must be done, and must be done quickly. " The letter ended with a warning:  "You will need a large bottle of Advil."
One might presume the bathroom would be safe from online miscreants - one would presume wrong. A security bulletin from Trustwave SpiderLabs told of a flaw in the Android-based software that controls one of these new-fangled smart toilets that will let anyone bent on creating pure mayhem make the commode go absolutely nuts.
Two dead stars smashing into each other and releasing massive amounts of energy may have created all of the heavy elements such as gold found on Earth. That's the main conclusion of Harvard-Smithsonian Center for Astrophysics (CfA) researchers who estimated such a collision and subsequent blast of energy known as a gamma-ray burst produced and ejected as much as 10 moon masses worth of heavy elements - including gold. "Quite a lot of bling!" said lead author of a paper outlining the discovery, Edo Berger of the Harvard-Smithsonian Center for Astrophysics.
Thanks to my colleague Buzzblog for this one: Not since Arlo Guthrie found himself behind bars in the "Alice's Restaurant Massacree" has an alleged miscreant been locked up over so little: Demonstrating a shocking lack of common sense, police in Georgia recently arrested a man for "stealing" electricity from a school where he plugged his car in for 20 minutes during his son's tennis match. Value of the allegedly stolen goods: 5 cents, according to one expert.
Again, according to a Buzzblog post: A Massachusetts Verizon technician, working inside of an underground telecommunications vault, was forced to summon the police via 911 after a 71-year-old man closed the cover and piled stones on the lid, causing the worker to fear he might suffocate.
NASA recently said it would test a laser communications system that could in the future deliver high-definition 3D video signals from Mars and beyond. The lunar laser communications demonstration will be part of the agency's Lunar Atmosphere and Dust Environment Explorer (LADEE) mission. LADEE is expected to orbit the moon and collect information on the lunar atmosphere. 
Copyright © 2013 IDG Communications, Inc.
Next Up: Check out these related slideshows