10 Ways IT Pros Can Reduce Stress at Work
These relaxation techniques will help even the most frantic tech workers combat stress in the office. Creating a daily routine can help bring your mind and body back in balance and help you reduce the tension of everyday life in a busy IT environment.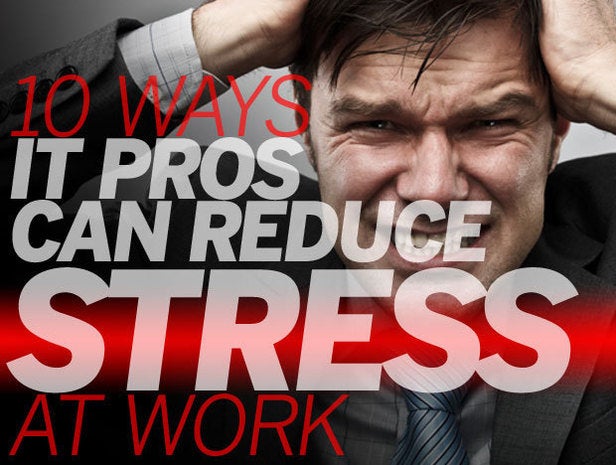 Stress is a fact of life, but it doesn't have to ruin it. Over time, hormones like cortisol, produced by the 'fight or flight' response to stress, can wear you down and make you tired or irritable, affect your ability to manage your daily responsibilities, and even make you sick.
Here are 10 relaxation techniques you can use to combat stress; some you can even do at your desk. While not all of these are effective for everyone, finding a combination that works best for you and that you can fit into your daily routine can help bring your mind and body back in balance and help you reduce the stress of everyday life.
Deep Breathing
This is a powerful relaxation method that's easy to learn and can be practiced almost anywhere. Place one hand on your stomach, and the other on your upper chest. Breathe in through your nose, extending your abdomen muscles so that the hand on your stomach rises, and out through your mouth, making sure the hand on your chest moves very little. When you exhale, push out as much air as possible, contracting your abdomen muscles. Repeat as necessary.
Progressive Muscle Relaxation
Here's another method you can practice right at your desk. Progressive muscle relaxation involves sequentially tightening and relaxing muscle groups; over time, this practice can help you become familiar with the physical signals of stress in time to head them off.
Most practitioners start with the feet and move upwards on the body, ending with the face. To start, slowly clench the muscles of your right foot, hold for a count of ten, then slowly release. Repeat on the left side, moving to your calves, then thighs, abdomen, then the hand and arm muscles, the back, neck, and finally the head and face.
Meditation
There are many different forms and methods of meditation practice, but here we'll focus on 'mindfulness meditation.' This practice involves focusing your attention on a single repetitive action or object like your breathing, a repeated phrase, or a flickering candle.
Find a quiet environment, free of most distractions. Breathe deeply, using the deep breathing exercises mentioned previously. Find a point of focus, whether that's an internal thought or feeling or an external object to hold your attention. Don't worry about distracting thoughts that may enter your mind; simply let them go and return your attention to your focal point
Yoga
Think yoga's out of your reach because you can't even touch your toes? Think again. Yoga is nothing more than a series of both moving and stationary poses combined with deep breathing; anyone can modify yoga positions to adapt to their body type, fitness level, injuries, or experience, making it a great way to combat stress.
Yoga can also improve flexibility, strength, balance and stamina. But since injuries can happen if you're practicing poses incorrectly, your best bet is to find a studio that offers group or private classes or, at the very least, following along with a video.
Other Exercise
Does your office have a weight room? Pump some iron on your lunch break. Even just a few sets can significantly lower stress. If there's not a weight room, take a walk around the building or climb a few flights in the stairwell.
Nutrition
What you eat and when could be contributing to the negative effects of stress on your body. Try to avoid substances that will induce spikes and crashes in blood sugar, like caffeine and sugar. Sugar can make your blood sugar spike and then crash, which will add fatigue onto your list of stressors.
Some superfoods that can combat stress include: asparagus, beef, almonds, blueberries and tuna, as well as cereals made with rice and corn.They're fortified with B vitamins and folic acid.
Dim the Lights
The glare of those fluorescents may be adding to your stress levels. Sunlight offers a full spectrum of light, while fluorescent lights have been shown to increase fatigue, dizziness, headache, eye strain, and can even contribute to symptoms of depression. No wonder you're stressed.
Try to expose yourself to at least 15 minutes of natural sunlight each day. At the very least, try using a desk lamp or a table lamp at your desk to help add to the spectrum of light you're exposed to.
Naps
Twenty to 30 minutes of sleep in the afternoon can give your brain a reboot, freeing up new energy and increasing your ability to finish your workday on a productive note.
For all but the most progressive companies, napping at work can be a fireable offense, so make sure if you're going to doze off, you have an alarm set. Try napping in your car, in a conference or break room, or head to the closest bookstore or department store, which often have copious couches and chairs.
Get a Pet
Studies going back to the 1980s have shown that staring at fish in an aquarium can help reduce stress. Get a goldfish or two and keep them in a bowl on your desk for an instant way to calm down and relax.
If All Else Fails: Have a Drink
Of course, a couple drinks at happy hour, commiserating with colleagues and friends can go a long way toward not only building relationships, but toward reducing stress. Sometimes, all you really need is to blow off a little steam.
Copyright © 2013 IDG Communications, Inc.
Next Up: Check out these related slideshows