How to Use Google's Keyword Planner for SEO (and 7 Free Alternatives)
Google's new Adwords Keyword Planner is geared for PPC rather than organic SEO, but it can still be useful for keyword research. Here are five ways to use the new tool -- plus, seven organic keyword research alternatives.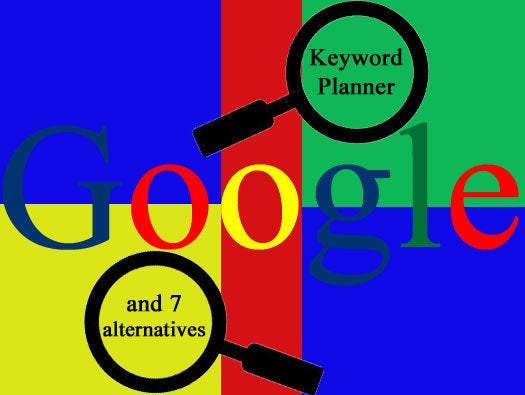 How to Use Google's Keyword Planner for SEO (and 7 Free Alternatives)
In late August, Google rocked the SEO community by discontinuing its free AdWords Keyword Tool — a favorite among search marketing professionals who relied on it to find the keywords most likely to attract targeted traffic. In its place, Google introduced AdWords Keyword Planner. The free software-as-a-service offers some of Keyword Tool's keyword research functions, but it's much more tailored for AdWords campaigns and much less toward organic (non-paid) SEO keyword research.
Here's a look at how you can use Google Keyword Planner for organic keyword research — as well as seven free alternatives.
James A. Martin is an SEO and social media consultant and writes the CIO.com Martin on Mobile Apps blog. Follow him on Twitter @james_a_martin and on Google+.
Google Keyword Planner: Brainstorming Keywords
Because Google is the dominant search engine, it helps to get as much of your keyword research data "straight from the source," advises Ruth Burr, inbound marketing lead at Moz.
To use AdWords Keyword Planner to brainstorm keyword ideas, login to your free account. In the green navigation bar, click Tools and Analysis > Keyword Planner.
Under "What would you like to do?" click "Search for new keyword and ad group ideas." This helps uncover keyword ideas related to a product or service, a landing page or a product category. Fill in the desired info and click "Get ideas." In the next screen, click "Keyword ideas" and you'll see a variety of related keywords; average monthly search volumes, competitiveness and more.
Google Keyword Planner: Refining Results
The defunct AdWords Keyword tool used to separate local (meaning the country you're in) and global search volumes by default, says Jayson DeMers, founder and CEO of AudienceBloom. Keyword Planner doesn't. However, you can narrow keyword search volumes geographically.
Under "Targeting" (on the top left side of the "Keyword ideas" results), you can specify search volumes by city, country and language; restrict results to Google or to Google and its search partners; and use or disallow negative keywords (which restrict your ads from showing for certain terms).
Analysis: What 3 Big Google Updates Mean for SEO Strategy
More: Mobile SEO: More than Just Choosing Keywords
Google Keyword Planner: Historical Data
When researching keywords, it's helpful to see what their average monthly search volumes have been for the past 12 months. Among other benefits, this data is good for determining if seasonal-related keywords performed well, DeMers says.
Just to the left of the "Average monthly searches" column for each keyword in your "Keyword ideas" list, you'll see a graph icon. Mouse over the icon and a graph will pop out, revealing the keyword's search volume over the past 12 months.
Related: Why You Should Hire a Dedicated SEO Specialist
More: Top 10 Things to Look for in an SEO Expert
Google Keyword Planner: Using Broad, Exact, and Phrase Match
The AdWords Keyword tool made it easy to filter keywords by broad, exact and phrase matches. Broad matches include synonyms and other variations in a keyword's search volume. Exact match is the exact phrase and close variations. Phrase match includes the keyword in a phrase, plus close variations.
Keyword Planner displays only exact match keyword data as you're researching. But many SEO pros prefer it. "Exact match is useful to figure out how many impressions you can expect for the exact term you rank for," Burr says.
In Keyword Planner, you can switch to broad or phrase match when adding keywords to a plan, DeMers says. To do so, click the tiny pencil icon in the gray box to the right of the keyword column headings.
Google Keyword Planner: Save Keywords to a Plan
You can download all keywords in the "Keyword ideas" list to as a .csv (Excel-compatible) spreadsheet. Want a better idea? Selectively add the most promising keywords to a plan (essentially, an ad campaign), then download the plan as a .csv file, DeMers says.
To add a desired keyword to a plan, click the double arrows to the right of the keyword. When you're ready to download all keywords in a plan, click the download icon to the far right of the screen, near the "Review estimates" button.
In the next screen, check the historical statistics box; this will give you the most important data for keyword research. Check the "Segment by month" box, too, to see how your keywords performed in the previous 12 months.
Google Webmaster Tools
Google Keyword Planner not getting it done for you?
If your site has been verified with Google Webmaster Tools, you can find out how often it shows up for keywords. Login to your Webmaster Tools account, then navigate to Search Traffic > Search Queries. By default, you'll see your site's top 25 keywords, along with data on of impressions, clicks, click-through rates and average positions.
Google Webmaster Tools shows only the volume of impressions you get from keywords you already rank for, which makes it unusable as a tool for researching new keywords, Burr says. Some SEO professionals believe Webmaster Tools keyword data isn't as reliable as the Keyword Tool data was, she adds.
Related: Google Adds Search Traffic Alerts to its SEO Service
Bing Keyword Tool (Beta)
Bing, Microsoft's search engine, offers its own keyword research tool. Burr says the tool "goes a long way" toward making up for the Google AdWords Keyword Research departure.
To use Bing's tool, you must be signed into a Bing Webmaster Tools account with a verified site. The tool is in beta. Also, because Bing has a much smaller slice of the search engine market, search volume data will skew lower than it would in Google.
Even so, you can get a general sense of which keywords have higher search volumes than others. You can also narrow searches by dates, country/region and language. Clicking "Yes" next to the "Strict" button filters out keywords not explicitly related to your initial search query.
Wordtracker
Wordtracker offers a free, basic keyword research tool. Type a keyword into the big search box on the home page and you'll see a list of the top keywords related to your search, along with their search volumes. Click the "Continue Your Research" button and the site gives you competitiveness and Keyword Effectiveness Index data. KEI offers a rough idea of how competitive a keyword is for the search volume it generates.
Wordtracker data comes from metacrawler and dogpile, so the data sampling represents a much smaller percentage of search queries than Google's. For $69/month or $449/year, you can upgrade for more functionality and data than the free tool offers. (A free 30-day trial is available.)
SEMRush
SEMRush is popular among many SEO professionals for all the tools it offers, including its competitor research and analysis. SEMRush also offers a keyword research tool that displays both organic and paid keyword data in one screen. Burr notes that related and phrase match terms, in addition to search volumes, are included in an individual keyword's report.
Though you're asked to enter your competitor's website address in the home page box, you can type in a keyword phrase instead to start your research. You'll need to create a SEMRush account to use the tool, but the account is free. Paid accounts range from $70/month to $150/month, and you get only a 7-day money back guarantee.
Commentary: Beware the Dark Side of SEO
Google Autocomplete (Google Suggest)
Google automatically completes a keyword phrase as you type. For instance, at Google.com you type Boston and, right away, Google will suggest related phrases such as Boston Police Department, Boston Market and Boston Globe.
The autocomplete phrases come from "how people actually search," according to the blog Search Engine Land, adding that "popularity is a factor in what Google shows." Simply typing in keywords into Google can therefore give you a quick indication of phrases that have good search volume. Tip: Sign out of Google or use the incognito window in Google Chrome to strip out some of the personalization in the results you'll see.
Google Related Searches
When you perform a Google search, you'll usually see "Searches related to (your keyword)" at the bottom of the search results page. These terms are displayed because they're also frequently searched on and are different, but related to, your original search phrase. Using Google's "searches related to," many SEO professionals get ideas for synonymous keyword phrases to include in their keyword research.
Ubersuggest
The free Ubersuggest, which bills itself as "Google Suggest on steroids," is a popular keyword brainstorming tool among many SEO pros. Type in a keyword phrase and Ubersuggest delivers countless variations based on Google autocomplete suggestions.
You don't get any keyword data. But Ubersuggest can provide ideas that you can then plug into, say, Google Keyword Planner. The tool lets you refine search terms by country/language and types of Web search (such as Web, images and news). You can click to select any keyword suggested to explore even more synonymous terms.
Copyright © 2013 IDG Communications, Inc.
Next Up: Check out these related slideshows