8 Tips to Boost Your Resume Chances with Applicant Tracking Systems
Experts agree that submitting your resume online isn't the best choice. But what do you do when you've found a dream job that matches your skill set perfectly, you don't know anyone on the inside and you're running out of time?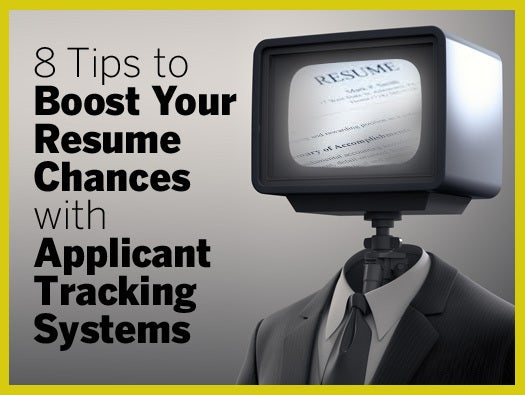 Once you've targeted that perfect job, but before you submit that resume online, there are a couple of things you need to try. Check with your network and make sure that there isn't, in fact, someone who could make that personal introduction or recommendation for you. Use LinkedIn to connect with people within the company you are targeting, too.
That said, if you can't find someone in your network, and you feel like time is against you, there are eight things you can do to make your resume more palatable to the automated applicant tracking systems (ATS) that many firms use for recruitment.
[ 5 Insider Secrets for Beating Applicant Tracking Systems ]
Read the Job Listing and Customize
"The job description is written using specific keywords related to skills and must-haves for the job, including the title of the position," says Caitlin Sampson, a career transition consultant with Regal Resumes. "Ensure that your professional summary is customized with keywords that closely match the particular job. Resumes should be targeted towards the job description to ensure that it includes the relevant keywords and qualifications."
Don't Spam Your Resume
"Job seekers will take the approach of spamming their resume in all directions without tons of thought into how relevant their resume is," says Matt Sigelman, CEO at Burning Glass, a labor market analytics group that works with different applicant tracking systems by providing them with the software to read and discern patterns within resumes. According to Sigelman and other career experts, making your resume laser-focused on the job at hand will increase your chances of a successful outcome.
Use Keywords
Cheryl Simpson, executive career coach from Executive Resume Rescue, thinks IT candidates don't use keywords in the correct locations. "If you apply online – and many of us do – your resume is going into an applicant tracking system. Without the right keywords you're setting yourself up for failure," Simpson says.
It's also not wise to try and hide any text using colored fonts. "It wouldn't take much work for an employer or recruiter to examine your resume and find them. At that point you're labeled a cheater and that's not a characteristic that will get you hired," says Simpson.
Use a Clean Format with No Graphics, Images or Tables
"ATS software is only trying to read and understand your resume," Sigelman says. Images and graphics don't get picked up by the software and aren't searchable inside the database.
"Create a visual presentation that is strong and clean without using any images, graphics or tables," Sampson adds. Typically tables will not stay formatted or in the correct order," she says. "Tables are read up and down rather than side-to-side, causing the information to become distorted."
Finally, within the text of your resume, don't use any special characters or fonts. Avoid headers and footers, too, as these can be incompatible with most ATS, Sampson says.
Format Your Job Experience Correctly
Make sure your job experience and summary are easy to read. This means the overall appearance of your resume should use plenty of whitespace. "When you format your resume, ensure that the employer's name appears before the date. This will help the ATS to input the employment history accurately," Sampson says. 
Sigelman adds that putting more information into the description for each job will help you put a "better face forward" on your resume. "Increasingly, best of breed…ATS will find that much more effective in contextualizing who you are and evaluating how relevant your job experiences are to the job."
Choose Your Document Format Carefully
Most applicant tracking systems accept a variety of document formats, including PDF, DOC, TXT, ODF and HTM. Before submitting, though, see if the system specifies a required format. DOC or TXT are recommended, Sampson says, as an ATS can easily misinterpret a PDF document or image file.
Create a Custom Cover Letter, if Given the Chance
"Both humans and resume management systems are attracted by the use of keywords," says Dave Denaro, vice president of Keystone Associates. Duplicating keywords in your resume and cover letter can actually help you climb the rankings in the automated resume management systems that recruiters and hiring managers use.
When constructing a cover letter, look at the job description and decide what the hiring manager is looking for would-be candidates to deliver, Denaro says. "In the cover letter, make sure that you mention that you have handled that issue or that problem or that challenge before, successfully, with a one-line bullet about the results that you produced."
Make Your Resume as Long as it Needs to Be
One benefit of submitting your resume via an applicant tracking systems is that you're not limited to just one page, according to Sampson. "By including all of your experience, competencies and skills, you increase the likelihood of incorporating applicable keywords."
Next Up: Check out these related slideshows