11 High-Class and High-Price Devices
Curious how the 1% live? These 11 luxurious tech products come under the heading of 'If you have to ask how much it costs...'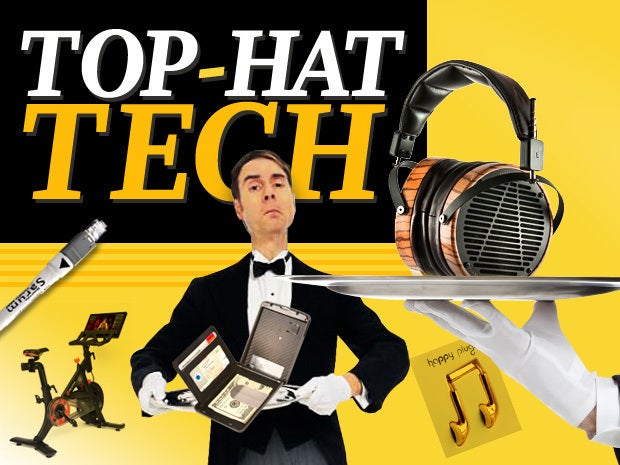 When all is said and done, the rich really are different from the rest of us. They demand the best of everything and are willing to pay whatever it takes.
Whether it's a $2,500 Ethernet cable, a set of $14,500 gold earbuds or a $2.5-million IMAX home theater, the 11 luxury gadgets that follow are equal parts style and technology -- and often handmade from some of the world's most exotic materials. While we've included prices for each, the old saying holds true: If you have to ask how much it costs, you probably can't afford it.
iWallet Biometric Locking Wallet
Even tycoons need cash now and then -- and the iWallet Biometric Locking Wallet is a high-tech place to stash and protect your valuables.
The $560 Classic Carbon Fiber model is made of that lightweight material, weighs 6.9 oz. and is 0.8-in. thick. There's room for three credit cards (presumably all gold or platinum), an ID card and a clip for nine bills (better make them hundreds). When the wallet is locked it opens up only after the correct finger swipes its sensor; the iWallet can be paired to a phone to sound an alarm if the two get separated.
Price: $560
Air X air and water purifier
It may look like an ordinary water cooler, but Air X from Untapped Water Systems provides the ultimate luxury: clean air and water. Air X has electrostatic and physical air filters to cleanse the air around you and works like a dehumidifier to pull moisture out of thin air.
The system can deliver up to about five gallons a day of filtered and sterilized water that is, according to the vendor, 25 times purer than the EPA's drinking water standard. The water is dispensed chilled or heated.
According to the company, Air X will be available this summer.
Price: Starts at $1,800
Audeze LCD-3 headphones
Tired of geeky-looking headphones that make your music sound like you're in the shower? Audeze's $1,945 LCD-3 headphones are expensive, sophisticated and big, enveloping your head in a world of sound.
They also sound as good as they look, with zebrano wood trim, lambskin or suede ear muffs and an innovative 7-layer speaker design. The planar magnetic transducers deliver rich and vibrant sound from 5Hz to 20kHz with low distortion; each headset comes with a certified frequency response graph.
Price: $1,945
The Peloton Bike
Rather than go to a gym filled with sweating peasants, Peloton's carbon fiber and aluminum exercise bike brings the gym to you. The bike itself has a carbon steel and aluminum monocoque frame and a resistance knob to increase your workout. That's just the beginning.
Using its 21.5-in. touchscreen, front-facing camera and microphone, and Wi-Fi / Bluetooth/ ANT+ technology, you can pedal away while streaming an exercise class with one of Peloton's coaches or videoconference with other stationary riders. Or if you prefer, you can track your performance metrics and do a video chat with a Facebook friend while cycling.
Price: $2,000 plus $39 per month for online classes
Chord Sarum Ethernet Tuned Aray cable
Think all networking cables are equivalent? Chord's $2,500 one-meter Ethernet cable stands out as possibly the most expensive networking cable available.
Aimed at the well-heeled audiophile, the cable is for streaming audio from your router to your stereo. Custom-made in England, it moves the data through four tiny coaxial lines rather than twisted pairs of wires and has heavy-duty shielding to block electrical interference. The cable's tuned-array technology lowers noise levels to allow musical nuances to shine through, according to Nigel Finn, Chord's technical director. If one meter is too short, each additional meter costs $1,250.
Price: $2,500
Moen ioDigital home spa
After a hard day of shopping, there's nothing like unwinding in a hot shower or bath. Moen's ioDigital updates mechanical faucets with precise electronic control. Adding about $3,000 to the cost of a bathroom, the oval ioDigital electronic device lets you easily adjust the water's temperature and pressure (the system's screen displays the current temperature).
The module can remember four separate profiles and at the touch of a button you can stop the water flow while you shampoo. It comes with a remote control so the water is always ready when you are.
Price: About $3,000
Monsieur robotic bartender
It's martini time and the butler's night off. What's a modern-day robber baron to do? Try Monsieur's $3,999 robotic bartender, an automatic drink dispenser that can create anything from a Fuzzy Navel to a Woo Woo.
The device holds eight liquors and mixers, and has a 10-in. high-resolution screen for selecting your drink (including how strong you want it to be); you can also order using your phone. Unlike human barkeeps, Monsieur always remembers your favorite and will warn you if you've had one too many. The drink machine should be available by the summer party season according to the company.
Price: $3,999
Crestron Home Automation
With a Crestron Home Automation system, you can take control of your mansion or penthouse. Install Crestron's proprietary 2.4GHz wireless communications system, touchscreen pads and power modules, and the system controls everything from entertainment and lighting to climate control and the alarm system.
At a tap of one of the touch pads, you can dim the lights and listen to music in the kitchen, watch a movie in the home theater, or lower or raise the room's window shades. At roughly $10,000 per room, the Home Automation system brings it all together for well-heeled homebodies.
Price: Approximately $10,000/room
Happy Plugs Deluxe Edition earbuds
Regardless of whether you're listening to Lady Gaga or Luciano Pavarotti, why not show off a little with Happy Plugs Deluxe Edition gold earbuds?
This ostentatious mix of jewelry and audio gear has been handcrafted from nearly an ounce of 18-carat gold by a Stockholm goldsmith, and includes a matching braided gold audio cord and a gold-plated headphone jack. The 14.8mm handmade drivers cover a 20Hz to 50kHz frequency range, which goes beyond the typical range of human hearing of up to about 20kHz. There's a microphone for answering and making calls as well as a remote for controlling what's playing.
Price: $14,500
Vertu Constellation smartphone
While most of today's smartphone's are fairly snazzy-looking, only Vertu's Constellation will fit right in with your Bentley and private jet. This handmade device has a titanium case with accents of red gold or satin stainless steel; the back is covered in elegant leather.
The phone has a 4.3-in. 720p screen with a scratch-proof sapphire crystal, a 1.7GHz Qualcomm Snapdragon dual-core processor, a 13MP back-facing camera, a 1.3MP front-facing camera and a Hi-Fi 11mm x 15mm speaker; it runs Android 4.2 (Jelly Bean). It offers four bands of GSM plus W-CDMA coverage (a less expensive version omits the W-CDMA). Each phone is signed by its maker and includes elegant London Symphony Orchestra ringtones.
Price: $14,000
IMAX Private Theatre
What's better than watching an IMAX movie at your local theater? How about watching it in your own screening room? At about $2.5 million (the cost of an actual theatre room in a Connecticut mansion), this is the Rolls Royce of home theater, with the best of everything -- including a Barco DLP-based projector and custom-designed surround-sound speaker system.
In addition to a deep wallet, you'll need a room big enough for the 20-ft.-wide curved IMAX screen and the speakers hidden behind it. You can also use the theater to view a Blu-ray DVD, play a video game or just watch TV. Which makes it worth the price of admission, right?
Price: About $2.5 million
Brian Nadel is a frequent contributor to Computerworld.
Copyright © 2014 IDG Communications, Inc.
Next Up: Check out these related slideshows