Many years ago, I had a client—a tough, salty engineer—who had risen to become Chief Operating Officer (COO) of a global Fortune 100 enterprise. He was widely feared by just about everyone. My first meeting with him was rough, and the CIO smiled when I briefed him on my session. He said most meetings with the COO went this way.
But the experience wasn't all for naught. While in the COO's office, I noticed a large plaque on his bookshelf that read, "In God we trust. All others, bring data."
So, for my next meeting, I came armed with charts and with the data that backed up the charts in my briefcase. The meeting went well, and my firm stayed engaged on that transformation project for almost two years. Lesson learned.
My last post, about the gains smaller providers are making in the marketplace, was easily the most popular since I started contributing to CIO.com. It made me a lot of new friends on LinkedIn. Yet I repeated my mistake: I came with anecdotes and no data, which is a particularly unforgivable error, since my company collects and reports on this data every single quarter.
Today, I am addressing my mistake and sharing that data with you: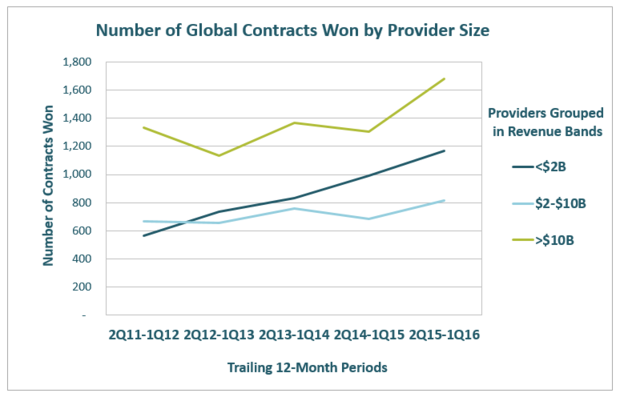 As you can see, the numbers support the hypothesis I laid out in my previous post. We track awards worth $5 million or more, and we track them by provider size. The smallest tier includes companies with less than $2 billion in annual revenue. The next tier includes companies with between $2 and $10 billion in annual revenue. And the third tier includes everyone else.
Our most recent findings show the share of deals won by the smallest providers has risen by 10 percentage points over the past five years, and this segment's upward trajectory has been sustained and even accelerated a bit in the last two years. Perhaps most telling, as a group, providers with revenues of less than $2 billion won almost 400 more deals last year than their competitors in the group just one tier up.
While this is great news for smaller providers, the data do not tell the whole story. Over this same period of time, the average deal value has gotten smaller while the cost of sales has remained constant, so these service providers are working VERY hard for their wins. But we all know that, once inside a large company, providers find it much easier to expand, so we should expect that, even with lower total contract values, it is only a matter of time before some of these small players begin to graduate to the next-highest revenue band. Even with these caveats, I'm sure you'll agree the achievement of these Davids in a hypercompetitive field of Goliaths is remarkable.
Thankfully, this time you don't need to trust me. I brought the data!