When was the last time you pinged your co-worker who was just 30-feet away, instead of walking up to them? As marketers, we have become so much tech savvy and addicted to our phones that we'd rather send a text to or DM a team member than get up and talk to them.
Commuting to work has been another issue for a lot of people. "You know what? I love commuting to work every day" – said no one, ever. In fact, many of us even try to find a home closer to the office so that we can cut off our daily commute.
So, my question is, can remote work be beneficial to businesses, employees, especially those with distributed marketing teams? Let us try and explore a few of these benefits…
Finding your own productive workspace
Where are you the most productive?
That's the question a lot of marketing teams consider when they are tackling with the working remotely conundrum.
Which is that one place where you feel the most productive? Is it a special corner of your house, a quiet café, a moving train, or is it really your office?
It might or might not be your office, but working remotely can give you the freedom to find different places that make you work faster. Groove, a company that provides help desk software, give all the credit of their success to remote work practices. They urge employees to find their own productive corner.
You can also experiment with different work timings and approaches. After all, not all of us do so well at 8 in the morning.
Less water cooler chats, more work
Did you discuss the last Game of Thrones episodes with your colleagues even before firing up your system?
Water cooler chats are very natural and obvious in an office environment but sometimes you become a part of it even when you don't want to. And, that in turn, hinders the work. Groove says that internal messaging tool Slack doubles up as the water cooler for its remote employees.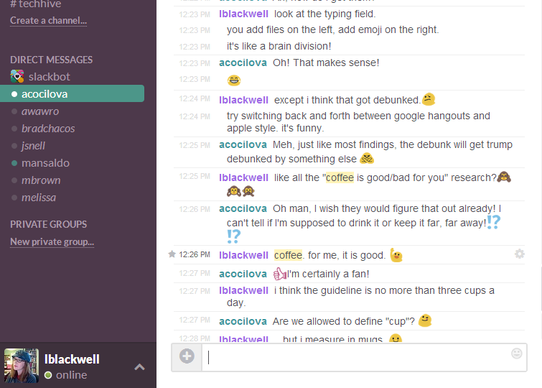 By working remotely, you can divide work-related chats and water cooler chats to make sure you are only accessing them when needed, and you won't be disturbed by discussions that don't concern you.
More talented employees
All good companies have had to let go some very talented potential employees just because they didn't want to move to the city the business is based in. For every person who is happy to relocate to work for a good company, there are a hundred that are not.
They might be tied down because of a personal or a professional reason, either way, the business is the one losing a great potential employee.
It's heartening to know that SaaS companies that make marketing tools are leading the pack when it comes to hiring remote employees. Buffer – the social media scheduling and marketing tool – has an entirely remote workforce.
Baremetrics, a company that provides revenue and user metrics from your Stripe account, focuses on hiring remote workers who are "self-motivated problem solvers" i.e. capable of handling work on their own when their other team members are in a different time zone.
These companies look for employees with very specific and advanced technical skills that can be practiced from anywhere in the world but are not taught everywhere in the world. This is where instructor-led training sites like ZeoLearn come in the picture. Doing a course here helps people – especially marketers and developers – climb the career ladder by acquiring professional skills and getting hired by cool companies like Groove, Buffer and Baremetrics.
Taking advantage of different schedules
While some people might see team members working in different time zones a disadvantage, I have a simple example that proves the opposite:
What if you had a great campaign idea that hit you at the end of the day but you wished you could execute it right in the morning? If your graphic designer and copywriter worked from the opposite end of the world, your night would be their morning and by the time you woke up, all the work would be ready to be executed.
Working with the right tools
When it comes to remote work, choosing the right tools is extremely important. But more important than that, you should define the function of each tool. If you use videoconferencing primarily for planning new marketing campaigns together, then it shouldn't be used every time a content writer needs to confirm something with a designer.
There are two ways to go around this – you can either use a combination of tools that work for you, such as Basecamp for project management, FreshBooks for invoicing, Slack for messaging and so on, or you can use one collaboration tool that lets you handle all your operational tasks. Workflowmax is one such tool that works for us – you can do agency-level invoicing based on hourly or flat rates, scheduling and time tracking for freelance or remote employees, generate quotes for different campaigns from various templates as well as create custom reports.
More transparency
Using the right collaboration and job management tools mean you no longer have to send out emails to ask about the status of each and every task or metric. You can now view everything right from your dashboard.
A transparent working environment also ensures that all the team members are in the loop; it also encourages healthy competition. Because, well, nobody likes it when their team members work faster than them.
The company that developed WordPress, Automattic uses an internal blog called P2 where everything is updated, and all team members can check anything they want.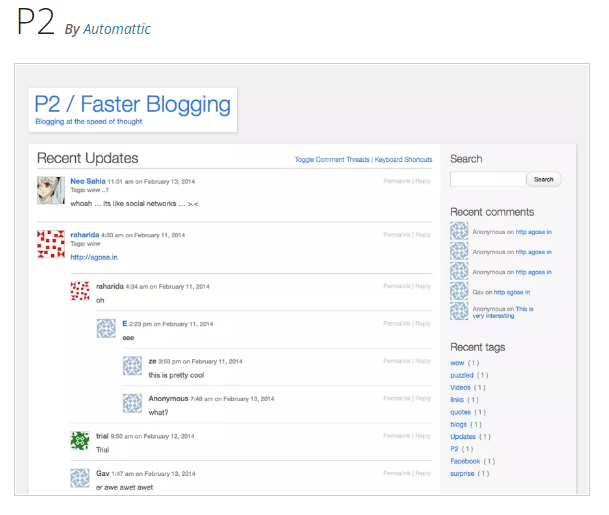 In summary
While there are some tough tradeoffs for allowing remote work in sectors where quick decisions are needed, it is perfect for digital marketing agencies.
After all, digital marketers are always challenging the old ways and thinking out of the box. And working remotely in their own space will only help juice up their creative minds.
As long as you have the right system, the right tools, and the right employees, you will find working remotely way more productive and easier. Comments?