The Salesforce AppExchange is known to many as the number one application marketplace for businesses, but there is more to it than just apps. The AppExchange also includes the rapidly expanding Salesforce Consulting Partner ecosystem that I covered in my recent post, "The Salesforce ecosystem: A shift on the playing field."
Today I want to dive deeper into the evolving ecosystem. I reviewed the publicly available information covering roughly 730 consultancy listings on the AppExchange and had informative conversations with the SVP of partner programs at Salesforce, Neeracha Taychakhoonavudh. (All AppExchange information is relevant for May 2016.)
Over the past year, Salesforce has transformed the Consulting and Independent Software Vender (ISV) Partner Programs to offer more clarity around the different program tiers, provide additional enablement tools and support to partners, creating more ways for partners to distinguish their unique capabilities in the marketplace. "Salesforce has built the largest enterprise cloud ecosystem in the world and we believe that our investments in our partners translates into customer success," said Taychakhoonavudh.
All Salesforce partners are tiered at global strategic, platinum, gold, silver and registered levels based on a Partner Value Score (PVS). Each partner receives a PVS based on three primary categories: ACV (bookings), expertise (measured by certifications) and customer success (measured by satisfaction surveys). High scores in one category can compensate for lower scores in another. A key benefit of the new PVS is that it allows consulting partners to be flexible in the categories they choose to pursue.
For example, if most of your customers are nonprofits who do not generate a large amount of revenue for Salesforce (Salesforce.Org donates licenses and provides significant discounts for nonprofit organizations), your consulting firm can focus on getting more certifications and a higher customer satisfaction rating to be eligible for higher tiers within the Partner Program.
The chart below shows the Salesforce consulting partner listings that I reviewed based upon the partner level — as you can see, the majority of firms (about 475), are part of the lowest level tier available, registered partners.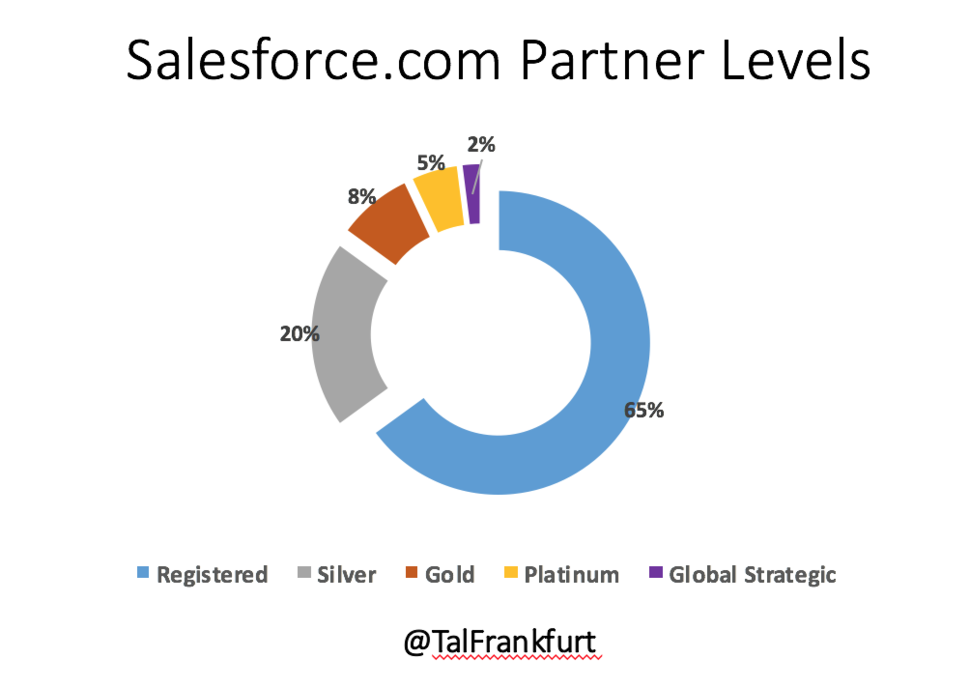 The graph below was probably the most surprising graph for me. It indicates the vast majority of the partners (about 72%) have less than 10 Salesforce Certified consultants on staff.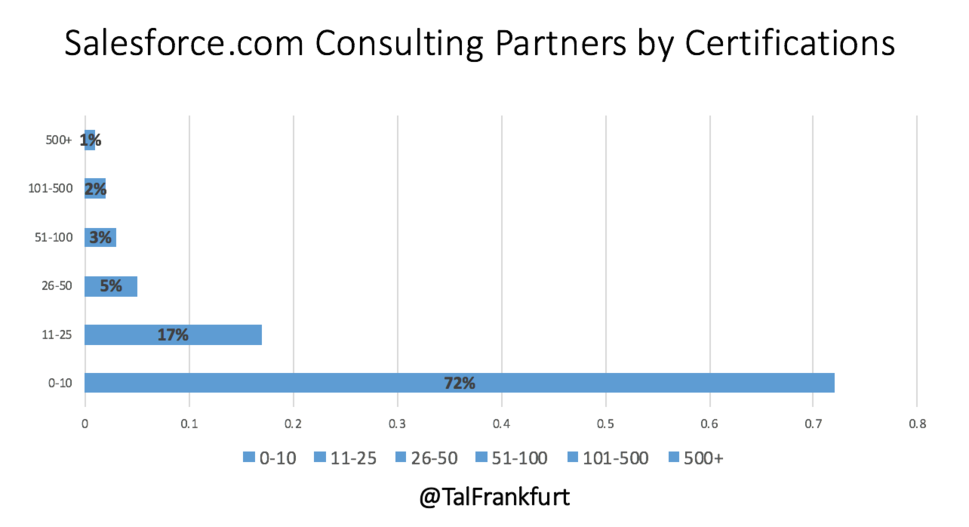 It is important to note that not every certification counts towards the partner program. Currently only technical architects, sales cloud consultants, service cloud consultants, and platform dev 1 certifications are counted in the PVS — and each certification has a different attribute target associated with it.
Upon further research, I also discovered that there are some partners who have no certifications. When I asked Taychakhoonavudh about it she explained that new partners are given time to achieve their minimum of two certifications, so there may always be a handful of partners in provisional status at any given time.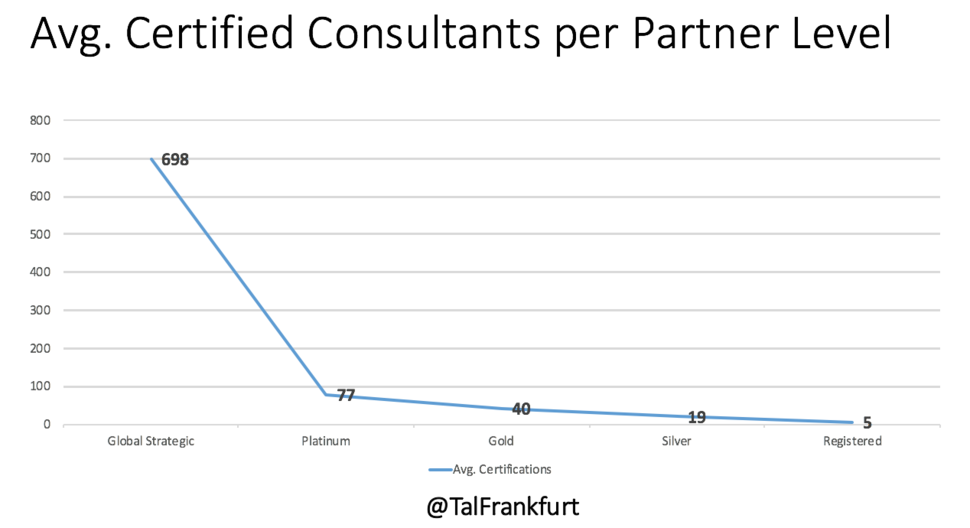 "Salesforce is laser-focused on delivering customer success. And nearly half of all Salesforce customers work with our partner ecosystem, which consists of ISVs and consulting firms. It's vital that our partners are equipped with the skills to deliver success for our customers who are increasingly involved in multi-cloud implementations and complex business transformation projects," stated Taychakhoonavudh.
From my point of view, the Salesforce customer success category, which is measured by satisfaction surveys, is lacking substance in the method of deployment and questions asked, and therefore I didn't analyze the CSAT scores. The current system allows partners to choose which projects and references they want to submit before surveys are sent to clients. As a result, the surveys are not fully anonymous and do not represent the overall success the partner creates for their clients. I believe that the customer reviews are a much better way to measure success and satisfaction created by partners. These reviews are public, require a Salesforce login, and cannot be removed or modified by partners.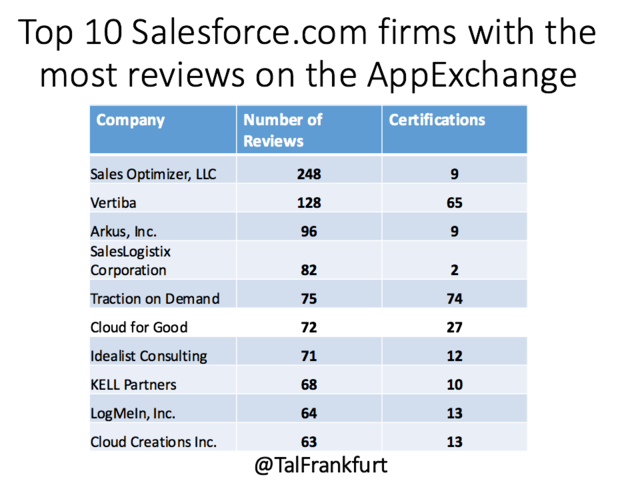 As I evaluated AppExchange listings, I found that nearly half of the firms that included the year they were founded in their listing were founded within the last five years. Combining this information with the high number of firms with less than 10 certified consultants, indicates that while my previous posted discussed the entry of firms such as IBM, Accenture and PwC to the ecosystem, most of the consulting partners are relatively small and young. The ecosystem is projected to grow in leaps and bounds over the next few years. Now is the time to be involved and dive in head first to make a difference!