The Internet of Things is in a peculiar phase of its lifecycle. Unless you count that patchwork mess known as home automation, there isn't much of an established market. Yet the broad applicability of connecting "things," which can include assigning IP addresses to anything from refrigerators to manufacturing equipment, has companies contemplating sensible sensor-filled scenarios.
To enable developers to build applications that capitalize on IoT, VMware has released to open source a software development kit. It's the company's first foray into the IoT phenomenon. Liota, which stands for Little IoT Agent, enables applications that captures and relays device data to servers and networking gear, and can also receive control signals from those data center components, says CIO Bask Iyer.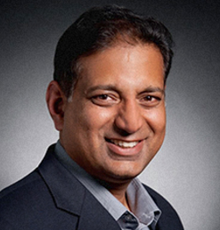 Getting ahead of the curve with IoT
Iyer says that CIOs were late to support the seismic computing shifts in the cloud and mobile markets, resulting in more than a decade of hand-wringing over shadow IT. In IoT, VMware doesn't want to miss out on the latest burgeoning trend, which Gartner says will yield as many as 6.4 billion connected devices and supporting services spending of $235 billion in 2016.
[ Related: Dancing bears and IoT analytics ]
Iyer says he got the idea for Liota from talking with VMware's CIO customers, who have shown interest in IoT but aren't sure how to get started, what software and devices to use, and what the risks are. "We have to have some thought leadership that we tell the CIOs and CISOs to say 'consider this architecture so you can proactively tell [engineers] go do it safely and securely, rather than blocking it," Iyer told CIO.com. "We have a chance to get ahead of it."
The Liota SDK provides libraries via the code repository GitHub. Programmers can use the tools to build software that choreographs data and control flows across "things," the cloud and gateways, which both bridge and decouple the physical IoT devices from the analytics and management components in data centers. This bridge allows data to move securely from the device to the cloud or data center.
Iyer says Liota is "vendor-neutral," which meansdevelopers can use it to write software that will work with gateways from multiple vendors, any operating system and any data center equipment rather than being locked into a single IoT infrastructure or platform. Iyer envisions that companies will run their apps on Liota knowing that it's not just another shadow IT system infiltrating their corporate network.
[ Related: Most powerful Internet of Things companies ]
Early adopters of Liota include Dell, V5 Systems and IoT security company Bayshore Networks, whose founder and chief scientist Francis Cianfrocca said this in a statement: "It's critical to for us to work across multiple gateway platforms to deliver the scale required for industrial IoT. Liota allows us to focus on app innovation rather than creating multiple versions of our app."
IoT adoption hindered by security concerns, lack of standards
Iyer says experimenting with IoT now will also allow VMware to figure out a sensible security model — one of the major IoT hurdles with which companies are struggling — that could make the company a reliable go-to source for IoT advice and solutions in the future. "You don't want your email, network and [applications] to fall apart during a month-end close because somebuilding management app is trying to do something funny," Iyer says. "And I can easily see that happening."
He also says he expects industry standards around IoT – there are many eligible specifications but too few adherents to one or another — will be established in the next 12 to 18 months.
[ Related: IBM and Cisco are taking IoT analytics to the edge ]
While companies struggle to figure out whether IoT initiatives should be led by IT or assigned to a dedicated team, Iyer says unequivocally that the CIO should lead such projects because they know the corporate IT architecture. Eventually, the IoT know-how will become as much a part of a CIO's job description as implementing and managing an ERP system. As buildings become more connected, CIOs will be called upon to demonstrate their proficiency in IoT. He says VMware will use Liota to experiment with some connected building scenarios.
"There's going to be pressure [on the CIO] to make the buildings very effective [and efficient]," Iyer says.
Iyer credits VMware CEO Pat Gelsinger with letting him take the reins on Liota, which was developed over the last two months by programmers and released to GitHub just last week. While VMware has no plans to make money from the SDK, Iyer says there will be opportunities to commercialize future IoT offerings, potentially around managing and securing the applications that enable machine-to-machine communications. "I believe that if you solve the pain point, the money comes," Iyer says.