If you were to choose a company to embraceMicrosoft's mobile and cloud first strategy, you could do worse than picking the PGA Tour. The organization, which supports 100 tournaments a year, is building Windows 10 mobile applications that track player scores and analyze the trek of the ball, data that is eventually essential in scoreboards, television broadcasts and websites. It's also using Microsoft Azure public cloud and the Office 365 productivity suite.
PGA Tour CIO Steve Evans has bought into Microsoft's "universal Windows platform" strategy, in which developers, using a single API set, can write an application that will run across Windows PCs, smartphones, tablets and gaming consoles.
"If we can capture a large number of eyeballs on the desktop and a gaming console, that's attractive to us," Evans says. "To invest once to get to both platforms is nice because app development is not an inexpensive endeavor to get into when you're trying to maintain applications across platforms."
Why mobile, cloud are par for the course
As is typical with CIOs who prefer to keep their vendor list lean, Evans has essentially bet on one partner over the course of a three-year partnership inked last fall. It's the type of partnership that Microsoft relishes because it relies almost entirely on mobile and cloud technology – two of the main strategic tentpoles in the company's resurgence under CEO Satya Nadella.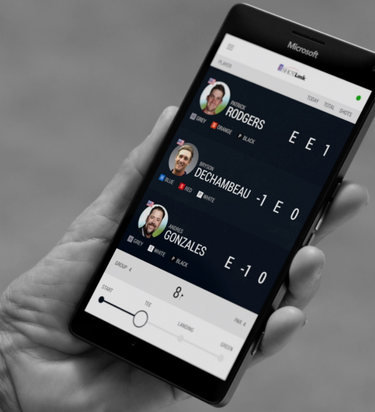 The PGA Tour counts on more than 300 volunteers to walk the fairways and track players' scores, as well as ball flights and paths. They enter data using either Microsoft Lumia 950 phones and Surface Pro 4 tablets equipped with custom Windows 10 apps.
The Walking Scorer app lets volunteers track and manage player and course information, including scores. Laser Operator allows volunteers to collect data from laser sensors on the greens, including distance of approach shots and putts, as well as driving distances. A companion app to Laser Operator, Grid View lets volunteers manually enter into Surface Pro 4 tablets ball position when the laser operator has an obstructed view, replacing the clipboard they used to track shots.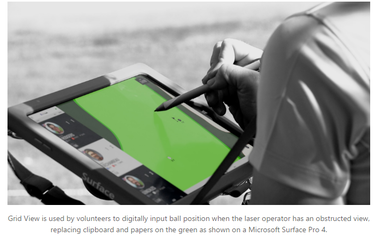 PGA Tour is also extending its mobile innovations to fans. Tournament Companion allows event attendees to use Surface Pro 4 tablets to track tournament player location via a heat map, see a bird's eye view of the course as well as statistical game analysis and player leader boards. Eventually, the organization plans to offer a consumer-version of the app for fans who aren't attending tournaments to download from the Windows application store to their PCs, and eventually, the Xbox.
One throat to throttle
PGA Tour is also upgrading laptops used by its roughly 1,400 employees to Windows 10, which Evans synchronized with Microsoft's System Center. This configuration management software zips updates and patches over the air to devices that need them. "In that past, we've done these tasks manually, so this is advancing us to the point where we can control this all from a central server," Evans says.
In keeping with the one-throat-to-throttle philosophy of picking a single strategic partner, PGA Tour is also migrating its employees from a legacy email system to Office 365, which includes productivity and collaboration tools and Skype. Evans has also provisioned Microsoft's Azure public cloud computing service to build a content-relevancy engine that cross-references past tournament data with video, photos and articles generated by PGA Tour's editorial team.
This service will allow, for example, PGA Tour employees working in the graphics room on broadcasts to enter descriptions of certain golfing scenarios to retrieve statistics on the player's likelihood of success. For example, the software could calculate that a player has 50 percent chance of making par or an 8 percent chance of birdying a hole, based on what they've done in the past.
That is as far as PGA Tour will go with predictive analytics for now, says Evans, who warns that it is difficult to predict who will win a tournament solely based on past performance.