Many business leaders are in the wait mode, they doubt the IT vendors' agenda; they rightly feel that infrastructure alone won't help to adjust to the ongoing industry disruptions. How about the impacts on the business value chain? How about Cloud, DevOps, Internet of Things (IoT), and Big Data integration into coherent and consistent business capability? How to facilitate change adoptions? are some their concerns.
Things aren't as simplistic as deploying infrastructures disconnected from business concerns. What you need right now is a transformation plan that'll help your organization survive the disruptions and make benefits.
In this article I share lessons learned advising CIOs on their digital transformation and leading highly complex IT organization transformations.
First: Shift your concern from infrastructure efficiency to organizational agility
An industry disruption's impact nobody's talking about is, it's shifting the concerns from infrastructure efficiency to organizational agility. The notion that deploying infrastructure is all your business need to succeed is outdated.
The reason is, proliferating startups combined with the digital services soar is reshuffling the competitive game to the point that brand equity, market capitalization, and global presence aren't enough to survive. Organizational flexibility and agility are what'll help your business to continuously innovate, improve customer experience and increase customer value. Infrastructure alone won't help to eradicate the operational dysfunctions that prevent flexible and agile interactions within your value stream.
To win legitimacy and gain a seat on the business board, make this your mantra: IT's business value = infrastructure efficiency + organizational agility. It won't only help you keep your job but will also make you incremental to your business digital transition.
Offer the following value chain structure to help your business meet its competitive challenges, you'll make a high impact:
It clarifies the responsibilities, processes, practices, tools and infrastructure to leverage, it not only establishes service-oriented delivery and customer value management as the means to turn relationships with vendors from toxic dependencies to productive partnerships but also defines them as continuous revenue determinants.
Second: Set up an executive task force to discuss your digital transformation strategy
Every transformation decision emphasizing vendor solutions at the expense of business objectives systematically fails. Never base your transformation decision on technology change motives. Rather, stress the value stream transformation benefits. It's about making sure how you spot customer needs, translate them into services, roll out them, and sell them guarantee continuous revenue.
Don't waste time listening the greatness of vendor tools, your priority is to set up a task force involving the business and IT particularly enterprise architecture to discuss:
Your digital business model in terms of markets, customers, value propositions, and IoT apps to develop.
The impacts on your value stream in terms of business and IT staff, skills, processes, practices and infrastructures.
The objective is to get a transformation plan including your digital IT organization's high-level architecture; evaluation of potential gains, losses, and risks; transformation roadmap clarifying the timing; and a change adoption plan.
Transforming your IT
Going digital is neither a technology change nor a terrible revolution that'll put your business up and down. It's about adjusting a small piece of your business: its value stream. The best way to do it is to implement either DevOps or the ITaaS delivery model. In both approaches, you'll act on two levers: the operating model and the infrastructure.
Aligning your operating model
It's more a matter of making interactions and relationships agile and flexible within your value stream than deploying agile tools. As illustrated, bottom line is to bring together relevant business and IT staff into a common work environment to establish cross-functional collaboration and ensure rapid problem solving and decision-making: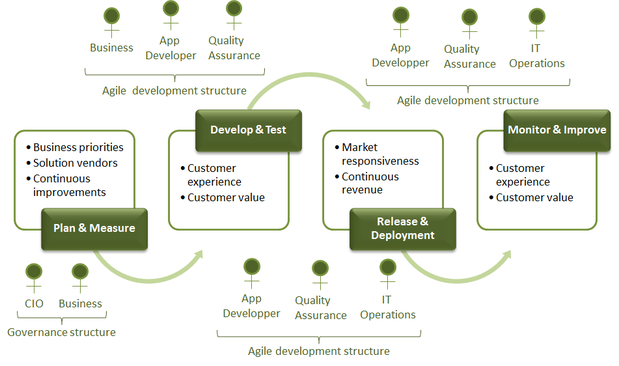 To get tangible benefits, make sure workshops involving the business and IT are set up to discuss:
Elimination of the organizational and operational dysfunctions that prevent agility and flexibility.
Deployment and adoption of Scrum and Extreme Programming (XP) agile processes, practices, and tools.
Re-engineering your IT infrastructure
The objective is to meet the digital economy's technological challenges through implementing your digital infrastructure in the form of a public, private or hybrid cloud platform: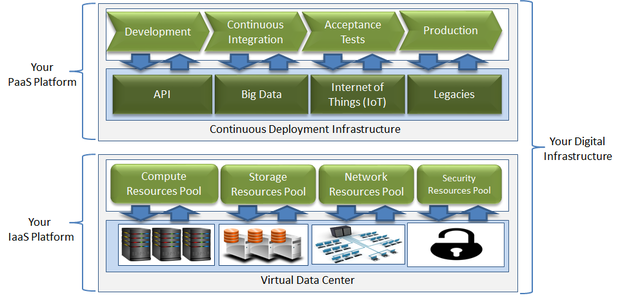 To get tangible benefits including effective management and monetization of the massive data generated by IoT activities and accelerated resource provisioning and application delivery, make sure the following is accomplished:
A virtual data center is implemented as an IaaS platform. AWS, Google, and Rackspace are my recommendations.
A continuous delivery infrastructure is implemented as a PaaS platform. AWS CodePipeline, Microsoft Azure and Apprenda are my recommendations.
Wrapping up
Industry disruptions are a reality you must tackle now, it's about transforming a small piece of your business and nothing more: the value stream.
The approach discussed in this article is detailed in my recent book: Rethink your IT with DevOps: The guide to aligning your IT to DevOps.
If you're considering digital transformation, what will be your first steps? I'd love to hear your thoughts, let's meet @TheFutureOfYourIT.