Okay, let's all face it…we all have older feature phones, flip phones, smartphones, and even our beloved Blackberry devices sitting in our office drawers or stored away in boxes or elsewhere. On average, companies replace wireless devices every 2 to 3 years and it may also shock you that many have no clear plan on what to do with the old devices. It is time to get rid of that digital dust and think about incorporating a specific policy and plan for employees. A corporate sustainability program that includes policy, procedure and a plan for recycling technology devices not only benefits the environment, but may also add to your operating bottom line as device buyback programs can provide for hefty financial benefits if performed properly.
As a CIO or CTO, you and your team are responsible for a long range of corporate-liable technology buying, and this includes selection, onboarding, issuance, security, management, integration, software updates, repair, replacement, upgrades, warranty, BYOD, wiping, backup, and more. But there is one more step you need to includes in this long list, and that is what you do with the hardware, computing equipment, and devices once you are no longer using them or are ready to replace them.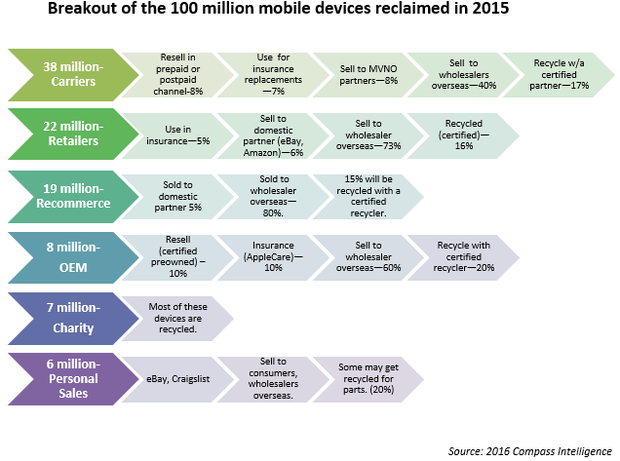 Below are some of the options you may consider for your smartphones or other devices:
Reuse, keep as backup – used as backup when one is under repair, lost, or stolen. Some insurance or warranty plans do not provide a backup device or you may not get one out to your employees in time
Reuse, use for seasonal or short-term workers – used for seasonal workers, contractors or used as backup when one is under repair
Reuse, Wi-Fi only usage – There are specific applications or business use cases that make sense to use a smartphone, phablet or even tablet as Wi-Fi only. This may include a long range of data only applications or use cases where a phone is not required and in fact many chat/messaging apps allow for easy mobile VoIP calling.
Recycle, trade-In – trade in to your carrier, online vendor, or OEM or device manufacturer. Trade in programs could benefit your company between $20-$200 for a smartphone that is between 1 and 2 years old. Some programs offer store or online credit to be used for your next purchase, your upgrade and others provide cash payouts and gift cards.
Recycle and be GREEN – there are many 3rd party programs and companies in place that will happily pick up those devices from your facilities and offices. There are precious materials in many devices that provide an economic benefit once recycled. Toxic elements contained in wireless devices, including lead and arsenic, should be avoided in our landfills. In addition, materials such as plastic, copper, gold, lead, zinc, beryllium, tantalum, coltan, palladium, and other raw materials hold value and companies are able to recycle those precious materials. Say NO to e-waste!
Donate – there are a host of drop-off locations where your devices may be sold into secondary markets, recycled, and even sent overseas to our soldiers/military personnel. Cell Phones for Soldiers and Hope Phones are just two programs where you can donate your devices.
Did you know that many large corporations are incorporating their own buyback, trade-in, and replacement programs to support their employees in properly wiping, backing up, and recycling of devices? You can work directly with your carrier, your device manufacturer, or a variety of companies (see the Resource list below). According to a 2014 CBS News online article, "Twenty-four states currently have laws in place governing the collection and recycling of electronic devices." This number has now grown to 25 states according to the Electronics Recycling Coordination Clearinghouse. This means that businesses or corporations are liable for non-compliance and further illustrates the importance of having a plan/policy in place. Your employees should know who to go to, the options you have available, and provide proper plans for end-of-life device management.
Resources to learn more:
HYLA Mobile http://www.hylamobile.com/ (Works closely with some of the largest carriers)
GRC Recycling http://www.grcrecycling.com/ (high concentration on charities, non-profits)
Hobi International https://hobi.com/
The Wireless Alliance http://www.thewirelessalliance.com/
e-Cycle http://www.e-cycle.com/
ECO-CELL http://www.eco-cell.com/
Electronics Recycling Coordination Clearinghouse http://www.ecycleclearinghouse.org/
ecoATM – https://www.ecoatm.com/ (Kiosk solution, owned by Outerwall Inc.)