The 2016 Olympics Games are already off to a rough start — and we haven't even seen opening ceremonies yet. Worries about the Zika virus, polluted competition waters, doping scandals and Rio's precarious finances could mean a complicated time in August for the Summer Games.
[ Related: Jumping hurdles on the road to Rio 2016: AOC's head of IT Anthony Soulsby ]
One thing thing poised to go well: communication at Rio de Janeiro–Galeão International Airport, Brazil's biggest airport and how most people will get into the country for the games.
To be ready for the 2016 Olympics — and beyond — airport desperately needed a new wireless network — and a mobile app wouldn't be a bad idea either.
"The network was very old," Alexandre Villeroy, CIO of the airport, tells CIO.com. What it had was a mix of legacy systems that had been patched together. He says it was so bad that they just about had to start from scratch. He knew that as is, "[it was not a system they could] rely on for the next 30 years" — and that wasn't even factoring in the Olympics, which was about to bring a lot of people into the country.
An Olympic-sized fix
The solution to problem came from Hewlett-Packard Enterprise (HPE) via the Aruba 200 Series 80211ac access points and the 7200 Series Mobility Controller, HPE FlexNetwork 5130 HI Series switches, HPE FlexFabric 7910 switch chassis and HPE/Aruba network management software, which was all used to replace outdated and legacy infrastructure.
HPE also built an app tied to Aruba's Mobile Engagement Solution that includes more than 3,000 Aruba Beacons and the Meridian Mobile App Platform.
A spokeswoman from HPE declined to say how much the solution and app costs, but she did write in an email that this upgrade is part of a 25-year plan to invest $5.2 billion in the airport, and out of this, about $2 billion will be invested by the Olympic Games. "This total includes their major construction efforts as well as infrastructure upgrades," she added. Construction includes a 100,000 square meter expansion project.
Airport tech necessities
A lot goes on at airports in addition to planes coming and going. The network is used by airlines, security, immigration, stores, concessions and passengers. At the Olympics' peak, the airport expects to have 90,000 visitors a day, double the usual number.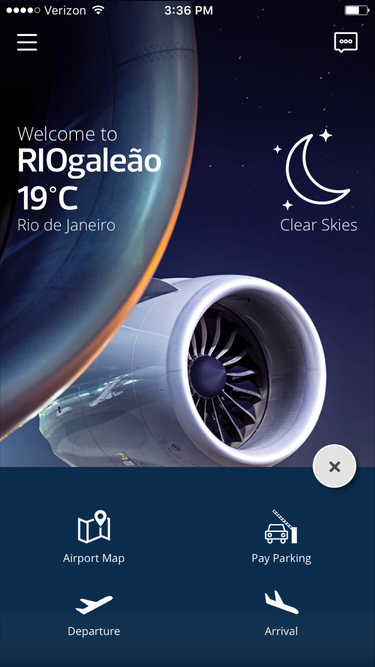 "Airports are challenging in terms of upgrade deployments regardless, but in this case, [they are also doing] a big expansion of this airport in preparation for the Olympics and anticipation of a huge uptick of network use with more people passing through the airport bringing more devices being heavily engaged with what will be going on event-wise," says Nolan Greene, senior research analyst in network infrastructure at IDC.
The Aruba platform will give the airport the cohesive network it needs, plus stronger data center and Wi-Fi infrastructure, says Villeroy, which will make the business of being an airport easier on airlines and retail partners while providing Wi-Fi for visitors, too.
The mobile app is designed to help passengers have a better experience — even before they get there "considering the traffic in the city," Villeroy says. The app has integrated capabilities of Waze and Google Maps to estimate how long it will take you to get to the airport.
Once at the airport, you can track flights, see gate changes and find flight information without having to look for a departure or arrival board. "The idea is to remove and reduce [the] hassles of trying to figure out if anything has changed with your flight," he adds.
If you turn on location services, you can also be directed to places within the airport and know how long it will take to get there, aided by Aruba's Meridian Location services and those 3,000 beacons that were included in the upgrade.
"It will point them to airport services and help guide them through what is a very large and possibly confusing airport," says Greene and can also "direct them toward restaurants, shops [and] tourist venues based on contextual information." He adds that this could be a revenue opportunity for the airport and "part of the justification for this large investment."
Looking beyond the Olympics
Villeroy says that this wasn't done specifically for the Olympics, but it was one of the impetuses, and gave them a deadline. Yearly passenger traffic has reached 17 million people, and about 1.5 million more are expected for the Olympics.
"It's part of what we need and the foundation for the next 25 to 30 years," he says. "We want to [create] the best experiences for the passengers."
And while the spike in travelers will die down after the closing ceremonies, the changes should help people flying in and out of Rio for years to come.
"Olympics or no, it's a big airport and the largest city in the country, so it's going to have a lot of traffic," says Greene. "Business travelers who need to be connected whenever, wherever are going to appreciate this."