Thanks to cloud and mobile applications, companies have eliminated tedious paper shuffling but this has created a new problem — application fatigue. Enterprise software is cramming email inboxes with messages prompting workers to manage expense reports, purchase orders and other business processes. The very software designed to enhance your productivity is taking more of your time than was originally intended.
The situation is especially challenging for managers who oversee hundreds or even thousands of workers. On a typical work day, VMware CIO Bask Iyer approves salary increases in Workday and IT requests in ServiceNow, signs off on procurement requests in Coupa and expenses in Concur. The demand on Iyer's attention makes him feel like a clerk and has him longing for the days of signing paper approvals by hand. "It's become so tedious that what we did 20 years ago was more efficient," Iyer tells CIO.com.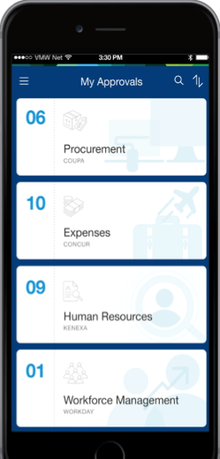 Indeed, compared to modern consumer applications that pepper you with push notifications, activity streams and bots, the pull-oriented form and function of enterprise software is archaic. To address the problem, Iyer asked his staff build vApprove, a mobile application that uses RESTful APIs to aggregate approvals from cloud services and internal back-end systems.
[ Related: How to measure the success of enterprise mobile apps ]
Each request includes the complete workflow of the request, including who else has signed off, comments, as well as receipts and the capability to access the app in which the business process was generated. If a manager has a question about a purchase order, she can do a screen grab of the document and text it to a procurement specialist.
Why 'micro apps' are a burgeoning market
VMware is hardly the first company to tackle inbox overload. Between 50 and 100 startups are consolidating messaging into lightweight apps as part of a nascent but growing market known as Rapid Mobile Application Development, or RMAD, says Gartner analyst Van Baker. "This is a common need in enterprises across all verticals," says Baker. "Vacation requests, expense reports, work orders and purchase order approvals are simple workflows that people want to be able to deal with in an efficient manner and get on with their day."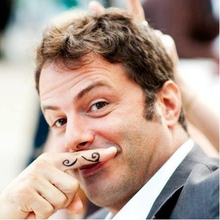 Inbox overload proved vexing enough for CBS Interactive CIO Peter Yared that he left the media company in 2014 to launch Sapho. Yared notes that enterprise apps have traditionally been request-driven, with the employee providing information and the app conducting calculations to retrieve answers. It was not uncommon to juggle multiple apps that performed the same functions at CBS, Yared says. For example, an expense management app could require him to check for new expenses monthly, manually query the system, or sift through email notifications for approval requests.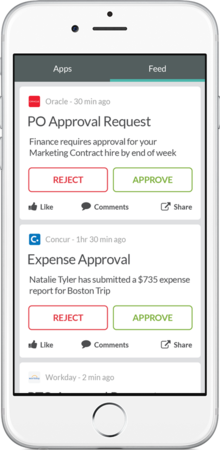 Sapho collects approval expense requests from the disparate systems and funnels the prompts into a single "micro app" that lets managers tap the screen to approve or reject requests. The software, which runs on customers' servers, connects via APIs to SaaS apps, databases, data warehouses and internal web services. When Sapho detects a change in one of those apps that requires an action, it pushes emails, texts and other notifications to managers' smartphones, desktops and through Slack, prompting them to approve or reject a request.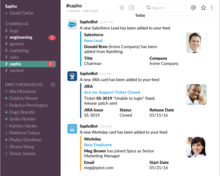 "The aggregation point here is disassembling software so that you have a new visualization layer that connects to all it from one place," Yared says, adding that employees haven't historically had the "luxury of systems that tell them when something they should know happens."
[ Related: Mobile management takes on apps, content ]
Sapho's technology has helped rescue media producer Super Deluxe from information sprawl that has made it difficult to meet production timelines. The Turner Broadcasting-owned company is comprised of four business groups that make short-form video, TV series productions, applications and games and a shared services distribution arm that supports the other three units. Roughly 120 employees spread across these four groups were using their own project-tracking apps, such as Asana and Trello, to coordinate creative, finance and other business functions, Super Deluxe Wolfgang Hammer CEO says. Sapho has helped unify the activity streams, he adds.
"What Sapho has built is a way for us to track really disparate information — finance data, budget data, creative updates and status updates," Hammer says. "And we can see the weakness in our processes — where things get stuck. That wasn't possible before."
Employees hunger for better enterprise apps
You would think that enterprise software would be more mindful of employees' workflow needs. But Yared, who has started four enterprise software companies before joining CBS, says most business software companies are "very detached from what IT departments need and do." And with the bulk of vendors operating this way, CIOs have had little choice but to select the best possible option, typically the one at the right price.
The lack of user-friendly enterprise software gives Sapho a shot at slipping into IT departments at a time when more CIOs are adopting a mobile first mentality to software development. In its 2015 CIO survey, Gartner found that 48 percent of employee-facing applications are being designed with mobile as the primary or secondary consumption mechanism.
Sapho's user interface and push notifications will play well with millennial managers who have grown up using consumer-focused web apps from Google and Facebook, says Gartner's Baker. It's a digital native generation raised on push notifications that interrupt their workflows, if only for a few brief moments. "It fits seamlessly into a behavior that is already well established. And that gives [Sapho] an advantage to go to market."
Several other smaller companies, including StarMobile, Capriza and Alpha Software as well as incumbents such as IBM, SAP, and Kony and have built similar RMAD tools. Baker says the startups have a first-mover advantage, while the incumbents are offering more comprehensive suites with analytics and other capabilities that boost their prices. "The RMADs are a lot cheaper and easier to engage with," he says.
If VMware's Iyer has his way, Baker will have to add VMware to the mix. The software maker plans bundle vApprove within the company's Airwatch mobility management software and offer it as standalone app, Iyer says. He says the company is considering charging an a la carte price of 99 cents per month, per user for vApprove. "There are several takers for it."