Samsung and AT&T this month released the latest "ruggedized" Galaxy smartphone, the Galaxy S7 (GS7) Active. The new phone is nearly identical to the "regular" GS7, with a few key differences. It's designed to stand up to more abuse than its sleeker, more delicate GS7 and GS7 edge counterparts. It has a bigger battery and an additional customizable side button, along with some other design departures. The Active version also costs $100 more than the base GS7.
Here's how to tell if the tougher, more expensive GS7 Active smartphone is right for you, or if you'd be better off with the better-looking GS7 or GS7 edge phones.
Galaxy S7 Active price and availability
First things first, if you're not an AT&T customer and have no plans to become one, you can stop reading right now. The GS7 Active is unfortunately an AT&T exclusive. You could purchase the device off-contract for $794.99 from AT&T, and then unlock it, but you'd have no guarantee that it would perform as expected on another network.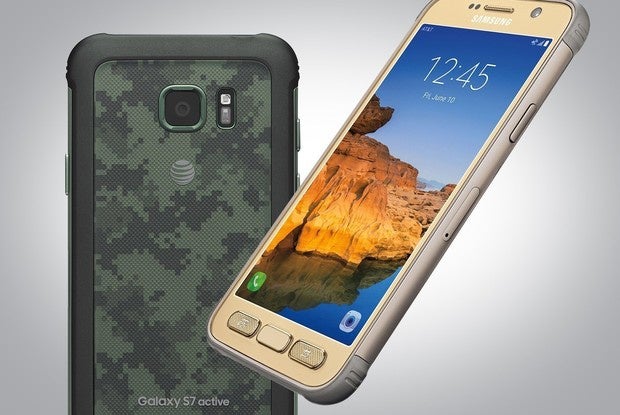 If you're also looking for the best price on a GS7, the regular version is cheaper on AT&T ($694.99) and each of the other three leading U.S. carriers. If you don't want to become an AT&T customers and price is paramount, the GS7 is likely a better fit than its Active brother — though you'll probably spend $50 or so on a case to protect the more affordable and delicate GS7, which shrinks that price gap.
Galaxy S7 Active bang for your buck
What exactly do you get for the extra hundred dollars? To start, a more durable, smash-resistant display and a significantly larger, longer-lasting battery. For some folks, these two things alone are worth the extra money.
Both the GS7 and GS7 Active offer the same level of water resistance. You'll be fine if you get stuck in the rain with either device or drop one in the john — it happens … often. But you probably don't want to bring any GS7 diving in the deep end of your buddy's pool.
The GS7 Active has a stronger display than the regular version. The Active screen's top layer is made of polycarbonate and the bottom layer is Gorilla Glass 4, according to a Samsung spokesperson. That means the Active's display can take some serious abuse without smashing. I threw caution to the wind and tossed my GS7 Active review unit around the CIO.com offices in flamboyant fashion, and it took the beating admirably.
However, while the GS7 Active's screen is more smash-resistant, it's also more likely to scratch easily. For example, when I dragged the tip of a ballpoint pen across the GS7 Active's screen and slowly pressed down, it left a gouge on the screen that isn't going away any time soon. When I did the same thing to my GS7, it didn't leave a mark. The display's protective polycarbonate layer reduces breaks but it also scratches much more easily than the Gorilla Glass of the GS7's display. (I experienced the same scratch issue with Motorola's DROID Turbo 2 and its "ShatterShield" display.)
The GS7 Active's big old 4,000 mAh battery is the largest power pack of any Galaxy S smartphone, by far, and it's 33 percent bigger than the GS7's 3,000 mAh power pack. But the beefy battery also makes the Active about 20 percent heavier than the base GS7.
If you prioritize battery life and durability in a phone, the GS7 Active might be a good fit.
Galaxy S7 Active style sacrifices
For a ruggedized smartphone, the GS7 Active is fairly good looking. It's clunky and a bit boxier than the regular GS7, and it's not nearly as easy on the eyes as the curvaceous GS7 edge. Compared to the last-generation GS6 Active, however, it's downright handsome.
For some strange reason, Samsung and AT&T released the GS6 Active last year only in a hideous white-camouflage option. Thankfully, the companies learned from the mistake, and though the GS7 Active still comes in a somewhat less-tacky "green camo" color, it's also available in good old gray and gold.
The GS7 Active looks and feels like what it is: a GS7 with a built-in case and protective "plastic" screen layer. The case components add some bulk and a few extra ounces. The rear side of the Active scraps the smooth, curved rear glass of the base GS7 for a plastic exterior bezel and weave-pattern back plate, which definitely subtracts some style points. But most people quickly cover their phones with cases anyway.
It has two additional hardware buttons sunk into its display next to the home key, for access to recent apps and a back button, which add to its somewhat awkward design. The two buttons, however, may actually be more functional than the GS7's on-screen keys, because they provide tactile feedback.
Galaxy S7 Active custom key and 'Activity Zone'
The ruggedized GS7 has a side button that its sleeker sibling lacks, and it can be customized to launch three different apps or functions of your choice. For example, a hard press can be set to launch a sports app. A quick tap can launch your email inbox, and a rapid double-tap can display your Instagram feed.
By default, a hard press on the Active key opens up the phone's "Activity Zone," another feature that's exclusive to the rugged GS7. The Activity Zone is a dashboard for various health and wellness information, including the local weather, a barometer with elevation and pressure details, your daily step count, a compass and stopwatch. I use separate apps for fitness, however, so the custom button is much more useful to me as a "convenience key." And it's one of my favorite GS7 Active features.
Galaxy S7 or GS7 Active?
The regular GS7 is a super-sleek, stylish phone that's an attention-grabber on its looks alone. The Active version isn't going to win any beauty pageants, and it's perhaps a bit heavier than would be ideal. However, its significantly larger battery and more shatter-resistant screen more than make up for those sacrifices, especially if you're going to use a case of screen protector anyway.
Unfortunately, the GS7 Active's screen is surprisingly susceptible to scratches. It's only available on AT&T, and the phone costs $100 more than regular GS7.
If you're already an AT&T customer, you're sick of using a phone with a spider-webbed display, are not particularly concerned with how your phone looks and you're willing to pay $100 more for enhanced battery life and durability, you'll find a friend in the GS7 Active. Otherwise, the regular GS7 and GS7 edge are likely both better options.
You can find more information the GS7 Active on AT&T's website.
AS