The frustrating plague of "robocalls," or automated telephone calls that deliver recorded messages, is still a very serious issue. But at least one companies in the telecom industry appears ready to protect its subscribers. The United States' No. 2 wireless carrier, AT&T, got a shoutout from the FCC yesterday for pledging to develop and deploy technology that lets its subscribers block those annoying calls.
"I applaud AT&T for committing to make robocall-blocking technology available to its customers, as I requested in a letter to the company last week," said FCC Chairman Tom Wheeler, in a press release.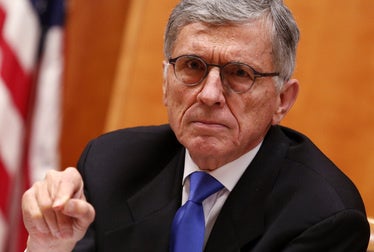 Unfortunately, AT&T's competitors have yet to reply to Wheeler's letter or make public statements of support. Why am I not surprised?
Call-blocking tech a good start, but …
The telecom industry has dragged its feet on the robocall issue for years. The excuses for not acting include (largely untrue) allegations that the technology isn't ready for broad use, and concerns (also unfounded) that the FCC's rules forbid carriers from using robocall-blocking tech. The carriers have also said blocking commercial robocalls could block messages from public safety agencies and hospitals.
In a blog post on Monday, a senior AT&T Senior Vice President Bob Quinn said, "telecommunications providers must play a vital role in attacking the robocalling problem and AT&T is prepared to take a leadership position in the industry in the development of comprehensive solutions." However, Quinn also said, "call blocking alone will not address the problem as robocallers continue to develop ways to evade established filters and black lists."
Quinn's point is a valid one, and it underlines why the response I got from AT&T's larger rival, Verizon Wireless, is completely inadequate. "Verizon currently has several tools in which consumers can block unwanted calls," wrote Verizon Spokesman Richard Young in an email. Young also provided a link to a Verizon webpage where more information on these tools is available.
As Quinn pointed out, robocallers continue to evolve and find ways to circumvent current technologies. Offering a couple of tools for customers to start blocking unwanted calls is a good start, but it's hardly enough.
"AT&T will work together with the industry, the standards bodies and through the new task force on a 'Do Not Originate' list for the purpose of identifying suspicious calls originating outside of the United States; and AT&T will facilitate efforts by other carriers to adopt call blocking technologies on their networks," Quinn wrote. The ability to identify robocalls that originate outside the United States is key, because robocallers use international locations to skirt blocking techniques.
T-Mo, Sprint mum on robocalling
Neither T-Mobile nor Sprint responded to my requests for comment.
T-Mobile also has some history here, and it's not great. Back in 2014, the the U.S. carrier paid $5 million to settle a suit by consumers who claimed the carrier had used robocalls to help third parties collect debts. As is often the case in class action suits, T-Mobile settled without admitting any wrongdoing.
You can, of course, block certain phone numbers using your smartphone settings. I tried that but continue to get the same types of calls from different numbers. Hundreds of thousands of consumers have already complained about robocalls to the FCC, according to Chairman Wheeler, and there is simply no excuse for the industry to pretend the problem can't be solved.