Dropbox, the cloud-file storage and sync service Steve Jobs reportedly tried to kill, continues to get stronger. In my opinion, there's no easier, more reliable competitive service out there — and there are plenty of Dropbox rivals, including Apple's still-kind-of-messy iCloud.
Dropbox is now trying to break out of its box, by transforming into an online collaboration workspace. Dropbox Paper, currently in beta and available as an online service, as well as Android and iOS apps, could become a serious alternative to Google Docs, Basecamp and other popular options. However, its mobile app aren't there yet.
Dropbox Paper is a digital whiteboard
Dropbox Paper provides a kind of digital whiteboard onto which you can embed images, text, YouTube videos, audio files, GIFs and Dropbox documents. And it can be used to share meeting notes, group brainstorm, and collaborate. Its chat feature makes it simple to comment back and forth with collaborators. And you can include emojis, if you must.
So far, so good.
Dropbox Paper web client is more full featured
Unfortunately, some features that are available in the Paper web client are missing in action or don't work as well in the mobile app.
In the browser-based Dropbox Paper, for example, it's easy to add chat messages by highlighting text or single-clicking images, then selecting the conversation bubble icons, and typing your comments. The messages show up clearly to the right of the content they reference.
With Dropbox Paper on the iPad Pro, adding comments to text works pretty much the same way, but tapping on images simply enlarges them, with no comment option. Also, chat messages don't display on the right side (see the screen shot below), as they do in the Paper web client.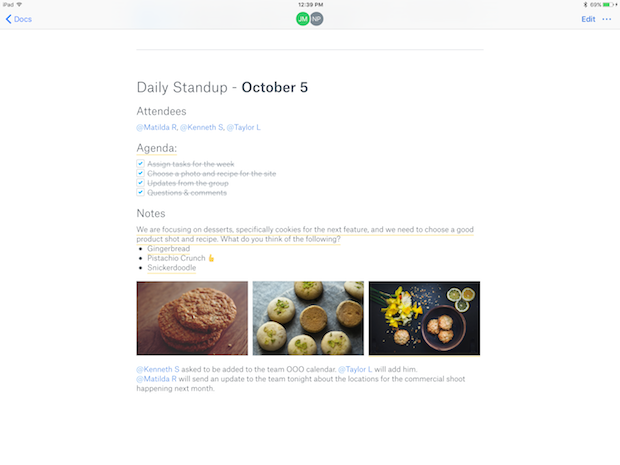 The web client also lets you move your cursor over a new line. A "+" icon appears and makes it easy to insert a four-cell table, Dropbox file, image, to-do list, bulleted or numbered list, and HTML code. In comparison, the iOS app has options to insert text and images, to-do lists, bulleted and numbered lists, and headers. But that's about it.
Try the web client, skip the mobile app … for now
Again, Dropbox Paper is in beta. It's not fully baked. After it exits beta, it could make online collaboration easier for Dropbox users who don't need or want to use an additional service. However, the mobile app experience will need to be much more on par with the web-client experience. In the meantime, you might want to give the web client of Dropbox Paper a try, but I'd skip the mobile app.