Millions of fans will tap their favorite social networks during the coming weeks for live updates, highlights and on-the-ground reports from the Rio 2016 Olympics. Social sites are also where fans will turn to share the glory of the athletes' greatest achievements in real time. Social media's biggest companies all struck deals to better position their apps and services to showcase the action in Rio de Janeiro. Here's how to follow it all from afar using Facebook, Twitter, Instagram and Snapchat.
How Facebook does Rio 2016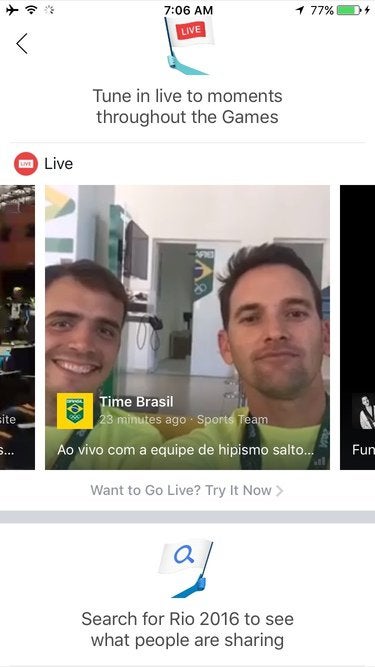 Facebook and NBC have paired up for the third consecutive Olympics to showcase exclusive content, commentary and athletes' stories. The companies created a "social command center" in Rio de Janeiro to capture Facebook Live video content and display a series of short-form videos that feature highlights and interviews.
NBC will also produce daily two-minute recaps from the games that will be available exclusively to U.S. users through NBC's Facebook page. The recaps will include the greatest moments and achievements from each day's competition, according to the broadcasting company. And Facebook dedicated a section of its News Feed to the Olympics.
Twitter taps into the 2016 summer games
Twitter revamped its Moments feature to help you follow the Rio 2016 Olympics throughout the competition. You can opt to follow your favorite sports, teams and events on a Rio 2016 Moments tab, and then tweets appear in your timelines with daily recaps, video highlights, results and medal counts.
[ Related: How to watch the Olympics without paying for cable TV ]
You can follow the official accounts for the Olympics, the Olympic Flame and Rio 2016, and the #Rio2016 hashtag helps keep track of all the action. Fans can also follow a list of athletes who are competing in Rio. Twitter's Periscope app will feature a dedicated channel with Olympics-related content, and Vine will showcase video loops from the Olympics in its Explore section, according to Twitter.
2016 summer Olympics on Instagram
The Olympics are formally on Instagram for the first time this summer. You can follow Instagram's official account to watch interviews and find special features with NBC commentators and athletes. The app also shows highlights of NBC's Olympics coverage in its Search and Explore video channels.
Instagram will showcase daily, inspiring moments from the competition in slow-motion video. And you can also follow the official Rio 2016 Olympics Instagram account for constant updates.
Snapchat's 'live stories' from Rio
Snapchat made a deal with NBC in April to show highlights from the 2016 summer games in its app. Users see a dedicated channel in the mobile app that features daily "live stories" from NBC, the athletes and fans in Rio de Janeiro, according to Bloomberg. The NBC content Snapchat curates will be available only to people in the United States.
[ Related: How tech's all stars are playing the Olympics ]
Snapchat users can follow updates from NBC's dedicated Rio 2016 feed. And BuzzFeed, which has a separate partnership with NBC, will also showcase short clips and behind-the-scenes footages on its Discover channel within Snapchat.
We're on Snapchat! Make sure you add us to see the fun we're having at the Rio Promotional Shoot! pic.twitter.com/zEz5jBGd3K

— NBC Olympics (@NBCOlympics) November 20, 2015