I was first exposed to Salesforce a decade ago, while working for a nonprofit organization that helped at-risk youth. We provided a variety of programs to eradicate school drop-outs, excessive alcohol consumption, and criminal behavior.
When I joined the organization as the director of resource development, my executive director shared with me the largest Excel spreadsheet I have seen to date. We had all donor asks, grants, and donations from the last 10 years in one worksheet. I quickly realized that Excel is not a tool to manage relationships and migrated our fundraising efforts to Salesforce, a robust Constituent Relationship Management (CRM) platform.
As we learned about Salesforce, we understood that that it could do more than just help us increase our effectiveness and efficiencies. The technology would also help us create additional value by managing our social return on investment, in addition to our financial return on investment. In a very short time, we used Salesforce to transform our entire operations from tracking donors and volunteers to tracking programs and cases.
I attribute the transformative power of Salesforce to the following:
Openness — The ability to integrate with other technologies helped us create a complete 360-degree view of our constituents.
Flexibility — The ability to customize the platform to meet very complex business processes and requirements ensured that the system was working for us and not against us.
Ecosystem — Salesforce has a vibrant community of users, implementation consultants and applications. If we needed to expand our usage of the platform, we could always consult with another user and/or consultant, or download an existing application from the AppExchange.
The flexibility, openness and expansive ecosystem allow customers to use the technology the way they want to use it. It ensures that the technology is "working for their mission" instead of the organization "working for the technology." This is the true advantage of Salesforce and it is very different from the other CRMs out there.
Microsoft does not have a vibrant ecosystem of consulting firms and applications. Their version of the AppExchange is still in the very early stages and it is lacking the collaborative culture Salesforce has developed and maintained. It doesn't matter how many applications Microsoft plans to buy to extend Microsoft Dynamics, they will need to completely change their mindset to actually compete with Salesforce. Blackbaud (a nonprofit technology provider that competes with Salesforce.Org) and Oracle sell a complete package of products. In most cases, what you see is what you get and your ability to extend these applications with point and click solutions or third-party applications is very limited.
As the CEO of a Salesforce.org consulting firm, I often hear our non-Salesforce competitors pointing out that the wealth of options and flexibility of Salesforce is a disadvantage. In fact, we tell our nonprofit clients that Salesforce is like "free puppies." Someone still needs to take the puppies for walks and train them.
Similarly, with Salesforce someone will still need to customize the system, help with the data migration and train their users. With that being said, the platform provides access to more than 3,000 business application to extend the standard CRM capabilities and when needed it is relatively simple to build a new application on the Salesforce App Cloud.
Unfortunately, rather than embracing its flexibility and openness, Salesforce has recently begun an enterprise product push. In order to address the competition's points, the Salesforce ecosystem is being encouraged to build end-to-end enterprise products. Salesforce is trying to be more like the competition rather than maximizing the proven value of their platform.
I believe Salesforce is looking at it from through the wrong lens. Rather than looking at how customers are using the technology and why they love Salesforce, there is a movement to build products to be more like Oracle or Blackbaud. I feel Salesforce should focus on what makes them different from their competition and focus on all that they currently offer.
I recently listened to a great talk by Tiffani Bova, the global customer growth and innovation evangelist at Salesforce. In her presentation she used the below example of Heinz tomato ketchup to explain a company centric approach vs. a customer centric approach.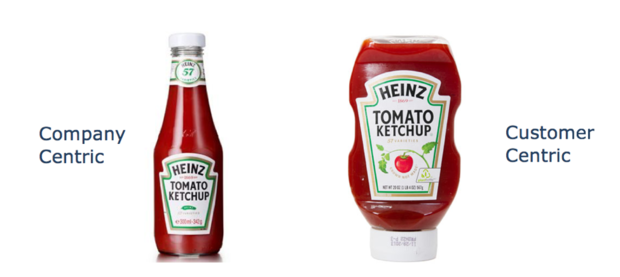 The company centric approach (to the left) created a beautiful bottle of ketchup but it didn't address the ease of getting the ketchup out of the bottle. The customer centric approach (to the right) is looking at how their customers want to use the product.
The biggest impact Salesforce has on their customers is the ability to manage overlap between accounts and contacts (a volunteer could be a donor and a vendor could also be a customer). The end-to-end product approach is limiting the flexibility our clients desire (not to mention that it is going to limit Salesforce's ability to sell a solution to an entire organization). Enterprise companies don't want to change their business process to accommodate architectural decisions that a vendor made when it built an all-inclusive product.
In today's world no one has a phone with only one installed application. Our clients understand that options are beneficial and we should not shy away from selling flexibility. We need to stop selling products and start selling transformational change.