A lot has been written covering blockchain and healthcare over the past year. From articles on blockchain applications for healthcare to articles by healthcare industry experts exploring blockchain technology as the solution for healthcare interoperability. In early 2016 Forbes published an article titled "How Blockchain Could Change the World."
The startup frenzy forgot about healthcare
The world is talking about uses of blockchain in the financial services industry. This seems reasonable given that there has been $1.2 billion invested in blockchain startups. The majority of these investments have been within the financial sector. The cumulative investment in blockchain likely is double. Several of the stealth mode startup companies were funded with pre-seed or seed money and to date are staying well under the radar. However, many startups are eager to get noticed and have published formal press releases, including Brave, Coinigy, Netki, Circle Internet Financial, Mediachain, TechBureau, Fluent, Tierion, bitFlyer, Ethcore, Tibit, BitKan, Custos Media Technologies, Bitwala, Bitt, Stratumn, Rootstock, Elliptic, Chronicled, Keza, Loyyal, Chainalysis, Simplex, SurBTC, Blockstream, SatoshiPay, Digital Asset Holdings, Gem, and Zebpay.
The focus has been on the financial markets and out of the public startups, only one company, Gem, has anything to do with healthcare, and only one startup is primarily concentrating on applying blockchain to healthcare (Gem).
Somehow we need to get back the basics of the blockchain and start to dive into real solutions that can discover root causes for healthcare interoperability in the United States. The National Institute of Standards and Technology (NIST), in partnership with the Office of the National Coordinator for Health Information Technology (ONC), has opened the ONC Blockchain Challenge. In this national challenge, NIST and the ONC requested healthcare and technology innovators submit proposal papers exploring the "use of blockchain in Health IT and Health-Related Research."
Micro-identities for better patient care
The second paper I submitted for the ONC Blockchain Challenge is one I co-authored with Dr. William Dailey, a practicing physician and chief of medical information at Golden Valley Memorial Healthcare. Our Blockchain Challenge paper is titled "Micro-Identities Improve Healthcare Interoperability With Blockchain: Deterministic Methods for Connecting Patient Data to Uniform Patient Identifiers."
Our proposal paper states that, interestingly enough, patients only visited their primary care physicians 54.6% of the time they went to the doctor. Where do they go for that other 45.4%? The patient would go to another doctor, and that doctor would have no access to the patient's historical medical records.
Do different providers' patient management systems talk to one another? How are clinical treatments shared? What is the process flow to move administrative and billing information to payers? In the United States, the care experience is not integrated; each integration is a one-off.
The goal of the Triple Aim is pretty straightforward:
Improve the patient experience of care (including quality and satisfaction).
Improve the health of populations.
Reduce the per capita cost of healthcare.
Unfortunately, progress has been limited, and national healthcare costs are on the rise. Shared-cost and inventive distributed decentralized solutions offer a way out.
The drive behind this paper was to present a hybrid model, integrating the Fast Healthcare Interoperability Resources (FHIR, pronounced "fire") interoperability standards describing data formats and elements. This model also includes an application programming interface (API) for exchanging electronic health records using blockchain technologies for better patient access to health information.
Think micro-identities that travel with you, and providers who leverage new patient matching logic to remove the need to transfer sensitive demographic information when validating a patient's identity.
HL7 FHIR the primer for healthcare interoperability
Our paper provides an overview of HL7 FHIR and identifies HL7 FHIR as a critical piece of the solution.
"Fast Healthcare Interoperability Resources (HL7 FHIR, pronounced "fire") is a draft standard describing data formats and elements (known as "resources") and an Application Programming Interface (API) for exchanging Electronic health records…. The HL7 FHIR specification allows secure information exchange and is a positive step towards interoperability. HL7 FHIR separates the data structure from the wider problem of entity-to-entity trust, centralized server broadcasting and patient identification and matching spanning entities."
"Less is more. This adage is true of patient matching: the more discreet items you try to match, the less likely they are to match. Keying errors, pseudonyms, misspellings and the like, impact the conformability of patient data. Also, poor data quality results in searches with no data matches. Successful matching strategies are a proprietary mix of deterministic and stochastic or probabilistic methods. They are proprietary for numerous reasons, which are beyond the scope of this paper. Stochastic methods are commonly used to overcome poor data quality."
Founded in 1987, Health Level Seven International (HL7) is a not-for-profit organization dedicated to providing comprehensive standards for electronic health information to support the delivery of health services. Wayne Kubick, the CTO at HL7, is responsible for advancing the organization's mission and strategic plans. After reading the paper that Dailey and I co-authored, Kubick added his perspective,
"This paper presents a wealth of information on using technology for healthcare, and clearly, the topic of exploring Blockchain with the HL7 FHIR standard is worthy of much additional research as a potential path forward toward improving interoperability."
– Wayne Kubick, Chief Technology Officer at HL7
Gem's founder and CEO, Micah Winkelspecht, is bullish about blockchain and the potential to improve healthcare outcomes. A visionary who founded Gem in 2014, Winkelspecht launched Gem as a blockchain application platform to transform the way companies and industries connect to solve impossible problems. Gem is one of the few blockchain companies strategically positioned to accelerate healthcare outcomes, grounded by a foundational application platform. Winkelspecht has proven his ability to forecast technology adapting to new market conditions. After reading the paper that Dailey and I co-authored, Winkelspecht had this to say:
"This paper does a great job of capturing the largest opportunities for blockchains in healthcare. Nichol and Dailey correctly identify the big killer app for a healthcare blockchain: a patient-centric, tamper-proof, comprehensive medical history tied to a global, self-sovereign patient ID. Blockchains will solve some of the largest problems around privacy, security and availability of health information as it is exchanged across patients, providers, payers, researchers and even governments."
– Micah Winkelspecht, Founder and CEO, GEM
The future of healthcare and innovation will be led by the innovators bold enough to believe in better patient outcomes.
Framework for healthcare interoperability
There's a lot of talk about blockchain for healthcare but not a lot of frameworks that provide a reference to explain the concepts. The paper Dailey and I co-authored communicates a framework to explain interactions required for efficient blockchain supported care systems:
"The below interoperability strategic healthcare framework establishes a model for incorporating blockchain technologies into healthcare.
Accessible healthcare data that is open-sourced but siloed will transition to healthcare interoperability where ubiquitous access to data will be secure and ever-present. In this new healthcare environment, patients will be able to audit each other's behavior mutually, obtaining provable security of patient health information."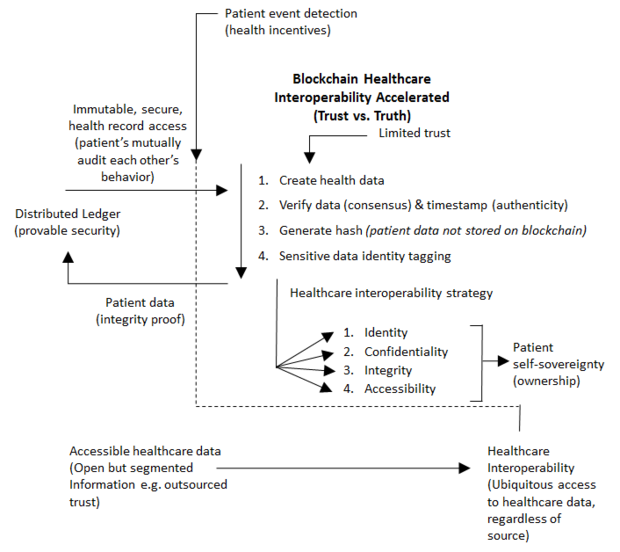 Our proposal paper elaborates on how patient matching identities could be administered.
The ONC/NIST Blockchain Challenge is strong indicator the U.S. government is paying attention to blockchain technology and the impact it could have on our healthcare system.
For additional information, our proposal paper, "Micro-Identities Improve Healthcare Interoperability With Blockchain: Deterministic Methods for Connecting Patient Data to Uniform Patient Identifiers," can be downloaded for easy reference.