When David Giambruno was interviewing for the CIO role at Shutterstock earlier this year CEO Jon Oringer, an entrepreneur and software programmer, asked him how he felt having a tech-savvy CEO.
"I was like 'Oh my God, I won't have to explain everything all of the time,'" says Giambruno, adding, "He asks awesome technical questions." Giambruno, who in June became the stock photo company's first CIO, is an enviable, if not unusual, position. Given the choice between tooth extraction and making the case for technology investments to their board, some CIOs might choose the dentist.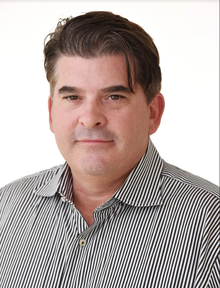 Thanks to Oringer's understanding of technology, it's not a dilemma Giambruno faces. He can move at the velocity he needs to scale IT for a company that is on pace to hit $1 billion in two years, thanks in part to expansions into music and video licensing and deals with Facebook and Google. To align IT with business growth, Giambruno is formulating plans for a software-defined data center (SDDC) that supports the company's shift toward a service-oriented architecture (SOA), which will replace application silos that have accumulated since the company's inception in 2003. To achieve this goal, Giambruno plans to build a hybrid cloud in which programmers can develop software without worrying about constantly negotiating with IT to rack and stack servers and other computing gear.
[ Related: Software defined networking, IoT top CIO's strategic priorities ]
"Speed in our world right now is one of our competitive advantages," Giambruno says. "The faster I take the infrastructure out of the way for our development and product teams, the faster we get product out," Giambruno says.
Virtualize everything!
Building an SDDC is no mean feat. It entails virtualizing servers, storage, networking and other technologies, essentially creating pools of computing resources that can be dynamically provisioned. The SDDC makes it easier for companies to automate software production in accordance with DevOps principles, allowing IT organizations and service providers to respond quicker to business demands. Gartner predicts the programmatic capabilities of an SDDC will be considered a requirement for three-quarters of large enterprises that seek to implement a DevOps approach and a hybrid cloud model.
But there's a catch: SDDCs require advanced expertise in I&O engineering and architecture, says Gartner analyst David Russell. And legacy infrastructure can often thwart even the keenest of IT architects implementing SDDCs to pursue more agile businesses.
Fortunately for Shutterstock, Giambruno completed a similar project as the CIO of Tribrune Media. In 2014, the Tribune Co. split its media and publishing business. With the latter retaining the legacy infrastructure, Giambruno rebuilt the media company's IT from scratch, migrating broadcasting and other data and content from 54 data centers into a new data center. He replaced the existing IT infrastructure and applications with VMware's compute, network, storage and security services — an SDDC.
[ Related: CIOs embrace hybrid cloud and software-defined data centers ]
Just as he did at Tribune Media, Giambruno is working toward "indiscriminate computing," in which infrastructure becomes invisible to developers, allowing them to focus on rapidly producing and shipping code without worrying about what it's running on. With this API-driven infrastructure, Shutterstock programmers can push a few buttons to provision the development environments they need and begin building their applications. Giambruno has not determined what cloud infrastructure services he will connect to Shutterstock's data center, though he says any service he selects must be able to ramp up compute capacity for the company's search algorithms and content.
This SOA construct will include policies that help govern whether it makes more economic sense to provision computing from Shutterstock's data center or from public cloud services that provide elastic compute and burst CPU cycles. The solution will include key performance indicators and tools that not only alert programmers when something goes wrong but automatically fix itself in certain instance.
The SOA naturally lends itself well to Shutterstock's ongoing adoption of SaaS, enabling the company to mix and match external services with on-premises assets. The company is currently completing a large Salesforce.com project and is installing Workday for financials and human resources.
Clean data is key
Even as he builds a bridge to Shutterstock's new infrastructure, Giambruno is gauging the state of the company's operations, information securityand product management. He says he wants to bridge the gaps between what employees are saying and what the data actually shows. He says that if he can turn company data into information that people can use, the company can continue to grow. To improve data quality, Giambruno has implemented Reltio for SaaS master data management and SnapLogic, the SaaS data integration tool.
If Giambruno nails the SDDC and SOA aspects, he will have created an environment that enables Shutterstock to scale to billions of dollars without requiring a significant architecture overhaul. It will also help him onboard assets acquired from future acquisitions intended to drive new growth.
It's a daunting task but Giambruno says that his experience transforming Tribune Media has prepared him to move fast and take risks with fewer mistakes. "Growth brings its own adventures," Giambruno says. "I love figuring out how to use technology as my competitive advantage."