Long before the Windows 10 Anniversary Update appeared, it was obvious that Microsoft was putting more energy and effort into its troubleshooting tools. These are readily available by typing "trouble" into Cortana (or the search box, if you prefer) and then selecting the Troubleshooting (Control panel) result. What I didn't know at the time was that the future of Windows 10 didn't include fix-its.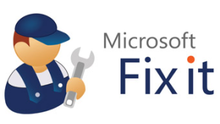 For Windows 10, no more Mr. Fix It
For the longest time, you could find an entire collection of repair tools designed to address specific Windows issues online. http://support.microsoft.com/fixit/. The charming repair man Mr. Fix It would appear on each of them. But if you check the afore-cited URL you'll find it now goes nowhere. After casting about online, I discovered a support note from Microsoft entitled "Use a fix-it tool with Windows 10" that explains what's going on: "Fix-it tools aren't around anymore in Windows 10. Instead, use a troubleshooter to help solve problems with your PC."
And there you have it: Mr. Fix It is now history. As far as Windows 10 and future versions are concerned, it looks like the troubleshooter tools will provide the primary path to automated solutions. I can only guess that the new accelerated update cadence for Windows 10 means that the company thinks it can extend existing troubleshooters and add new ones as needed right under the OS umbrella, without requiring a separate fix-it mechanism anymore.
What's new in Windows 10 troubleshooting
Windows 10 troubleshooters are listed in the Troubleshooting widget of Control panel. To get there, type "trouble" in the search box, select Troubleshooting and then click "View all" in the left pane.
Comparing that list to the one produced the same way in Windows 8.1 shows five items that are new to Windows 10:
Background Intelligent Transfer Service: Also known as BITS, this service is what Microsoft Update and other file transfer activities with Microsoft (such as MSDN) use for very large file transfers. I've gotten to know it over the years when grabbing OS or Microsoft Office ISO image files from MSDN, but it pops up all over the place for modern Windows users. It offers help in finding and fixing problems that prevent background downloads from working properly.

Click for larger image.

Blue Screen: Less than affectionately known to Windows-heads as a BSOD (Blue Screen of Death), a blue screen is what happens when Windows crashes but retains enough runtime capabilities to call a catastrophic error handler to take over and generate a crash dump. Blue Screen is Microsoft's built-in tool designed to dig into such dumps to help diagnose what caused such a crash, and provide possible pointers for fixes or workarounds. (I'm personally fond of Nir Sofer's BlueScreenView utility, which also offers insight into crashes.)

Click for larger image.

Keyboard: This tool is designed to find and fix problems with "your comupter's keyboard settings." (Yes, you read that right, the keyboard troubleshooter's on-screen description contains a typo. Ironic, no?) This tool helps get balky or misconfigured keyboards working again.
Speech: Helps make sure that a microphone attached to a PC is working properly, and that speech recognition is correctly configured on a Windows 10 PC. Absolutely essential for those who can't get a response when yelling "Hey Cortana!".
Windows Store Apps: Checks important registry keys and BITS to make sure that Windows Store is properly configured and able to download files to meet user demands. The Windows Store Apps troubleshooter starts by resetting the Windows Store, and then re-opening the connection, to fix corrupt or broken Windows Store cache and license information. Though this doesn't fix all Windows Store problems, this troubleshooter should be the first step for anyone using Windows 10 who encounters Windows Store access, download or other issues.
Improvements and enhancements
Of the remaining troubleshooting tools, four in particular seem to have been spiffed up for Windows 10. They are:
Hardware and Devices: This troubleshooter can be reasonably helpful when dealing with device or driver issues. It has been improved in Windows 10 and just did a good job of helping me to diagnose a lingering USB issue on one of my PCs. It is not, however, a suitable alternative to a good driver scanning tool such as eSupport's DriverAgent or Slimware Utilities' DriverUpdate.
Search and Indexing: For those who use Windows indexing and its built-in search capabilities (a must for Cortana and Outlook e-mail search), this tool can help diagnose and fix problems with the underlying services and capabilities. Because these things are deeply tied into advanced Windows 10 features, it's a useful and often helpful troubleshooting tool.
System Maintenance: While this tool isn't exactly a troubleshooter (it doesn't detect and diagnose anything), it does clean up unused files and shortcuts and performs other "maintenance tasks." I can't find much information about what exactly those tasks are (though the troubleshooter talks about "changes and updates"), but this is a manual version of the same tool that automatic maintenance uses for scheduled system upkeep.
Windows Update: With Current Branch users no longer able to opt out of updates, keeping Windows Update working is more important than ever. This troubleshooter has gotten a thorough makeover and seems to do a good job of finding and fixing many routine Windows Update issues or problems. It checks relevant registry keys, Window services and service registrations, and BITS capabilities.
But wait! There's (one) more…
Although it's called a troubleshooter (not a fix-it), one item is not included with the built-in batch covered in the rest of this story. That is, Microsoft Support offers an online troubleshooter to help address "problems opening the Start menu or Cortana." It features a download for a Start menu troubleshooter (startmenu.diagcab) that works its way through a variety of Start menu issues and attempts to fix those it finds. It looks for required applications, permissions issues with registry keys, the tile database for Start menu tiles and the application manifest.
Remember to troubleshoot
Even outside the eight items specifically mentioned for this story, savvy admins facing trouble or slippery system issues on Windows 10 systems should remember to check related troubleshooting tools. Worst case, they'll do no good whatsoever. But when their capabilities actually touch on whatever trouble may be at hand, they can do considerably better than that.