It's become fashionable to call CIOs chief integration officers because they integrate acquired assets, blend on-premises infrastructure and cloud technology, and collaborate with several stakeholders on digital services.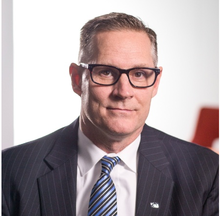 You can call Scott Spradley, CIO of Hewlett Packard Enterprise, a chief separation officer. Spradley is racing to complete his second major asset split within 12 months, extracting HPE's $20 billion enterprise services business in an $8.5 billion "spin merge" with Computer Sciences Corp. The technology services company will absorb HPE's services business, acquired in a 2008 acquisition of EDS.
"There's not a lot of fat in the IT organization, but then when you do a split like we did you're taking an already lean organization and you're creating two organizations out of one," Spradley told CIO.com on the sidelines of the CIO 100 show earlier this month.
[ Related: HPE to spin out its huge services business, merge it with CSC ]
H-P in 2015 pulled off a herculean effort to separate into two distinct companies, Hewlett Packard Enterprise Co. and HP Inc., in a bid to better meet corporate computing demands in an era where most CIOs are renting software through the internet. In that split, Spradley oversaw the division of six data centers, including 50,000 servers and 2,800 applications used to support sales, supply chain and financial systems for each company.
Why the spin merge poses a great challenge
The HPE-HP split proved difficult but Spradley says his current challenge is even greater. The timeframe is tighter, with a March 31, 2017, deadline. Spradley must also execute the spin merge at 20 percent of the cost of last year's split.
[ Related: CSC announces layoffs in advance of HPE merger ]
Moreover, the extrication task is much more difficult because enterprise services unit, comprising 150,000 employees, led most sales engagements, looping in HPE's infrastructure, software and financing divisions. This created a lot of commingling in the whole motion. "This is about carving out the biggest part of company from employee headcount and merging it with a whole new company that is already standing," Spradley says.
While Spradley was intimately familiar with the people and assets involved in last year's split, he finds himself working with an unfamiliar company in CSC.
When the deal was announced on May 24, HPE didn't know CSC's data center or data warehouse strategy, its application layer, or even its IT organizational model. It turned out that CSC uses its own managed services arm to deliver IT, which presents challenges. For example, a single system comprised of multiple technology assets could be serviced by group A, which is not part of IT, and then another part of the system could be provided by group G, which happens to observe different operational standards than group A.
[ Related: How IT outsourcing customers should prepare for HPE-CSC merger ]
"With IT owning delivery, you have consistency in architecture and governance models," Spradley says. "But when you have managed services providers providing it, you can have inconsistencies."
Do you know what you unknown unknowns are?
Merging two companies requires a lot of IT asset rationalization, which require several transitions services agreements (TSA), which essentially state which of the two merging entities are responsible for supplying infrastructure and services to whom. HPE needs to figure out how it must construct TSAs in the case of two systems. "In this spin merge, they have to catch what we're going to throw them," he says.
For example, it may make sense to send systems A and B to CSC. But if CSC already has its own version of system B and they elect to keep it, but they want system A and HPE needs it, the two companies must come to some arrangement that works for both parties. "All of those unknowns create a perfect storm of complexity, particularly when you look at cost and time being two of the biggest drivers," Spradley says.
While Spradley is laser focused on the services separation, HPE has seemed anything but focused in recent years. There have been ill-conceived acquisitions (Compaq, EDS and Autonomy), scandals (pretexting and Mark Hurd) and architecture missteps (such as Itanium). And that's independent of the secular trends, including the shifts to public cloud software offered by Amazon Web Services, Microsoft and Google, a tech evolution to which the company has struggled to adjust.
HPE's micro and macro challenges might seem like drudgery to CIOs whose primary occupations include building digital products and services to drive business innovation. Such CIOs would rather experiment with blockchain, stitch together APIs and host hackathons than divest and spin off assets and staff.
But despite the series of business and IT transformations, Spradley says that he loves his job. "I've always been known as transformational CIO — take old, make new, take slow and make fast," Spradley says. He says that his team "lives for the chance to do something that everybody in the company sees the value in."