Tapping into social networks, using content, leveraging influencers, and sometimes requiring a bit of programming, growth hacking is the intersection of data, product and marketing. The practice is one that pairs increasing digital metrics with minimal resources and spending, and it's become a trending practice, particularly for startups. In fact, just last year, a growth-hacking academy opened up in Amsterdam.
Growth hacking requires a lot of creativity. It begins where traditional PR and marketing leave off. The growth hacker, as explained by Aaron Ginn, "finds a strategy within the parameters of a scalable and repeatable method for growth, driven by product and inspired by data." The role belongs in no particular organizational department, but rather, across each of them, and is quickly becoming a legitimate and more prevalent one.
In its early years, Airbnb famously integrated its platform with Craigslist to cross-post and tap into the latter's massive user base. Because Airbnb listings were better designed, more standardized and offered fuller descriptions and a better gallery of photos, the company steadily converted Craigslist users.
According to PR expert Blair Nichole of Media Moguls PR, an essential part of growth hacking is for businesses to concentrate on developing industry thought leadership. "Most startups make the mistake of focusing on their product or service, but there's thousands of good products and services already flooding the marketplace. Establishing yourself as an authority figure in your industry will set you apart and lead to more publicity opportunities than you would ever garner by pitching your product."
Here's a look at seven startups that have used growth hacking to generate publicity.
BeeHex
Ever eaten a 3D-printed pizza? With BeeHex you now can.
BeeHex CMO Jordan French hacked earned media by reaching journalists on Twitter, LinkedIn, Tumblr, Instagram and even Snapchat to tell BeeHex's story of 3D pizza printing. He used the company's credible, NASA-funded background as the spark to start a conversation. From there, BeeHex's media footprint snowballed across a number of publications, which continue to write about 3D food-printing technology.
BeeHex CMO Jordan French asked certain journalists to nominate BeeHex for awards — and they did. The company is now competing against heavyweights in the market, from Uber Eats to the June Oven, for awards like Vice Munchies Taste Talks. BeeHex was also nominated for IEEE's Tech Leadership Award, which was recently won by tech giant Microsoft.
Not bad for an eight-month-old startup.
911 Restoration
Canadian home rejuvenation company 911 Restoration specializes in repairing homes that have suffered water damage, sewage backup, mold contamination, fire incidents and disasters of all kinds. The company grew itself significantly using almost nothing but manpower in the social media realm. "We didn't really even have a social media presence two years ago, but through planning, lots of contests, endless posting and reposting, we have grown our audience larger than all of our competition," says Alexander Ruggie, the company's public relations director.
Some of 911 Restoration's most successful and impactful campaigns and contests include the "Stache for Cash" Movember Photo Contest, which generated 350 comments on a single Facebook post, and the "Meme your Mom" Mother's Day Photo Contest, which offered up a $200 prize for the best response.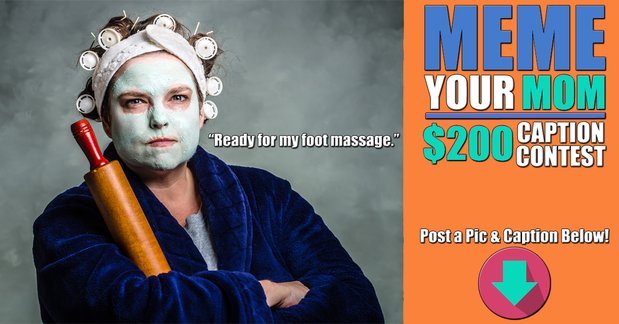 With nearly 7,000 Facebook followers, the company's latest branding ad has delivered high engagement and return with a conversion rate of over 5%. For the home repair industry in particular, these numbers are high.
Rabbut
Rabbut is an email collecting tool for Medium.com and Linkedin. Full stack marketer Kate Chan cites two methods effective for growing product exposure. One is putting a "Powered by Rabbut" button on the email collecting tool box so others can see what the writer uses to grow his email list on Medium.com. "This method works extremely well in our company's growth" Chan says. "The majority of our signups come from people clicking on the Powered by Rabbut button."

Chan and her team also find success in engaging influencers in their startup niche. Rabbut targets top-notch bloggers and marketers, offering them incentives to use its product, effectively getting followers and fans exposed to the product as well. "This method works extremely well, because you basically have someone important in the field to endorse your startup," says Chan.
Paubox
To celebrate its acceptance into incubator 500 Startups, San Francisco-based digital healthcare startup Paubox gave away 500 free spam musubi (yes, the edible kind of spam) on the bustling streets of San Francisco. The company did something similar last December, giving away 100 spam musubi and 100 pairs of socks. "As is the nature of startups, this time we got a little better and 'scaled' our spam musubi operation," says Hoala Greevy, the company's CEO and founder. "Rather than make the spam musubi ourselves, we got in touch with Brad Lum at Grindz Restaurant and had them made."
The small but mighty Paubox team started its promotion first thing in the morning, when there was a lot of foot traffic from a nearby transit station. It cost the company $800 to buy the 500 spam musubi, but the value of the brand exposure that Paubox garnered from the hack exceeded the expense. Hawaii Gov. David Ige mentioned Paubox on Twitter and Facebook, and a local news station also picked up the story. Additionally, an angel investor in Hawaii saw the company on the news and wrote it a $20,000 check.
.@GovHawaii Mahalo! We're proud to be representing Hawaii in SF at @500Startups

— Paubox (@PauboxHQ) August 5, 2016
GreenPal
Best described as Uber for lawn care, Nashville-based startup GreenPal describes growth hacking as leveraging your product to achieve business objectives. Last summer, the company needed to figure out a repeatable way to leverage the activity inside of its platform to get exposure and free PR within the marketplace. So the team launched a free-lawn-mowing program to get connected with the local community.
GreenPal asked users to submit names of people who are in personal or financial binds and need free lawn mowing. Once a month, a team will go and mow the lawn of a home where the grass may have grown two or three feet tall. "One person was facing foreclosure and another was about to be cited by the city," says GreenPal CEO Bryan Clayton. "We also try to help out single moms more than anybody… it's the least we can do to help out and have a personal connection with our local community."
New York Adventure Club
A community-driven organization with more than 4,000 members, the New York Adventure Club curates behind-the-scenes and special-access experiences with a focus on history and storytelling. One of New York Adventure Club's largest marketing campaigns has been to target influential Instagrammers, bloggers and traditional publications and invite them on some of the company's most exclusive experiences.
"In this scenario, they get access to an experience no other company can offer, and I get press for nothing," says Corey Schneider, the club's CEO and founder.
ABODO
Madison, Wis.-based ABODO offers an online/mobile tool for renting apartments. According to its website, it was founded in early 2012 in response to the fact that apartment hunting can be "just plain agonizing." ABODO's goal is always to use analytical, inexpensive, creative and innovative ways to grow. "Overall, we feel that three important concepts drive growth hacking," says Sam Radbil, senior communications manager for ADODO. "First, knowing what the customer wants. Second, knowing where the customer lives online. And third, knowing what language the customer speaks and what industry-specific vocabulary they use."
Once ADODO knew it had a product that people wanted and needed, it knew it had to reach out to more users in order to improve its product and grow. ABODO identified its target market as students, who are constantly looking for a better way to find quality housing.
ABODO offered its platform through the campus student housing departments, building a white-label platform for both the University of Wisconsin Campus Area Housing listing service and the University of Nebraska, Omaha. These relationships assisted in building brand awareness by providing direct access to a new set of users searching in a market for the first time.