Shoot for the moon. Even if you miss, you'll land among the stars.
By that definition, if we aim for four-hour workweek, a la Tim Ferriss, we should at least be able to achieve 30-to-40-hour workweek, a la Amazon. With Amazon trying the 30-hour workweek, talk about shorter weekdays has taken flight once again.
For those who have been holidaying for the better part of the month, Amazon is piloting a new program for its technical team made of part–time workers. These people will be working for four hours a day from Monday through Thursday (10 a.m. to 2 p.m.), with flexible hours to make up for the other hours.
They will earn around 75% of a full-time salary but will receive the same perks and benefits as full-time employees. This is a good way to manage shorter weekdays without affecting your profit margins.
However, this is not the best way. Here are some better ways to manage shorter weekdays.
1. Improve workflow to improve productivity and profitability
When you want to have a flexible workspace, your first worry is about collaboration among employees. Most tasks in a workplace are intricately intertwined. What you need is a project management system that brings together all departments, from purchase through to production and sales, so your staff can collaborate smartly and manage work despite differences in schedules or time zones.
Project management systems allow you to create automated tasks and work out task dependencies no matter how complicated it is.
For instance, WorkZone, one of the simplest and cost-effective project management tools, automates the approval workflow by emailing approval requests to appropriate parties and then records and routes responses back.
This allows employees to request approvals at any time of the day, and they know they will be notified when they get the approvals. WorkZone also allows employees to annotate images and PDFs right within the tool, making creative feedback even simpler.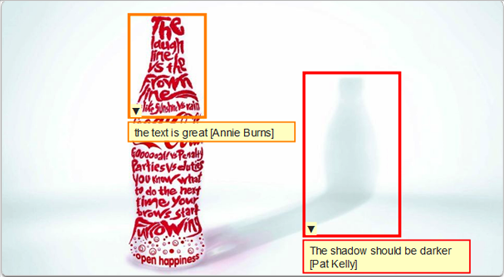 Employees can create simple or complex workflow cycles using a simple interface, a hallmark feature of WorkZone. But it is not only employees, even companies can benefit from a project management system.
Smooth workflow and collaboration enhance processing and productivity.
Companies can save time and money by automating repetitive tasks like accounts payable and purchase authorizations to fast-track tasks and decision-making.
You can set realistic deadlines for tasks and understand the entire task flow, including dependencies to ensure best interdepartmental practices.
You don't have to cut employees' pay, as all they will be able to achieve more in shorter time frames. This means reduced attrition rate and further cost savings.
You get detailed project reports that allow you to track tasks and workflow and, as a result, identify bottlenecks to enhance the speed of your tasks.
In all, increased productivity means improved profitability.
2. Cut down distractions to improve work quantity and quality
Did you know Swedish companies don't allow access to social media sites during work hours to cut down distractions? While that may sound like a drastic step, cutting down distractions can certainly improve work quantity and quality.
Tony Stubblebine, CEO and Founder of CoachDotMe, coached a student called Abe to finish his dissertation and helped him get his Ph.D. Tony's simple advice was to avoid trying to bite off eight perfect hours.
He asked Abe to measure how many minutes it took between sitting down at his desk for the first time and writing his first sentence. He started measuring time and found that he wrote a sentence in just three minutes. This fueled him to write nonstop for two hours. In those two hours, he wrote more than what he had achieved previously. He kept this pace up for months, writing for only two hours at a time, but those two hours were highly focused.
One of the best ways to cut down distractions is to promote the adoptoin of the Pomodoro Technique amongst your employees. According to this technique, which gets its name from the pomodoro kitchen timer, people have to focus their attention on a single task for 25 minutes without any single distraction. No distractions means no distractions — not only no social media and no phone calls but also no checking email and no doing any other tasks. According to the Pomodoro technique, multitasking is the biggest productivity killer, and so are distractions.
There are several Pomodoro tools, like an online ticking Pomodoro timer, a mobile app, a physical tomato-shaped kitchen timer, as well as plugins that can help your employees stay focused.
Each time your employees finish a 25-minute cycle, they can take a short break. When they finish four Pomodoro cycles, they can reward themselves with a longer break.
Instead of focusing on how many hours your employees worked, see how many Pomodoro cycles were they able to complete in a day. Chris Winfield of Buffer committed to eight Pomodoros a day and was able to complete all of his work in only 16.7 hours each week.
3. Sort out misplaced priorities
Ann Goliak at Basecamp recently faced a problem. She noticed some interns working on their days off or putting in extra hours every day. However, she knew this kind of behavior could lead to long-term problems and attacked the problem head on. This summer, she encouraged the interns to pay attention to their hours and to accomplish what they reasonably could in an eight-hour workday. Full-time employees took a cue from this and started taking breaks and limiting their work hours too.
Very often, peer pressure and work culture lead people to put in more hours than usual. Employees often have misplaced priorities because their managers before them have had them. In a results-oriented environment, the priorities are laid down in bold, unlike in time-bound environment, where everyone is just filling in their time. Misplaced priorities and a lack of goal-oriented environment can make your employees lax as they learn to do less in more time.
Provide a results-oriented environment to employees so they are not forced to sit longer to prove themselves or their work.
By not forbidding people from working extra hours, you are giving tacit approval to a very unhealthy work/life balance at your workplace.
Communicate in clear words that employees are encouraged to take days off, because taking time off sets healthy boundaries and expectations.
Wrapping up
So these are the three effective ways to manage shorter weekdays, especially for us marketers. Let's understand them again quickly.
Provide employees with workflow and collaboration tools that keep the work going on smoothly.
Promote the Pomodoro technique to ensure quality work in less time.
Ensure a results-driven environment by communicating that your stance is to prioritize goals and outcomes, not hours worked.