iOS 10 has many new features but one very useful one has not gotten much attention in the media at all: Magnifier. Magnifier lets you use your iOS device's camera to magnify things and make them much easier to see.
How to enable Magnifier in iOS 10
Here's how you can enable Magnifier in iOS 10:
1. Open the Settings app.
2. Tap on General.
3. Tap on Accessibility.
4. Tap on Magnifier.
5. Tap the Magnifier and Auto-Brightness settings to the On position.
Now when you want to use Magnifier you can just triple-click the Home button on your iPhone or iPad.
The Magnifier app offers some controls that let you adjust how it works. You can lock focus by tapping on the padlock, and you can use the slider to adjust the level of zoom. The app also lets you turn on the flash light for additional illumination, and you can opt to adjust the brightness and contrast by tapping on the filters icon.
Magnifier in iOS 10 is great for food labels
I try to manage my weight by tracking the calories I take in each day, and in order to do that I need to know how many calories are in a serving of the foods I eat. But I've noticed that some food products have their calories listed in very small text.
I'm in my 40s now so my eyes aren't as good as they used to be, and some food products have label text so small that there's no way I can see it without using something to make the text more readable.
Enter the Magnifier feature in iOS 10.
With Magnifier I can hold my iPhone over the label on my food and quickly see how many calories are in a serving of that food. Before Magnifier I'd have to squint at the label, desperately trying to make out the calorie listing and cursing the food companies for making the darned text so small.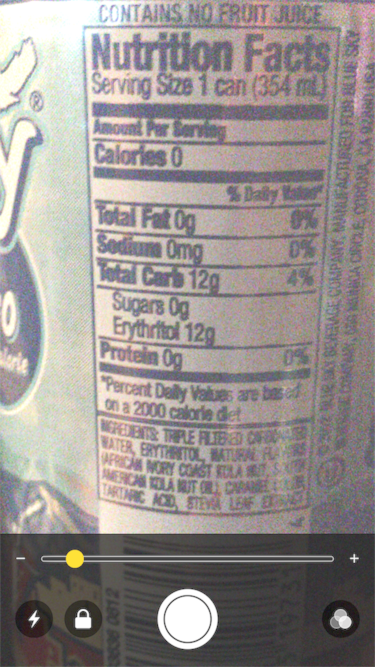 But with Magnifier, I can easily see the calorie and nutrition information for all of the foods I eat. I just hold my iPhone over the label, triple-click my home button and suddenly that tiny text is incredibly easy to read.
Magnifier is a very helpful iOS 10 feature
Sometimes it's the little things that can surprise and delight us in an operating system upgrade like iOS 10. I think that's the case with Magnifier for sure. It's a feature that most people have probably never heard of, but it's something worth knowing about because it comes in handy when you really need it.
Apple has long been known for paying attention to the little details in their software, and the company really shines when they come up with a feature like Magnifier. It's not one of those flashy, earth-shattering types of features but it is very helpful indeed for those of us with eyes that are not as young as they used to be.
Did you miss a post? Check the Eye On Apple home page to get caught up with the latest news, discussions and rumors about Apple.