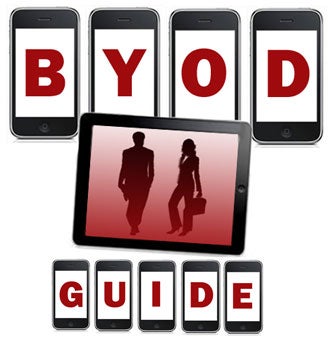 Topics & Sections:

• CIOs, IT Decision-Makers, IT Organization and BYOD

• BYOD Devices, Device Management & Apps
The BYOD (bring your own device) movement affects everyone at a company, from CEO on down to the hourly worker. Here are 10 of the most common worker types taking shape in the new BYOD workplace. BYOD IT Skills in High Demand
The rise of BYOD is making an impact on a variety of IT positions, from help desk to mobile app development to security and compliance. In fact, according to one research firm, it's one of the only bright spots on the IT jobs landscape.
BYOD Became the 'New Normal' in 2013
CIOs have had eventful year when it comes to BYOD. Concerns over hidden costs, employee privacy and corporate data security gave way to convenience. However, mobile device management vendors stepped in to help IT sell the concept of compliance and lawyers and the National Labor Relations Board jumped in to the aid of employees smacked with draconian BYOD policies.
Everyone seems to be jumping on the Bring Your Own Device bandwagon, but it's a bumpy ride. There are many ways to fall off and get a bloody nose (or worse). As the BYOD reality catches up to the hype, here are 12 very real disaster scenarios.

Pros and Cons of BYOD (Bring Your Own Device)
The concept of bring your own device BYOD is a growing trend for business IT. There are a variety of benefits to allowing users to supply their own PC and mobile devices, but there are also some concerns. Make sure you understand both in order to embrace BYOD with confidence.
CIO's Digital Spotlight on BYOD
Learn how to take control of and benefit from the bring-your-own-devices (BYOD) phenomenon--without losing corporate data. This free, downloadable special edition describes what your BYOD policy should cover and outlines the risks you need to manage.
Which Workers Are the Best Fit for BYOD?
From the always-on salesperson to the clock-punching hourly worker, companies will need to weigh the pros and cons of including each worker type in a BYOD program. Are BYOD Workers More Productive?
Most people prefer using their personal smartphone or tablet for work than a company-issued one. Does this mean their productivity will increase? Probably, says Aberdeen Group.
When BYOD Is a Productivity Killer
BYOD programs are designed to increase productivity, but that's not the case when employees take BYOD phones on international vacations and never check in on work because the company won't pay roaming charges on a non-corporate phone.
Cartoon: Consumerization of IT Gets Comical
Hey IT, don't let vendors pass you by.
Infographic: BYOD's Meteoric Rise
The BYOD (bring your own device) movement hit a full sprint in 2012 and the following infographic puts BYOD data in colorful perspective. But is a BYOD reality check coming in 2013?
Consumerization of IT: The Next E- Commerce?
Eventually the consumerization of IT movement will go the way of e-commerce and just be something everybody has.
Consumer tech frees employees from the old lie of corporate loyalty rewarded.
Why the Midmarket Is Overlooking Benefits of BYOD
BYOD has the potential in the midmarket to empower smaller workforces. If mishandled with loose rules and complex legalese, though, BYOD can lead to increased feelings of isolation. Here's how the midmarket can make BYOD work for them.
BYOD Policy & Legal
Does BYOD put your company in murky legal water? You bet. Employees need protections, too. Secret Video and Audio Recordings a Legal Minefield for Employers
Thanks to smartphones and wearable technology such as Google Glass recording illegal or inappropriate conversations and behavior in the office couldn't be easier. If your company has a BYOD policy this could spell disaster.
How Forensic Tools Unearth Deleted Text Messages
A mobile security guru offers a quick rundown of forensic tools and how they retrieve deleted SMS. How to Craft the Best BYOD Policy
What is a good BYOD policy? Step one is to clarify the rights of both company and employee and state upfront what's business and what's personal. But there's a lot more to it. In this interview with a technology transactions lawyer, CIO.com explores the do's and don'ts of BYOD policies.
Three BYOD Approaches -- and the Budget Impact
Love it or hate it, BYOD is likely already affecting security, network performance and your budget (it can drive up costs by more than a third, according to some researchers). Here are three approaches to address these challenges.
BYOD Lawsuits Loom as Work Gets Personal
Will BYOD lead to a rash of lawsuits from employees who feel violated? Or maybe a headline-grabbing, class-action lawsuit? Your company better make sure it has an explicit terms-of-use BYOD agreement. Here are ways companies can protect themselves. Mandatory BYOD Heading Your Way
To land or keep a job people may soon be forced to buy a personal smartphone, sign away some of their privacy rights and use the phone for work. It's called a BYOD mandate and, according to research firm Gartner, you better get ready for it.
BYOD in Bloom, According to Survey
A Cisco survey of mobile users reveals strong desire for BYOD programs and clear productivity gains. But hold off on those BYOD mandates because the love for corporate devices hasn't burned out yet.
5 BYOD Pitfalls and How You Can Avoid Them
Vague policies, rogue apps, zombie phones can doom even the best 'Bring Your Own Device' intentions. But the good news is it's not too late to make game-changing adjustments.
BYOD Gets Messy with AT&T Class Action Lawsuit
With a BYOD twist, AT&T agreed to settle a class action lawsuit for overcharging corporate customers for almost seven years. But like most things involving BYOD, this gets complicated.
7 Tips for Establishing a Successful BYOD Policy
If you haven't developed a corporate Bring Your Own Device policy, or if the one you have is out of date, these tips will help you address device security, IT service, application use and other key components of an effective BYOD policy.
Embrace Consumerization of IT and Stop Saying No
At CITE Forum, Noah Broadwater, CTO of Sesame Workshop, explains how his IT organization learned to stop being gatekeepers and instead be partners and advocates for the business. BYOD and Smartphones: Ingram Micro Goes Global
After crafting a voluntary global BYOD smartphone policy, Ingram Micro sees a spike in adoption, including a new U.S. mandate.
Other Sections: