Thankfully, there's currently no need to spend money at the movies or on an HBO subscription to stay entertained — it's a presidential election year, after all. And regardless of the outcome, 2016 is already one of the most entertaining (if not downright frightening) election years in recent memory.
It can be a challenge to stay up on all the twists and turn on the campaign trail, but these three free apps for Android and iOS promise to keep political junkies entertained and, more importantly, informed in the days leading up to the election.
all Politics
The all Politics app for Android and iOS taps into the Divided States of America, and it has buttons for "Left" and "Right" on its home screen. A tap Left, for instance, leads to articles about healthcare reform; Rachel Maddow; and a story with the amusing headline, "Cruz plays dirty — like you always knew he would." The Right tab is unsurprisingly full of stories about Donald Trump, though several are critical, including one article in which a British historian likens Trump to Mussolini.
The app is full of podcasts, videos, and for some odd reason … weather forecasts. Unfortunately, it's also full of ads and sponsored articles, and plenty of clickbait articles too, such as the Medium.com blog post, "What I imagine it's like to smoke pot with the presidential nominees."
Politico
Politico magazine's Android and iOS apps are among the best for politics-focused news, blogs, columns and multimedia. The app includes sections for "Top News," "Congress," "White House," and "2016 Elections." The articles are generally meaty and aren't full of bullet points and subheads. Politico's iOS app has many more features and is far superior to the Android version, which as of this writing hasn't been updated since August 2014.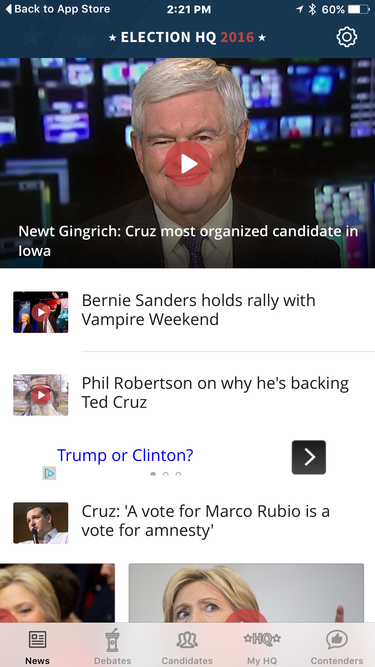 However, it's worth noting that Politico has been accused of a liberal bias, just as Fox News is often accused of having a conservative bias. Speaking of which …
Fox News Election HQ 2016
The Fox News election-focused apps for Android and iOS are the "only Fair & Balanced™ apps that gives you Power to Decide!" At least according to, you guessed it, Fox News. Regardless of whether you believe or balk at this statement, the app has useful features, including a timeline of debates past, present and future.
The Candidates section provides facts on everyone currently in the race, as well as those who have withdrawn. The app also features a number of quizzes, to help determine how much (or little) you agree with each candidates on a set of issues. Even if you're not a fan of Fox News, the app is handy, and it's particularly useful during debates.