First, let me be clear, Managed Service Providers (MSPs) deliver valuable and essential services to SMEs. Many of these companies offer a wide array of service and expertise that provide business with invaluable, scalable and cost-effective solutions. In order to have an effective technology platform for your business, MSPs offer the SME access to support that, in most cases, are necessary, even essential, for sustainable day-to-day operations.
Take a look at how any large enterprise organizes their IT organization. In my experience, these global, complex companies spend a great deal of time understanding and defining what technology functions are retained and which of these functions are candidates for outsourcing. The same structure and approach applies to the small- and medium-sized enterprise.
The argument is not based on the ability or the expertise necessary to provide strategic management direction for technology decisions in a SME. The fact is that in order to deliver a seamless and effective technology plan, it is essential to focus on the appropriate segregation of duties.
Segregation of duties – Who does what the best?
A good friend and colleague of mine says "Retain the brains, source the horse." In the context of IT, SMEs must retain responsibility for the overall strategy and direction of their technology. The fundamental argument here is that the SME owner, president or operations manager (depending on your organization) has the business knowledge and defines the business objectives – an MSP does not have this level of business expertise.
Effectively structuring your technology ecosystem starts with understanding how best to leverage various sources of expertise, both internal and external to the enterprise. You might be asking yourself "So what does that look like?"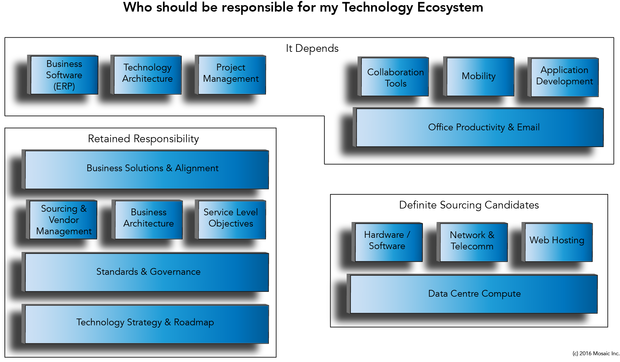 The image is intended to provide guidance on the aspects of your technology ecosystem that can be sourced versus those that should be retained. The challenge arises when dealing with the aspects within the "It Depends" box.
There are a wide array of solutions and service providers that have the capabilities to deliver each of these components. What you should take from the graphic is that you should create segregation of responsibility between strategy (retained function) and operations (sourced function).
When making decisions that reside within the 'It Depends' area, it is imperative that you have a good idea of your technology roadmap and the business solutions you intend to deliver.
Sounds complicated?!
I am not going to try and suggest that what I am saying is easy. It's not. The fact is, it doesn't have to be complicated either. I fully understand that SMEs will struggle with some of the decisions surrounding their technology and how best to forge ahead. However, retaining the responsibility to align your technology investments with business objectives shouldn't be left to someone who doesn't understand your business.
One of my clients, a mid-sized discrete manufacturer, understands that in order to deliver on their customer commitments, they need to have a plan. They build out a project plan for each of their projects, detailing the steps to achieve their goal of delivering a superior customer experience. Planning out what needs to be sourced, what needs to be fabricated and what needs to be assembled. They retain the brains and source the horse!
Building a solid technology ecosystem is the same – it simply requires different expertise.
Trusted partners
For a SME, finding the time to understand and formulate a technology strategy and structure a plan can be challenging. Often owners and managers are focused on their day-to-day operations and building plans for growth. Finding a small group trusted technology partners should be near the top of the list.
When looking for help, one piece of guidance you should take from this post is to find someone you can trust to assist with the strategy and business solutions and another focused on running & operating your systems. Segregating these responsibilities ensures an appropriate level of oversight. However, don't think you can separate yourself completely from responsibility.