On Friday, BlackBerry said it had cut 200 more jobs at its headquarters in Waterloo, Ontario, and in a satellite office in Sunrise, Fla. The company wouldn't validate other reports that the employees who lost their jobs worked within the company's handset manufacturing division, but if those rumors are accurate the move could represent another step from BlackBerry toward killing off its smartphone business to focus on the EMM side of things, where it's been investing heavily.
BlackBerry continues where it left off with layoffs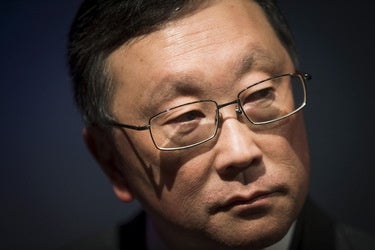 The latest round of layoffs is the first in 2016, but the company announced three different sets of cuts last year in May, July and September, many of which reportedly impacted the company's smartphone business. Shortly after the September layoffs, Chen said he wouldn't hesitate to kill the devices unit if it didn't reach profitability in 2016. Then in December, BlackBerry released is fiscal year 2016 third quarter earnings for the three months ending on Nov. 28, 2015, and warned investors:
"The Company may not reach sustainable non-GAAP profitability by the end of fiscal 2016. In the fourth quarter of fiscal 2016, the Company may not generate positive non-GAAP earnings due to declining demand for BlackBerry 10 devices, partially offset by PRIV sales, and due to increased investments in enterprise software development and platform convergence and in sales and marketing initiatives to support new product launches, including the launch of PRIV in additional markets."
The last time BlackBerry officially announced a total number of employees was in its 2015 fiscal year-end report, and it said it had 6,225 full-time staffers as of Feb. 28, 2015. That's 11 percent fewer employees than the 7,000 it reported just five months earlier in September of 2014. And though BlackBerry hasn't announced an official staff headcount in almost a year, that number is likely down to 5,500 or fewer workers, a mere fraction of its employee base of around 17,000 at the end of fiscal year 2011.
Writing on the wall for BlackBerry smartphones
In January, the company shuttered its Built for BlackBerry program, which certified mobile applications that were built specifically for its BlackBerry 10 OS, and the company's Asia Pacific director of product management told India's The Economic Times that BlackBerry's "future really is Android."
In other words, the curtain seems to be slowly closing on BlackBerry's device manufacturing operation, though it's unclear whether or not the company's first Android device, PRIV (which was relatively well-received in the market) can bring it close enough to profitability this year to delay a device demise that almost seems inevitable at this point.
BlackBerry likely hears the approaching echo of a death knoll, as well, and it's wisely investing in what it has always done best: enterprise security and EMM. Last month, it announced the first of many new changes to its EMM and BlackBerry Enterprise Service (BES) offerings, called Good Secure EMM Suites. The future of BlackBerry remains uncertain, but if the company is to stay afloat, EMM will likely prove to be its life raft.
AS