Donald Burns has been editing and rewriting resumes long enough to know that one size does not fit all. Sometimes you need to break a few rules to get your best resume. According to Burns, founder of Executive Promotions LLC, when he saw George Brown's resume, he knew he would have to break the rule that says you should delete experience older than 10-15 years. Rather than erase Brown's experience, Burns went back 35 years to show how his career path from structural engineer to ERP manufacturing would tell an appealing story to hiring managers.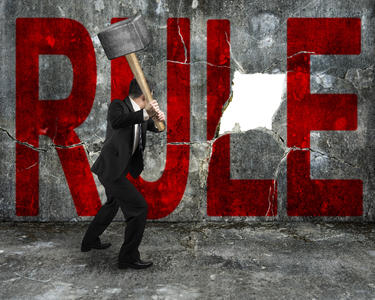 But in order to get Brown's resume to this point, Burns had to wade through a sea of long and confusing work experience. The overall message of Brown's resume was cluttered and distracted, and it took Burns a while to figure out why an employer looking for an ERP expert would want to hire him. Burns' first impression of Brown's resume was that it was filled with "dense verbiage," which made the resume difficult to follow, let alone one a recruiter or hiring manager could quickly scan. He knew that his main goal was to connect the dots between Brown's early career in structural design and engineering and his current career in ERP.
This came as no surprise to Brown, who understood that his resume was somewhat choppy and difficult to follow. "I felt that my resume was getting weighed down with bulleted lists of past accomplishments making it difficult to catch the reader's attention quickly."
Outside the lines
Burns knew he wanted to make Brown's resume easy for an "outsider," meaning somebody not necessarily in the ERP industry, to consume. "To win an interview, your resume must take control of the communication in the first milliseconds. If you don't direct the readers, they quickly get lost and move on to the next resume," says Burns. To capture the readers immediate interest, he organized Brown's resume so that it had an introduction, headline and summary to get the reader invested in his experience.
From there, Burns went through Brown's resume to eliminate any "generic verbiage," which he estimated wasted about half of the first page of the original resume. He eliminated anything that was generic or vague, basically "text that could apply to almost anybody in IT," he says. Burns says most people make this mistake when writing a resume: "wasting space with weak verbiage that could apply to anybody."
After he pared down the text, Burns looked at organizing Brown's employment experience. This is where Burns went against the "rules of the resume," by including experience from nearly 35 years ago. But before he could make sense of Brown's extensive work history, he cleaned up the most important experience — Brown's most recent job. "Your current job — or most recent job — is the most important real estate on your resume," says Burns. "If you blow this section, your resume is probably doomed."
[ Related story: 10 signs you need to update your resume ]
We don't need 'rules'
Brown was surprised at how Burns went against what are considered resume standards that had been drilled into him for years. "I had been following resume guidelines for decades that have become outdated in today's job search process, says Brown. "The expert [Burns] has opened my eyes to the need to tell my story in a compelling format"
Burns also made more space for Brown's past experience by consolidating some of the bullet points. According to Burns, too many bullet points under every job you've worked can quickly tire readers out and make them skip past important aspects of your work history. But most people get overwhelmed trying to rearrange all the points in their work history, and Burns even has a word for this phenomenon. He refers to it as a "jigsaw puzzle," where you have to take the "data dump" of bullet points and rework them into a more cohesive "easy-to-read story" that illustrates your work experience and captivates the hiring manager or recruiter.
However, Burns had a hard time figuring out Brown's career story from his original resume, which means recruiters and hiring managers most likely had the same problem. But after an in-depth in-person interview with Brown, Burns was able to piece together his work history to make it easier for a recruiter or hiring manager to understand. "Once I understood George's career, I packaged it into a compelling story that a recruiter or hiring manager can digest in about six seconds," he says.
Ultimately, Burns altered the focus of Browns' resume by creating a career story that sold his experience in structural engineering and ERP as a "unique selling proposition." That way, Brown didn't have to throw out half his resume — and experience — from his time as a structural engineer in order to sell himself in the ERP industry. Rather, Burns helped Brown leverage his past work experience in a way that made him a more appealing candidate for ERP implementation and manufacturing.
Brown was surprised at the type of information Burns was able to get into his resume and was impressed with the final product. "I was most surprised by the results. What a resume was traditionally thought to be can be modernized to help me be more marketable to potential clients and partners. Throughout Donald's interview process he was able to pull out the key information that we never typically present on our resumes."