Kristine Spence never set out to have a career in digital marketing — in fact, when she entered the job market, the term didn't even exist. But as technology evolved, so has the role, and Spence's career has evolved along with it.
Spence graduated from Florida International University with a bachelor's degree in Hospitality Management and began her career handling day-to-day management for a Walt Disney World resort restaurant group. When the opportunity arose for Spence to move into a sales and marketing coordination role for a luxury restaurant group, she jumped at the chance.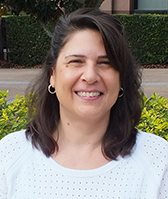 "I had taken the required marketing courses for my degree, but at that point, 'digital marketing' didn't exist. But in the mid-1990s with the advent of email, every aspect of sales and marketing began to move away from print and toward online, digital media; I had a solid background, but I had to learn as I went. Everything from email marketing, search marketing, Google ads and Adwords, banner advertisements, pop-up ads, building links," Spence says.
From there, Spence served as an executive assistant to the American Hotel and Lodging Educational Institute's CEO, the institute's senior vice president and executive vice president of marketing and parlayed her success as a liaison between sales, marketing and IT into a promotion to senior director of marketing for the Institute in 2010. Since then, Spence has driven successful social media, email and SEO/SEM campaigns and worked to enhance the nonprofit's Web presence and Internet traffic using her sales, marketing and technology skills.
"All of my previous positions have touched on aspects of marketing. I've learned by doing and I've taken lessons away from everything I've done whether that's trade show management, print advertising, sales management, product marketing and product prelaunch and launch. Within that, I've kept pushing myself to master the technical aspects by working closely with IT and our content marketing specialists to maximize our site through SEO, and really understand the digital space," Spence says.
Demand for digital
Demand for digital marketing professionals, like Spence, has skyrocketed as technology keeps evolving, says Chris Taylor, director of executive search at Onward Search, an executive search firm that specializes in digital marketing and creative talent, but demand for certain specialties within the field have shifted.
Five years ago, most of Onward's clients were looking for talent with SEO and paid search experience, and could expect $30,000 pay increases if they landed a position with a hiring client, Taylor says. With changes to search engine algorithms, though, that demand has leveled off in the last year or so, and companies are looking more for social media-savvy talent and those with experience crafting content for paid search, he says.
"Social is now the big push from our clients and where we're seeing most of the demand right now. The 'paid social' model is so hot right now, because it's hard to get around the Facebook and Twitter models of how they deliver content to viewers — anyone who can do that is a rock star," Taylor says.
Most of the demand for these specialized roles is coming from marketing, PR and advertising agencies, not from firms with in-house marketing departments, Taylor adds, though there is demand across all industries, not just IT.
"Five years ago there was a debate within client companies about whether or not to bring some of these aspects of digital marketing in-house. We see that the demand for online marketing managers, and for digital marketing generalists is constant for individual clients, but for more specialized folks — like with paid social, or SEO — that demand is mostly coming from agencies who will then offer those services to clients," Taylor says.
Bringing digital marketing in-house
For organizations, like compensation benchmarking software solutions company PayScale, that do bring digital marketing in-house, other roles and skills also are important, says Tim Low, PayScale's senior vice president of marketing.
"I'm looking for roles like a demand generation manager who's great at converting leads from the top of the 'funnel' and content marketing specialists to help craft content that will be easily searchable by Google, for example," Low says.
But these skills and roles can be hard to find, either because the education requirements aren't keeping pace or because there are so few people available with the skills and experience, says Taylor.
"This is the tricky part: Some universities do offer digital marketing programs; Rutgers University has one, and Boston University, and there are certificates in digital marketing you can get, but the educational foundation hasn't yet caught up with what the market needs, so as a recruiter, you're not really looking for those hard-and-fast credentials," Taylor says.
When Onward Search was tasked with finding entry-level digital marketing talent for a client in 2015, Taylor said he and his team looked for candidates with a solid background in statistics, analytics, Microsoft Excel and "people who were numbers- and data-driven in their thinking, with a dash of creativity and good content development skills," he says.
PayScale's Low says that when he's recruiting for digital marketing positions, he focuses on both the creative side, the data and analysis side as well as experience and mastery of marketing and analytics platforms like Marketo, Salesforce.com and emerging practices like firmographic scoring, which determines lead viability, and behavior scoring to gauge how potential customers respond to different campaigns.
The dearth of talent with these skills mirrors the skills gap problem seen in areas of IT, says Taylor; there's a huge demand for digital marketing talent but a lack of supply at the moment.
The digital marketing skills gap
"It's really hard to find this talent, and it's similar to the situation in IT right now. The digital marketing people who are currently employed are getting tons of emails every day trying to poach them – even if they've only been in their roles a few months, because the market is so strapped," Taylor says.
Digital marketing talent with skills and experience like those Kristine Spence developed are a rare quantity in the field, especially since her expertise evolved along with the technology, she says.
"If you want to stay relevant and build on your skills, you have to keep up with the technology advances and stay ahead of the game — otherwise, you're looking at a career stall. I do a lot of research, I attend industry seminars and webinars, I network with other professionals, I read articles — but most of this I've learned by doing, and by 'blowing stuff up,' and that's the fun and exciting part," Spence says.