In about two weeks, winter 2016 will be history. That's not a moment too soon if you're a frequent flyer. January's East Coast blizzard alone prompted thousands of flight cancellations during a single weekend, from New England to the Carolinas.
Of course, significant flight disruptions happen every day, regardless of the season. So what can you do when your flight is seriously delayed or cancelled? Freebird, a startup based in Cambridge, Mass., wants to help.
Freebird is essentially a flight rebooking service. To use it, you pay $19 (for one-way flights) or $34 (round-trip) at least two days before your trip. If your flight is delayed by more than four hours or cancelled, Freebird notifies you via SMS. The text message includes a link to Freebird's mobile-optimized Web page, where you can browse available flight alternatives. When you find a flight that works, Freebird books and pays for it. Freebird also promises to cover you if you miss a connecting flight due to delays.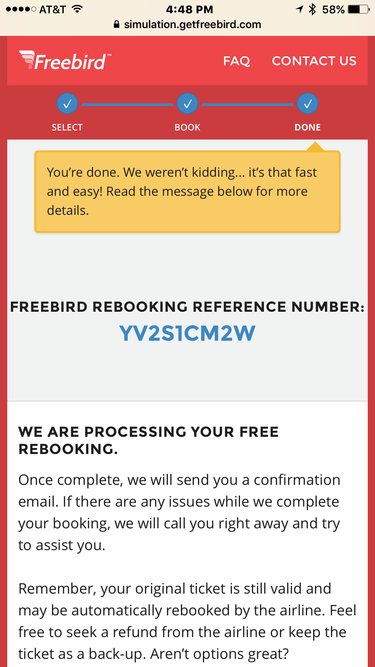 I wasn't able to test the service, but I used its flight rebooking simulator to get a sense of the experience. It certainly seems like a painless way to get your trip back on track.
Freebird is right for you, if …
Freebird is worth a try, especially if your itinerary includes any of these three things:
A flight on a regional jet. Regional jet flights are nearly three times more likely to be canceled than flights on larger planes, according to masFlight.
The weather looks sketchy on a travel day. Sixty-nine percent of regional jet flights are canceled due to weather or traffic congestion, masFlight says.
You're traveling with United or American Airlines, which ranked worst and second worst, respectively, among all U.S. carriers for canceled flights and extreme delays, according to The Wall Street Journal.
Other services offer flight delay and cancellation notifications, including the airlines' own apps. FlightAware's MiseryMap shows recent and current delays and cancellations, and FlightStats offers airline and airport performance reports. Both options offer mobile apps for iOS and Android. However, none of the Freebird alternatives make it so easy and affordable to grab another flight.
Freebird's current fixed fees ($19 and $34) are promotional during the company's startup phase. Freebird cofounder and CEO Ethan Bernstein says that following the promotion, fees will vary flight-by-flight "based on factors such as likelihood of a disruption" and will typically cost less than $30 per one-way flight. Bernstein did not say when promotional pricing will change.