OwnCloud, the fully open source file sync and storage platform, has hit version 9.0 today. This release comes with many improvements, most notably full federation, which allows users on different servers to share directories and files.
Federation on ownCloud has been one of the most useful features for businesses and organizations alike, but until now there was one big limitation: Users needed to know the Federated Cloud Sharing ID (email address for file sharing) of another user to be able to send a sharing request. That meant that users needed to know the complete ownCloud email ID of everyone they wanted to share with.
That changes in version 9.0. In a Google Hangout interview, Frank Karlitschek, CTO and co-founder of ownCloud told me that now admins can easily configure other ownCloud servers as trusted servers. Once two (or more) servers are trusted, users don't need to know the complete federated sharing ID of users on other servers. The sharing bar window will autocomplete the user's ID. So if you want to send me a file, just search for 'swapnil' and it should autocomplete my ownCloud ID.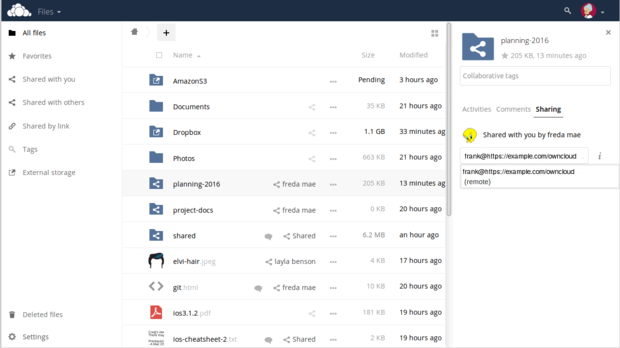 That's not all. Even if site admins didn't configure a trusted server, when a user shares a document or folder with another user on a different server, those two servers are automatically added as trusted servers and other users can easily share folders using the federated cloud feature.
Karlitschek said that sharing is encrypted via SSL/TLS and users can also control read/write access to files. OwnCloud also allows admins to restrict or grant access to files based on location and devices so businesses can restrict access to files from certain countries in order to comply with laws.
In addition to ease of sharing, ownCloud is also bringing support for comments and tagging, which will help users organize and filter files.
Going beyond ownCloud
OwnCloud is going beyond file syncing software and is emerging as a platform. They have been working on APIs to allow sharing of services outside of the ownCloud ecosystem. Even competing services can now plug into ownCloud.
Karlitschek said that the Federated Sharing API specification has been finalized and many competing open source projects, such as Pydio, have already implemented the API.
Going deeper in storage
With this release, ownCloud is introducing a new API that brings deeper integration with storage solutions. The company collaborated with CERN and AARNet to work on a new API that allows organizations with petabytes of data and hundreds of thousands of users to integrate ownCloud with their infrastructure. This brings massive scalability to ownCloud.
Other improvements
OwnCloud developers have reworked the sharing code to offer more control to the original 'sharer'. If someone shares a file with two other users and one of the secondary users shares the file with someone else, the original sharer can see who the file was shared with and can revoke a user's access to the file or change permissions without affecting other users.
OwnCloud has also done a lot of work to apps like calendar, contacts and mail. A brand new, standalone installer will make it easier for users to upgrade ownCloud installations. And improved notifications make it easier to keep track of activities.
The community version of ownCloud 9.0 is available for immediate download and the enterprise edition will be made available in April.