Tech Titans We Will Miss and Ones Better Off Dismissed
In the wake of Carol Bartz's firing from Yahoo, let's take a look at how tech CEOs' personalities and business tactics defined or are defining their companies, for good or ill. Here are 10 dynamic current and former tech CEOs, some we will miss, and others ... not so much.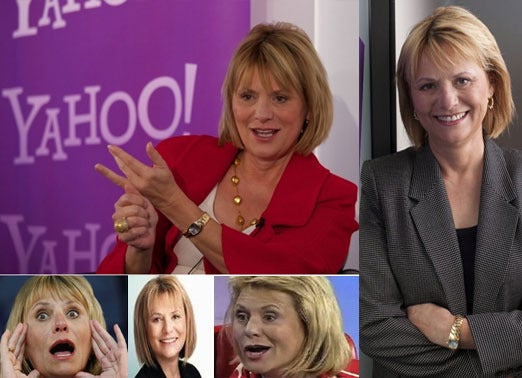 Not Miss: Former Yahoo CEO Carol "F-Bomb" Bartz
There's a reason Bartz got her walking papers over the telephone. Really, who would want to deliver the news to her face? The fiery Bartz is known for tongue lashings and f-bombs that would make sailors cringe. While her straight-shooting talk made Yahoo look scrappy, her phone call firing makes Yahoo look spineless, too.
Bartz Couldn't Deliver Yahoo Turnaround
With Bartz Out, Yahoo Must Refocus or Die
Miss: Former Apple CEO Steve Jobs, Super Control Freak
When Jobs retired as CEO last month and the media spun story after story, you'd have thought the iPocalypse was upon us. Jobs has been billed as the greatest visionary CEO on the planet, but we contend it'll be his control-freak nature that will be most missed at Apple. Jobs was best when he was saying no to extraneous features, no to products that weren't ready, no to pesky reporters...
CIO.com Teardown: Apple CEO Steve Jobs
Steve Jobs at Apple: In Pictures
Not Miss: HP CEO Leo Apotheker, a.k.a. The Cut Man
Miss: Facebook CEO Mark Zuckerberg, Geek with a Dark Side
Powerful you've become, Mark, the dark side we sense in you. Anyone who has seen the movie "The Social Network" knows of Zuckerberg's genius and cutthroat tactics. He's a feared leader, a legend in the making. It's ironic that the social networking king has some of the worst social skills of any CEO. Then again, you don't have to "like" him. Likeability is an overrated CEO trait.
Not Miss: Microsoft CEO Steve "Wild Man" Ballmer
The famous video of Ballmer hopping around on stage maniacally chanting "Developers!" cemented Microsoft's image as a company that's losing it. Who can take this guy seriously? Ballmer comes off as hyperactive and too focused on sales and marketing. And marketers can be the most untrustworthy of the corporate lot. Good leaders come off a little more -- heck, a lot more -- controlled. Put another way: Would you want to follow this guy?
Miss: Former Google CEO Eric "Cool Hand" Schmidt
Contrast Steve Ballmer's outrageous style with Schmidt's cool demeanor. When Schmidt talks, you get the feeling you're listening to your wise older brother, intelligent yet approachable. Google replaced its steady hand with founder Larry Page, who, with his wind-blown hair and casual dress, plays the younger brother perfectly.
New Google CEO Sweeps in With Company Reorg
Not Miss: RIM Co-CEOs Jim Balsillie and Mike Lazaridis -- Who's the Boss?
When things are going great, people will praise even a committee of so-called leaders. It really doesn't matter who's in charge. But when challenges arise, there can be only one who steps up and carries the company on his or her shoulders. This is where RIM's Co-CEO structure has failed. Risk-taking. Accountability. Consequence. You can't divvy them up. Otherwise, it's just a sitcom.
CEO Teardown: BlackBerry-Maker RIM's Mike Lazaridis and Jim Balsillie
Miss: Oracle CEO Larry Ellison, a.k.a. Bruce Wayne
Does anyone know who's the boss at Oracle? Hint: There's only one. Ellison's shadow looms so large that many Oracle executives left to run other companies: Tom Siebel, Craig Conway, Marc Benioff, Zach Nelson. It was Ellison who won the database wars of the 1990s and built an empire. In those days, rumor had it that there was a bat cave under his Japanese-styled samurai home.
CIO.com Teardown: Oracle CEO Larry Ellison
Not Miss: AOL CEO Tim Armstrong, Dazed and Confused
Earlier this year, someone leaked an internal memo about "The AOL Way" under Armstrong's watch. The document details the relationship between content and profitability that flies in the face of journalism, sending mixed messages about AOL and its services. Now there's finger-pointing and yelling coming from TechCrunch founder Michael Arrington. Confused? Yeah, so are we.
Miss: The Fall of Former HP CEO Mark Hurd
It's a pretty good bet Hewlett-Packard misses Hurd these days. Last summer, Hurd resigned as HP CEO following an investigation into a claim of sexual harassment (which found he hadn't actually violated sexual harassment policy) and falsified expense reports. HP hired Leo Apotheker, and things have gone down hill. Couldn't Hurd have blamed it all on damn autocorrect?
Mark Hurd's HP Dismissal: 5 Unsolved Mysteries
Mark Hurd: a Look Back At His HP Tenure
Copyright © 2011 IDG Communications, Inc.
Next Up: Check out these related slideshows