Tasked by their CEOs to use technology to better align the business with shifting customer preferences, CIOs across every industry are leveraging the now-standard social, mobile, analytics and cloud (SMAC) technologies to modernize, stabilize and accelerate digital transformations. But those tools will get some company from augmented and virtual reality, the Internet of Things, blockchain software and advanced analytics over the next 18 to 24 months.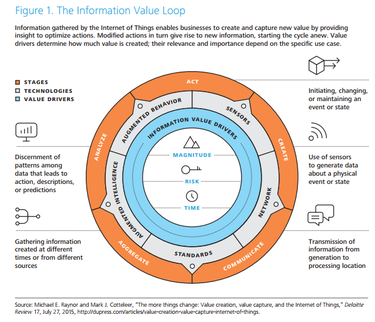 These emerging technologies are fueling new products and services, changing the way businesses operate and interact with customers, Bill Briggs, CTO of Deloitte Consulting, told CIO.com. "Every company is a technology company at its core," says Briggs, who wrote the report, whose theme is "Innovating in a Digital Era." "Technology is the most strategic asset. "
Internet of Things: Proceed with caution
Briggs says the real value of IoT, in which sensors attached to everyday machines send data to other machines, is that it enables companies to reimagine business processes by automating previously manual.
The IBM-owned Weather Company is incorporating weather data and algorithms into commercial applications. IBM is also building an analytics system to help Whirlpool predict when its machines are likely to fail. Other companies are reaching for low-hanging fruit. Intel, for example, has synched sensors with conference rooms, enabling employees to check their computers or smartphones to see when meeting spaces are free. To avoid being overwhelmed by the digital data from connected devices, Deloitte says that companies should think big, start small and then scale fast.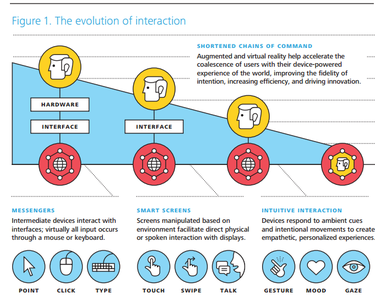 Just don't ask how to secure IoT, because its distributed nature markedly increases the threat surface for any organization that implements it. Sanjay Sarma, dean of digital learning at MIT, who has created a course to help professionals become familiar with IoT, says that enterprise implementations he has studied are shockingly bad. He says IoT requires a precise security architecture.
Augmented and virtual reality go to work
We've reached a tipping point, where "every high tech player is entering the market," says Briggs. Consumerization of technologies such as Facebook's Oculus Rift and Microsoft's HoloLens will push AR and VR into the enterprise, Briggs says. Field technicians for construction concern Black & Veatch wear geotagged helmets equipped with AR technology to pull a data overlay into his field of vision containing the technical and design data they need to perform a thorough equipment review on towers and other edifices.
Connecting field workers to data in this way is one of many potential uses global Black & Veatch envisions for AR technologies in the near future, says Dan Kieny, the company's CIO. "We are looking at AR applications that provide individual operators with data they need to perform specific construction and maintenance tasks remotely."
However, AR/VR in the workplace requires some rethinking of design, as the "clicks and swipes that animate flat screen experiences are replaced by spoken words, gestures, grabbing or even a blink." Of course, the change management associated with AR and VR can be significant, as it won't do to make employees nauseous as they attempt to navigate their way through virtual terrains and constructs.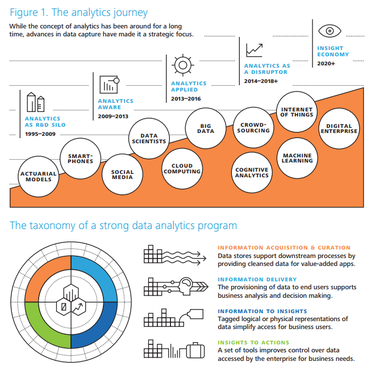 Data is the new oil
Most businesses have yet to crack the code on harnessing their big data, which CEOs view as a potential game-changer and a foundational element for digital transformations. According to Deloitte's 2015 CIO survey of 1,200 IT executives, analytics is both a top investment priority and the one that would deliver the greatest business impact. Starwood Hotels, for example, has created machine learning software to dynamically alter pricing based on weather, local events and several other factors. This is a big deal in an industry where vacant rooms are perishable goods.
However, few companies are currently making the investments in distributed data architecture, in-memory processing, machine learning, visualization and natural language processing required to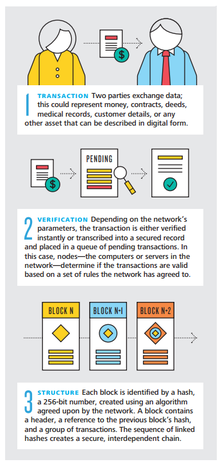 harness data and analytics at scale. The main complaint is that while many data management teams are well along the path of employing descriptive analytics, they have not embraced predictive analytics to glean new insights.
Blockchain for all
Blockchain is the digital ledger underpinning cryptocurrency that enables digital data to be recorded and shared by communities. Banks such as BNY Mellon and the Royal Bank of Scotland are experimenting with the software for financial transactions. Briggs says blockchain will be leveraged in industries such as healthcare and insurance, perhaps serving as a secure chain of custody for electronic medical records and triggering a "new era of openness and portability."
Blockchain may also be used to share digital media assets in media and entertainment, and to exchange business contracts. "It can reduce overhead costs when parties trade assets directly with each other, or quickly prove ownership or authorship of information," Deloitte writes. Venture capitalists have pumped roughly $1 billion into 120 blockchain-related start-ups, $500 million of which was invested in the past calendar year alone.
Security is the tie that binds
Tying all of these emerging technologies together is cybersecurity, which must be baked in to each new technological implementation rather than bolted on after the fact. Connected devices need to be tracked, managed, and hardened to control access to underlying data and applications and to entitlement rights. "Organizations will have to balance priorities to experiment in new areas and transform existing assets with the need to ensure solutions are secure, vigilant and resilient," Briggs says.