Google today launched a new marketing cloud platform for large enterprises. The Google Analytics 360 Suite is a set of tools designed to help marketers measure campaigns, compile data from various sources, and share insights for automated, or programmatic, marketing. Google has been working on its Analytics 360 Suite for three years, and it is the most comprehensive marketing platform from Google to date, according to the company. The new tools pit the company against notable rivals in the marketing cloud industry, including tech giants Salesforce, Oracle and Adobe.
"The era of fractional attribution in programmatic marketing is here," says Paul Muret, Google's vice president of display, video ads and analytics. "Consumers are engaging brands through thinner and more fragmented time slices than ever before."
[Related Feature: Why Snapchat is the next big thing in digital marketing]
Marketers don't have captive visitors anymore and, for enterprises, the challenge is not to gather more data, but to identify the best way to derive value, or sales, from these waning moments, according to Muret. The vast majority of digital marketers don't believe their data sources are well-integrated, and their view of the customer is often fragmented as a result, Muret says. "It's just too difficult today to be able to really get the value out of programmatic marketing … If you can't take action on it, what good is it?"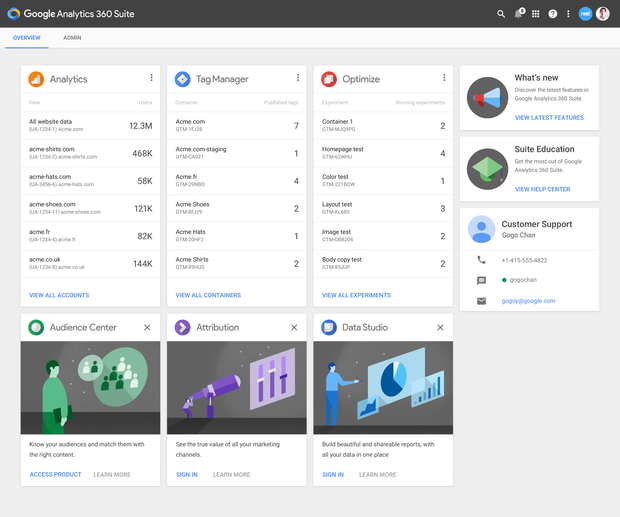 Google Analytics 360 Suite is comprised of six data and marketing analytics products: a data management platform that integrates with Google AdWords and DoubleClick; A/B testing for campaigns; real-time data visualization and collaboration tools; tag management for tracking conversions; multi-screen analytics; and sales attribution across many channels, devices and platforms. Google says the tools also integrate with third-party data providers and platforms, so marketers can see information from multiple sources in a single dashboard. And it captures customer data from all ad formats, including display and video ads.
Google Analytics 360 Suite makes sense of all that marketing data
Consumers engage with brands in a growing number of ways today, and the volume of data these interactions create can be overwhelming for many modern marketers, according to Muret. The capability to see a comprehensive, albeit nuanced, view of an individual's journey, from their first interaction with a brand to a purchase, or to becoming a loyal customer, is critical, Muret says. "These touch points are the most important you have with consumers, and they continue to expand, so being able to have that data able to plug in and out of various systems is critical."
[Related News Analysis: Facebook aims to kill banner ads, but will the industry follow?]
Google Analytics 360 Suite is "very much geared toward large enterprises," and pricing will vary based on customer size and how extensively they need to work with Google, he says. "When organizations are looking at investing in measurement, it's so mission critical to them they want to have direct engagement with Google," along with SLAs and consulting services, to ensure the tools deliver as much value as possible.