Adam Jacob, CTO of Chef, the leading IT-automation firm, in an article, "The secret of DevOps: it's always been about people, not technology" is a masterpiece. I agree with several of his points about the nature of DevOps, its purpose and benefits, they substantiate the principles of the ITaaS delivery model.
DevOps transcends the tools and infrastructure considerations
Adam sees DevOps as a system of people, principles and practices shared across the organization and purposely assembled to achieve specific goals. "DevOps is about taking the behaviors and beliefs that draw us together as people, combining them with a deep understanding of our customers' needs, and using that knowledge to ship better products to our customers."
I completely agree with that perspective, as I demonstrate in my book The Complete ITaaS Delivery Model: The Art of Integrating AWS, DevOps and ITIL into ITaaS Delivery Modem, establishing share, lean and agile environments putting together people, practices, governance structure and tools from both the business and IT is definitely the best way to increase cross-functional collaboration, accelerate problem solving and decision-making and in turn make business lines responsive to market opportunities.
The fundamentals of the new IT thinking reminded
The article raises several fundamental issues which are in reality the foundations of the new IT thinking, they include:
The pivotal role of application delivery in the CIO's strategy
The importance of transforming the IT organization and not just changing the IT infrastructure
The importance of organizational, operational and human factors
The fact that speed for the sake of speed doesn't make sense
Adam is right when he says, "the largest companies in the world are working as hard as they can to figure out how to become better at building and delivering software. It's not an optional piece of their strategy: It's the future of how their customers want to work with them. Software is table stakes for survival." The fact of the matter is, in the rising digital economy, applications are the means by which value is brought to customers, the avenue by which revenues are generated and the heart of IT organization activity.
He's also right when he points out that, "the challenge begins: how to apply this new style to businesses trying to become better at building and delivering software." From my experience implementing it, greater business benefits are derived when the IT operating model is transformed. As surprising as it might be, a very large percentage of CIOs and IT executives fail to understand the point that, transforming their IT including organizational structure, policies, practices, governance structure and tools is what's required, not just the infrastructure.
Adam's another great point is, "DevOps is about bringing together all the people you need to build and run your business effectively, and empowering them to move as quickly as possible towards their goals," it substantiates what I've been advocating for five years that the establishment of lean and agile IT environments putting together the business and IT is what's needed to make business lines competitive and help them generate timely revenue. It's actually what will make them responsive to market opportunities. "DevOps is about people, more than technology," I can't agree more with that.
Models are needed to crystallize DevOps principles and practices, make them clear and widely adopted
However the only thing I would add is, a DevOps model is needed to make it more tangible. I know from my long experience implementing new IT paradigms e.g., object oriented and agile practices that, new vision, principles, philosophy and practices to be adopted must be institutionalized through change management programs and more importantly, through the implementation of best practice models. The following figure shows the Complete ITaaS Delivery Model™ (…), a model, I've created to support my client transformations to DevOps: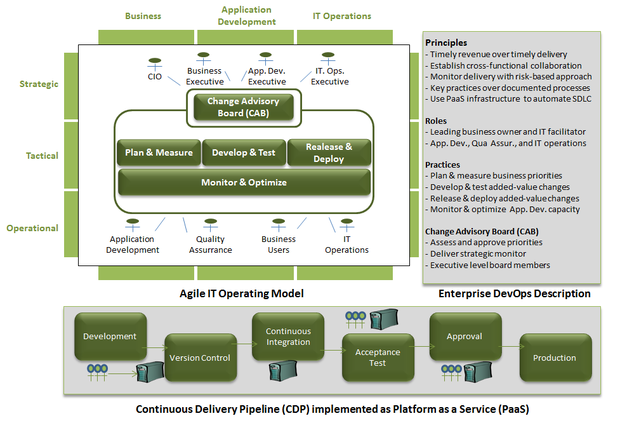 Just like PMBOK, ITIL, TOGAF and COBIT favored the adoption of project management, IT service management, Enterprise Architecture and IT governance practices, a model like the Complete ITaaS Delivery Model™ can help to facilitate and accelerate the adoption of DevOps.
Wrapping up
What Adam's points reveal is, the IT thinking is in crisis; it ignores the fundamentals and principles of business value creation as pioneered by Michael Porter's value chain, Eli Goldratt's theory of constraints, and the missed MIT's Michael Hammer's business reengineering. The fantastic IT innovations which amaze us is just the tree that hides the forest.
[ Read Adam Jacob's "The secret of DevOps: it's always been about people, not technology" ]