In Pictures: The 8 Unfriendliest Cities for Teleworking
You would think in this day and age all businesses would be doing everything possible to support remote workers. But a surprising number of companies in major American cities are still behind the teleworking times, according to a recent Microsoft survey of 4,500 information workers. Here are eight major cities that finished at the lower end of Microsoft's rankings.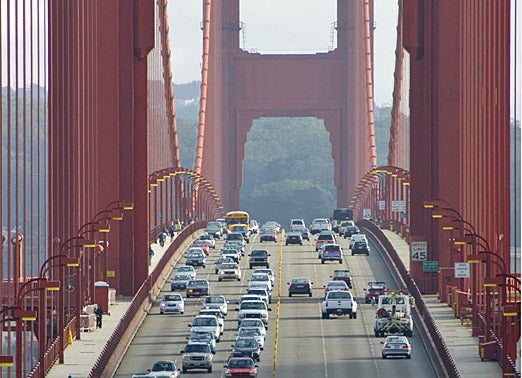 8. San Francisco
The City by the Bay ranks pretty high in the Microsoft survey for providing tech support to remote workers and for using social media to communicate in the workplace. But when it comes to businesses using secure, internal networks to collaborate with third parties like vendors and customers, San Fran is below average. San Francisco respondents also rated themselves lowest in productivity when working remotely. Slackers!
7. Houston
Houston workers rated high in being productive while working remotely (in contrast to San Francisco) and also report good support from colleagues for teleworking. However, businesses in Space City fall below the national average for using social networking tools internally to collaborate with colleagues and customers — probably a good reason why Houston ranked highest for employees being fired and punished for misusing public social media. That snarky status update on Facebook about the CEO? Probably not a good idea.
6. Minneapolis
Businesses in Minneapolis rank above average for providing tech support to remote workers and for offering internal networking and collaboration tools. But a big point of contention among employees in the City of Lakes is the lack of support for video conferencing and other modern teleworking tools. C'mon Minnesota IT, get with Skype times!
5. New York City
You'd think a cultural and business hotbed like the Big Apple would nail teleworking. But not so much. New York does rank high for supporting technology for remote workers (those working out of the office most if not all the time), but bosses and peers in NYC don't tend to support teleworkers (those who live within commuting distance of the office). This may be because New York City-based businesses rank below the national average when it comes to offering formal company policies allowing telework.
4. Philadelphia
Philly businesses are still sticklers about teleworking, falling below the national average for offering a formal remote work policy and for offering technology to support remote workers. The City of Brotherly Love is also below the national average for using secure, internal networks for collaborating among employees and customers.
3. Los Angeles
The City of Angels ranked third to last in the Microsoft survey, with only 50 percent of companies reporting formal telework policies. LA businesses were dead last when it comes to using secure, internal networking tools for worker collaboration and also ranks lowest in providing tech support to remote workers. Among Los Angeles survey respondents, the top reason to telework is to avoid traffic, which is understandable in such a smoggy and sprawling metropolis.
2. Detroit
The Motor City is not a telework-friendly place. Less than half of businesses were reported to have a formal telework policy allowing remote work. In addition, Detroit businesses are below the national average for providing adequate tech support to remote workers.
1. Chicago
When it comes to teleworking, The Windy City blows, finishing dead last in Microsoft's survey. This is rather surprising for a city with long, snowstorm-riddled winters. Information workers in Chi-Town report the lowest levels of interaction with customers and colleagues over secure, internal social networking channels. Chicago teleworkers also feel the least amount of approval and support from their colleagues.
Copyright © 2011 IDG Communications, Inc.
Next Up: Check out these related slideshows