Recruiting, motivating and keeping top talent is of paramount importance to IT leaders. Yet only 11 percent of IT leaders with hiring authority report that they have a "robust, strong talent pipeline," according to the CIO Executive Council's (CEC) 2016 IT Talent Assessment Survey.
While 83 percent of IT leaders anticipate that they will recruit IT talent in the next six months — everyone from full-time, in-house IT talent to consultants — 38 percent of these same IT leaders state that it is "very challenging" to find excellent IT talent, and 49 percent say that it is "challenging."
The dynamism of the IT industry has led to an ever-expanding skills gap. In fact, one of the most pressing concerns for technology professionals at all levels is "keeping up with technology advancements," according to the Computerworld IT Salary Survey 2015.
All of this is unfortunate, because talent — especially technology talent — is driving innovation and business transformation in the 21st century, even more so than the tools and capital investments that fueled change in the Industrial Revolution. "Just as capital replaced manual trades during the process of industrialization," says Klaus Schwab of the World Economic Forum, "capital is now giving way to human talent. Talentism is the new capitalism."
The CEC 2016 IT Talent Assessment Survey seeks to frame the universal questions of talent management, with a specific focus on technology departments worldwide. By providing global data from IT leaders with hiring authority, the research affirms the most far-reaching strategic techniques of getting, and keeping, great talent — while puncturing some long- and dearly-held suppositions along the way.
It's not a war for talent — it's hide-and-seek
Talent management has been characterized in militaristic terms for a long time. The so-called "war for talent" has been an official part of the corporate lexicon since at least the late 1990s.
The first problem with this phrase, at least in an IT context, is that it's overly simplistic. The second problem is that it isn't accurate. The market for IT talent isn't an everlasting battlefield. It's more like a seemingly perpetual game of hide-and-seek. Candidates can't be contested until they are found, and IT leaders report that they are having major challenges in the hunt. As previously mentioned, the 2016 IT Talent Assessment Survey bears this out, registering a massive gap between IT hiring leaders' expressed recruitment goals and their frustrations with the IT hiring process (see Figure 1).
This pain has generally become more acute in recent years. Three out of five (58 percent) IT leaders contend that it is "more challenging" to attract excellent talent than it was three years ago. And 37 percent say it is just as challenging (see Figure 2).
Business challenge is one thing; existential threat is another. When asked about how IT talent challenges pose a threat to the future success of the enterprise, a significant majority (61 percent) registered that they faced a moderate or extreme threat. In the views of IT leaders, the technology skills gap is real, pervasive and dire in its implications (see Figure 3).
Sixty-nine percent of IT leaders report that a lack of qualified applicants in the talent pool is one of the biggest challenges they face when seeking to attract talent — the top response, by a two-digit margin (see Figure 4). Other top reasons included unattractive compensation (51 percent); a lack of a strong recruitment strategy (34 percent); and difficulties in dealing with Human Resource (HR) departments (27 percent).
IT leaders still haven't found what they're looking for
So, what do IT leaders with hiring authority want? Overwhelmingly, they are looking for project management skills, with two-thirds (64 percent) viewing such skills as integral to enterprise success (see Figure 5). Application development (45 percent); networking (43 percent); and database skills, such as NoSQL, round out the top four (42 percent).
Emerging areas of demand include DevOps (18 percent); Internet of Things (IoT) (16 percent); open source (14 percent); and social platforms (9 percent).
Complementing pure technical skills, of course, are the soft skills that complete a candidate's profile, and help determine cultural fit and long-term success. Foremost among these is having a collaborative orientation (49 percent); followed by creative, innovative idea generation (47 percent); and leadership capability (37 percent) [see Figure 6].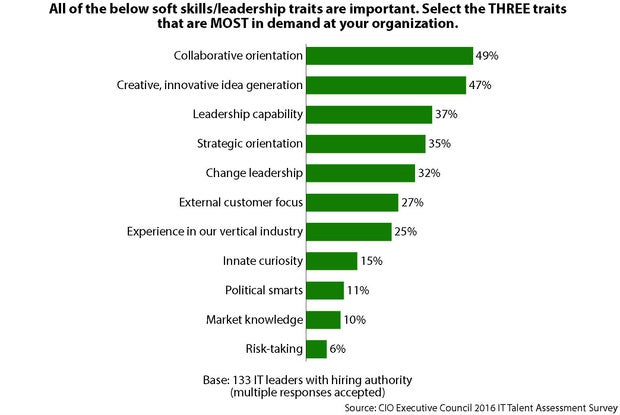 Where's the talent?
So, how do IT leaders with hiring authority seek talent? Perhaps unsurprisingly, internal word of mouth is far and away the most successful tactic, with one-third of IT leaders (36 percent) confirming that employee referrals represent a "very successful" tactic (see Figure 7). Success rates drop precipitously from there, with the next three highest responses being search firms/recruiters (rated as "very successful" by 20 percent of IT leaders); outsourced IT services (15 percent); and university/college programs (11 percent), respectively. The data also provides some areas of potential opportunity: For example, 35 percent of IT leaders don't take advantage of leveraging networking events as a recruitment channel, even though 48 percent of IT leaders have had some measure of success with them.
What do employers bring to the table?
Naturally, IT managers with hiring authority should consider what their peers are offering to attract the best and brightest. Almost all employers (82 percent) offer training opportunities for employees, followed by flextime/flexible work schedules (51 percent) and health and wellness programs (47 percent) [see Figure 8].
Subsidized and/or complimentary food and beverages — the "free food" that has gotten Google and Facebook so much media attention — is the rarest perk, with only 15 percent of IT leaders reporting that they offer the benefit.
The millennial myth
Millennials are broadly defined as those individuals between ages 18 and 34. Read almost any article about them in the workforce and you will find a series of generalizations about what they supposedly bring to the office: idealism, entitlement, and a single-minded reliance on social media, among other purported characteristics.
It would seem likely that these nuances would present a unique set of recruitment and communication challenges. Yet a slim majority of IT leaders (54 percent) report that millennials are no more challenging to hire than anyone else (see Figure 9). In fact, 14 percent say that these younger employees are easier to get on board. This dilutes the warmed-over idea that millennials are fundamentally different from previous generations: Ultimately, they want a good job just like anyone else.
The diversity imperative
On August 4, 2015, the White House hosted its first-ever "Demo Day," to highlight the achievements of entrepreneurs from all walks of life. The emphasis, through a series of innovation discussions and company pitches, was intended to "increase the number of entrepreneurs who are traditionally underrepresented."
IT leaders face a similar imperative to increase diversity. And, by their own lights, progress has been made — but, again, the game of talent "hide-and-seek" comes to the fore.
Overall, IT leaders present a generally positive view of the level of diversity in their respective IT organizations. In the 2016 IT Talent Assessment Survey, diversity was defined broadly as a "wide range of characteristics and experiences shaped by background, race, ethnicity, gender, age, etc." Four out of five IT leaders (82 percent) registered that they have a "highly" or "moderately" diverse IT workforce [see Figure 10.]
At the same time, only one-quarter (22 percent) say it's "not challenging" to "hire talent to increase diversity" (see Figure 11).
Future focus — and ambivalence
When it comes to turnover, future prospects, and general confidence in the talent pipeline, the results are decidedly mixed. Employee turnover/attrition — both voluntary and involuntary — generally skews to the single-digit percentages, with 54 percent of IT leaders reporting a rate of 9 percent or lower [see Figure 12].
A slim majority (52 percent) of IT leaders report that they are "very confident" or "confident" that their enterprise "can field the effective IT workforce of the future" some five years out (see Figure 13-1). The same percentage (52 percent) rated the quality of their talent pipeline with either of the top two scores on a four-point scale (see Figure 13-2). In spite of this mildly happy result, only 11 percent of IT leaders reported a "robust, strong" talent pipeline.
Start seeking now
Doug Conant, former CEO of Campbell Soup Company, says that "to win in the marketplace you must first win in the workplace." Business acceleration, globalization, the gig economy, outsourcing and remote work have changed how and where we work — and, arguably, made interpersonal connections in the workplace more difficult. Ultimately, however, the sentiment remains a noble and necessary one.
This is especially true in IT, where, as we have seen, a solid majority view IT talent challenges as a threat to the entire enterprise. The "hide-and-seek" of talent acquisition, and the rigors of retention, are universally taxing. But these efforts will be all the more difficult in the long run if IT leaders don't focus on the essentials right now:
Research, research, research. Research your internal organizational needs — then research how your IT organization is best set up to execute on those needs. When the gaps make themselves evident, research exactly who your IT shop is competing against, locally and internationally.

Identify ways to secure that talent — local universities, executive recruiters — and, specifically, identify why your IT shop would be enticing to prospective employees. Above all, constantly keep a pulse on why your current employees are incented to stay and grow, whether through one-on-one meetings or surveys. As Celestica CIO Arpad Hevizi asks, "What are the areas where an hour's investment will get [the team] an exponential return?"

Make a sense of purpose your strategic differentiator. At Fordham University in New York City, CIO Dr. Frank Sirianni, Ph.D., has very effectively countered a hypercompetitive local technology market thanks to Fordham's emphasis on "the creation, preservation and transmission of knowledge and culture." Every IT organization must identify some thread — cultural, philosophical, or strategic — that entices hires and makes them feel that they are contributing to something worthwhile.

IT employees want agency and the ability to advance — like everyone else. "We're bringing you into this organization and we're giving you the freedom to be excellent. Take that freedom and be excellent," says Veresh Sita, CIO at Alaska Airlines, who puts a note to this effect on desks across the IT department.

The 2016 IT Talent Assessment Survey reveals that 49 percent of IT leaders regard a "collaborative orientation" as one of the three soft skills most in demand in their organizations. But more individualistic traits — leadership capability (47 percent); political smarts (11 percent); and risk-taking (6 percent) — were not valued as highly by IT leaders with hiring authority.

It is indisputable that a team-player attitude is absolutely critical in any workplace. But too narrow a focus on the team — as opposed to individual aspirations and ambitions — carries its own set of retention risks. "You cannot take a cookie-cutter approach towards managing people," Sita says. "Everyone is not the same."

Reflect on IT's brand, and make it a strategic advantage. PayPal CIO Bradley Strock has a simple and proven formula for success in his IT department: Accomplish tasks on time, on budget, and without a lot of drama.

Strock's framework is a facet of his IT department's internal brand — and internal brands, like personal reputations, don't manifest themselves overnight or by accident. They are instead the product of communication across the business, self-examination and, most importantly, execution. To understand IT's internal brand, IT leaders should consistently examine what corporate IT does (and does not do) and why; how IT is viewed by internal and external stakeholders; and how individual IT employees collaborate internally. The answers to these questions will help IT leaders understand the unique advantages that the IT department provides, empowering them to more effectively pursue, hire, and retain talent.
IT talent acquisition, on paper, is simple — identify the needs, then find and hire the talent — but it's far from easy in practice. Progress is the product of research, assertive outreach, and confidence in IT's brand. It comes down to knowing what make IT employees tick, and working hard to find ways to connect the desires of those employees — for salary growth, networking opportunities, training and development, recognition, and advancement — with those of the larger organization in a concrete and logical way. Ultimately, the principles behind winning in the IT workplace are the same as in any other business environment. But, as the data clearly demonstrates, IT skills are in such high demand — and the stakes are so high — that IT leaders must begin today.