It's not Fedora if it ships on time. After a couple of delays, the Fedora community has announced the alpha release of Fedora 24, the next version of this free and open source Linux distribution.
Fedora now comes in 3 versions, targeted at different use cases: Workstation for desktops; Server for (obviously) servers and Cloud for containers. For testing purposes, I downloaded the Workstation version and installation was easy, as is the case with most Linux distributions.
The release also makes Fedora the first distro to offer Gnome 3.20, which was released last week. But distros are not going to ship Gnome 3.20 anytime soon. I wish the Linux distributions would work closer with at least the major desktop environments (DE) like Gnome and KDE so that users can install them as soon as they are available. This topic deserves a separate article, but I am kind of frustrated to see that I can't get a DE the same day it's released.
Gnome 3.20 made me excited about the Fedora 24 release. I love what Gnome project is doing with Gnome Software. It has become the common application across distributions using Gnome. As a result, whether you are running Arch Linux, Fedora or any other distribution you get a consistent software management experience. And they are improving it further. Gnome Software already has the ability to upgrade any application, but now you can upgrade the OS itself. Yes, you can upgrade your system from within the app.
According to the release notes, "you are automatically notified when an upgrade is available to be downloaded, and are given feedback about download progress. Installation of the upgrade happens while the system is not running, in order to increase safety and prevent errors."
Another interesting feature is the ability to edit images from within the Photos app, so if you are doing minor edits you don't need to use GIMP or other image editing software.
Files is one app with which I have a love hate relationship. As much as I like the simplicity of the app, I despise the lack of batch file rename.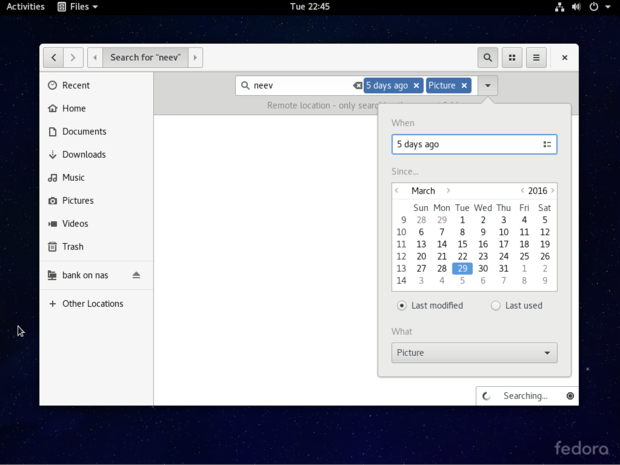 There are some minor improvements in Files that will benefit users. You can now refine your search in the Files app and filter by file time and time. So if I want to find pictures of my kid that were taken on a particular date, I can do that. I tried it, and it worked flawlessly even on my remote file server. Awesome.
I am still playing with Fedora 24, but since it's an alpha release I'll refrain from talking much about it other than the fact that I found it quite fast and responsive, especially considering that I was running it in a virtual machine with a mere 2GB of RAM.
There are many other improvements that you can find on the official Gnome page. In particular, they have made improvements to Maps, Web browser and music players, but I don't use any of these defaults, and instead use Google Maps, Chrome and Clementine.
So far I am quite happy with what I see, especially in from Gnome. Even though I started my Linux journey with Fedora more than 11 years ago, it's a bleeding edge distribution that innovates very fast, so it's really not for everyone.
But if you are a Fedora user, I think this is going to be an exciting release. So go ahead and download it, run it on a test machine and let us know what you think about it.