7 Best Cities to Find IT Jobs in 2011
CIO.com and IT staffing firm Modis show you which urban IT job markets are hot, the industries in those cities that are hiring, and the IT skills those companies are seeking.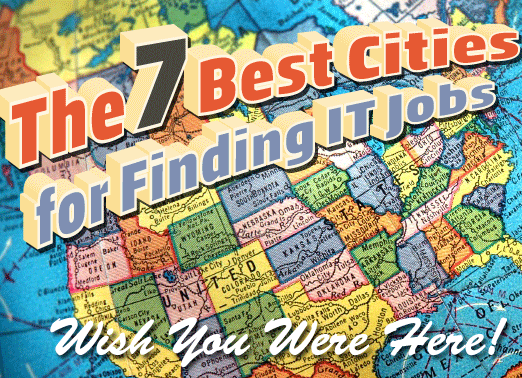 If you're looking for an IT job—and a possible change of scenery—head to one of the following seven U.S. cities, according to IT staffing firm Modis.
Modis, which operates in 70 cities in North America, tracks the locations where demand for full-time contractors and full-time permanent IT workers has been strongest since the start of the year. CEO Jack Cullen says Modis evaluates the strength of these seven urban job markets based on the number of orders Modis offices are receiving from clients.
"We're not just looking at the largest markets with the most clients and biggest populations," says Cullen. "We're looking at the cities that are really, truly experiencing growth, greater growth than we've seen in the past."
Houston, Texas
With the price of crude oil hovering around $100 per barrel, it's no surprise that the energy industry is booming—and hungry for IT talent. The "Oil Capital of the World" (or at least of the U.S.) is the No. 1 city for IT jobs.
The strength of the IT job market in Houston is bolstered by hiring activity in two other bustling industries: healthcare and financial services.
The IT jobs in greatest demand in Houston are Java and .NET developers; Windows, Linux and Unix systems administrators; project managers; and business analysts. Companies in the area are also seeking IT pros with SAP and Oracle skills.
Washington, D.C.
If there's only one good thing that comes from big government and a ballooning federal deficit, it's the creation of government jobs!
But the federal government isn't the only sector hiring IT workers. Washington, D.C. comes in as the No. 2 city for finding IT jobs because a variety of industries are also recruiting IT professionals, including government contractors, financial services, IT startups, biotech and hospitality, according to Cullen.
Project managers and software engineers (especially those with experience developing mobile applications) are in greatest demand in the D.C.- area. Employers are also seeking IT workers with network infrastructure and cloud computing expertise.
Pictured: The U.S. Capitol Building
Columbus, Ohio
Cullen says the IT job market has been growing steadily in Columbus thanks to the healthcare, financial services and insurance companies that call Ohio's capital their home. Project managers, Web developers, business analysts and QA testers looking for jobs should head to Columbus.
Pictured: Columbus's historic post office building
Detroit, Mich.
Just two years ago, Detroit was the worst city in the U.S. to find an IT job, but in 2011 the motor city is revving its engine of growth once again. Car manufacturers are certainly fueling the IT job market in Detroit, says Cullen. So too are their suppliers, especially those that produce mobile technologies for cars, he adds. The hottest IT jobs in Detroit are Java developers, project managers and business analysts.
Pictured: The GM Building
Philadelphia, Pa.
It's always sunny in Philadelphia! Indeed, business is steady in the City of Brotherly Love. Business services, insurance, healthcare and retail companies in Philly are seeking project managers, business analysts, QA testers, Java developers and .NET developers.
Pictured: City Hall
Edison, N.J.
Ever since the terrorist attacks of September 11 forced financial services companies out of lower Manhattan, cities such as Edison in Northern New Jersey have attracted a larger labor market. And with the financial services and insurance industries rebounding after the 2009 crash, the IT job market in the area is picking up once again. As in Philadelphia, companies in Edison and surrounding cities are hiring project managers, business analysts, and Java and .NET developers.
Pictured: Scenic Roosevelt Park
Boston, Mass.
If you're an IT professional and a sports fan, Boston is the place to be, what with championship teams in football, baseball, hoops and now hockey (Go Bruins!) and a booming IT job market. Boston's diverse industry base, which includes financial services, pharmaceutical, healthcare and technology companies, is creating lots of IT jobs. Java and .NET developers are most in demand in Beantown, followed by storage engineers, business analysts (who are particularly sought after by financial services and tech companies), and project managers.
Pictured: Boston's famous skyline with the John Hancock (left) and Prudential buildings (right)
Copyright © 2011 IDG Communications, Inc.
Next Up: Check out these related slideshows