When I first saw the $290 price of Amazon's new Kindle Oasis, I literally gasped. What is Jeff Bezos and Co. thinking, asking nearly $300 for a dedicated ereader? Aren't these devices going the way of the MP3 player or Flip camcorder? (Remember the Flip? You can still buy one of these discontinued video cameras for $315 — on Amazon, of course.)
But back to Oasis. For $290, you can purchase two Kindle Paperwhites ($120 and up) and still have $50. You could almost buy a low-end Apple iPad mini 4, an excellent (in most cases) ereader/tablet hybrid that sells for $340 at some online vendors, including Sears.
To be fair, I haven't yet used or even seen an Oasis; it starts shipping April 27. And it might amaze me and make me want one, price be damned. (It's happened before.) But …
3 reasons you might want to skip Kindle Oasis
1. Extra Oasis battery life is nice but not essential
Oasis's battery lasts for months, according to Amazon, thanks to the device's built-in power pack, as well as the battery in its included leather charging cover. Other Kindle batteries last for weeks. However, unless you're leisurely trekking through the Australian outback, do you truly need an ereader that lasts for months without a recharge?
2. Kindle Oasis screen may only be a minor improvement
The Oasis display will reportedly use 10 LEDs, compared to the six in Kindle Voyage, four in Kindle Paperwhite, and zero in the entry-level Kindle.
Amazon says those extra LEDs increase "the consistency and range of screen brightness for improved reading in all types of lighting." But will you notice any real difference? Other than the extra LEDs, screen resolution of all Kindle models, except for the entry-level Kindle, is the same: 300 ppi. And all Kindle ereader screens are six inches in size.
3. Kindle Oasis does not (yet) support audio
Some early Kindle models support audio, so you can use them to listen to Audible audiobooks — or those awful text-to-voice computerized ebook translations. Audible audiobooks are compatible with Kindle apps, Amazon tablets, and other devices. But none of the current-model Kindle ereaders, including the new Oasis, support this kind of audio playback. The ability to listen to Audible books on an Oasis would have helped justify the $290 (or more) price.
It's worth noting, however, that recently discovered FCC filings suggest Oasis may already support Bluetooth, which could be activated by a future software update, according to The Digital Reader. If so, Oasis users may eventually be able to stream audiobooks from their ereaders to Bluetooth speakers.
3 reasons you might want to buy Kindle Oasis
1. Oasis has a cool cover
The Oasis leather charging cover, which is available in three colors, is Amazon's first such accessory, and this is the first time Amazon decided to include a cover in the base price of an ereader.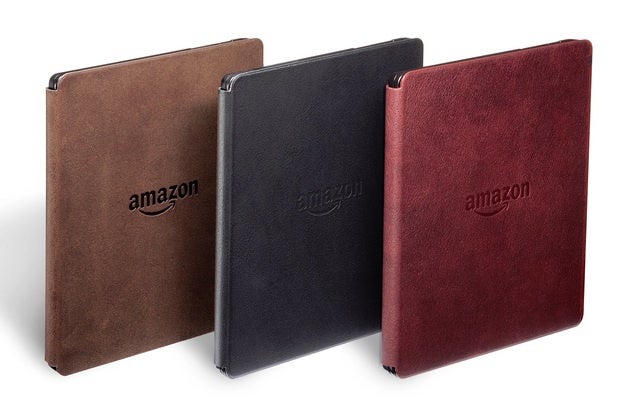 2. Kindle Oasis designed for use with one hand
The Oasis ereader and cover feature an ergonomic grip that's designed to make them easy to hold with one hand, which should come in handy when reading in tight places (airplanes) or while laying down (on the couch or in a hammock).
3. Oasis ereader and cover are lightweight
The combination of the Oasis and charging cover weighs a total of 8.4 ounces. In comparison, the Kindle Voyage, Amazon's next-skinniest ereader, and the company's Voyage origami cover and stand ($60) weigh a combined 11.4 ounces, or more than 35 percent more than Oasis and its cover. Oasis weighs only 4.6 ounces by itself (or 4.7 ounces if you get the cellular model), compared to 6.3 ounces for Kindle Voyage ( or 6.6 ounces with cellular support).
Should you buy any ereader at this point?
Good reasons to buy ereaders still exist. They keep you focused on books and other content; there's no jumping around to Facebook or other sites or apps, only to realize you just lost an hour of what should have been reading time. And while tablets, such as Apple's iPad mini 4, are generally more legible in direct sunlight than older tablets, nothing beats dedicated ereader screens for easy reading in all lighting conditions.
If the $290 price isn't a concern, and Oasis appeals to you, I say go for it. Otherwise, you can save nearly $150 by purchasing a refurbished Kindle Voyage ($199 new).