When Unbox Therapy, one of the top YouTube channels, hosted an exclusive unboxing of the Samsung Galaxy S6, four million subscribers paid attention. The reason – Lewis' influence on the channel subscribers. Influencer marketing has been quick to emerge as a key promotion tactic, and given the way it amplifies the volume of any content strategy, marketers are not shying away from adapting it as a key portion of their marketing cocktail. As Proopinion puts it – today businesses are advertising on multiple marketing platforms; some are more popular and effective than others (read influencer marketing).
The concept of influencer marketing is rather simple. Brands and startups identify and build relationships with journalists, bloggers, consultants, or industry analysts, and work with them to build credibility amongst target audience. This is a handful of powerful and impactful opinion negotiators, who are able to drive a pool of internet users to a particular opinion.
This helps the brand drive greater ROI from their content efforts, so much so that businesses are making $6.50 for each $1 spent on influencer marketing!
However, launching an influential marketing strategy isn't a cakewalk. To leverage influencers to accelerate your content marketing efforts, you need to be mindful about the following:
1. Find who the masters of the trade are
For any influencer marketing campaign to work, you need a good influencer by your side, who resonates with your target audience. After all, you won't expect Kim Kardashian to promote tech gadgets.
Finding the person who'd want to share your content isn't a herculean task. You just need to get your post in front of someone who's already shared something like that before. So the first obvious step is to find similar content with a lot of reach. Now similar doesn't mean exactly alike; the two should have some commonality. Google Trends, Buzzsumo and Realtime help you find content that's trending, and let you sort by parameters like traffic, social shares etc.
You can also refer to known blogs in your niche. Once you have a list of posts, go ahead and find out who's sharing them. Mark Trueman reveals how bit.ly can help you through this. Take the URL of the first post on your list and shorten it using bit.ly. Paste the shortened link in the bar on the top right corner of the page that says 'paste a link here…'

A popup will appear that gives you your shortened URL. Click the "View Stats" link in this popup.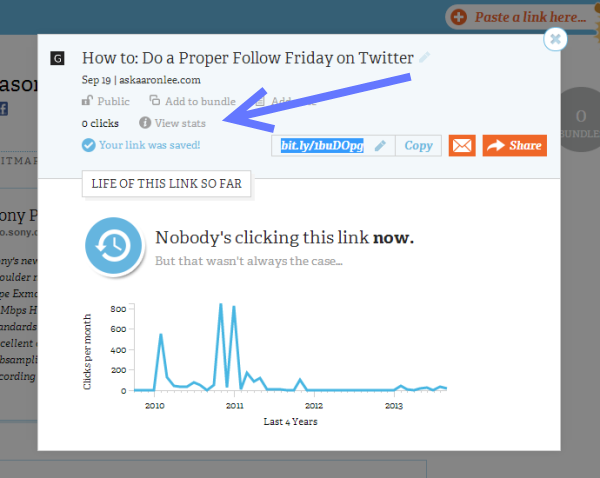 You'll see the traffic that has come to the post through bit.ly links. Scroll down and you can see who all shared this post.

Compile these names and profiles in a list.
You can also use social channels to directly find influencers. In case of Twitter, study, follow and research relevant hashtags. On Facebook, like and follow influencers who have a huge fan base as well as great engagement rate. Join groups and pages specific to your industry. This gives you the most active influencers and ensures that you are working with the right people from the very beginning.
Set Google alerts for the relevant keywords. This will give you an exhaustive list of people across the web who have been writing about topics from your niche. Finding the gems out of these is your next task.
2. Rank your influencers
Merely having a list of influencers will not provide any strategic push; what you need is an in-house model of ranking them in order of various parameters. When evaluating an influencer, focus on 3 Rs – Reach, Relevance and Resonance. Reach would mean the organic number of followers a person has, relevance will be the person's affinity with your target audience and resonance will be his/her degree of interaction with their followers. Influencer50 has even derived a successful formula that ranks each of the identified influencers based upon the following:
a. Market Reach – this are the clean old connections which an individual can manage over any web avenue. This is perhaps the easiest parameter to judge – just count the number of connections of an influencer, both existing and plausible ones.
b. Expertise – A judgment of the skill and knowledge the influencer has in your niche. Try and assess the educational or professional credentials of an influencer to know about this.
c. Persuasiveness – Judge an influencer on the extent to which he/she is able to drive public opinion on a matter. Going through relevant forum discussions will be a great place to start.
3. Recruit the best influencers
The next step is onboarding. Start with sending emails to the influencers. Make sure you make it personalized so that it doesn't qualify as a boring marketing email sitting in the Promotions tab of your Gmail inbox.
And since you already know your influencers through the extensive research you've done, this should be easy. But for starters, you can take some inspiration. Mention recommends using the following email template when connecting with an influencer for the first time –
Hi [name]!

I'm [your name] from [company]. I work with [mutual connection] who mentioned that you [what mutual connection said about the influencer].

[Mutual connection] said that it would be a good idea to get in touch with you to learn more about [topic] and work on [project] together.

Does this sound like something you would be interested in? If so, I would love to get on a phone call some day this week around noon and figure out a way to make it mutually beneficial.

Let me know what you think!

Best, [your name]
Being clear and precise, the email tells the influencer you want to work with them on something. And it makes it clear that the relationship will be mutually beneficial. This makes it much easier to establish a contact. Here's more you can do to make your pitch effective
Keep it short, sweet and to the point. Nobody, likes to go through detailed or rambling pitches.
Make sure your pitch clearly talks about your company and products, and is consistent throughout. This is important because influencers working within a niche of business are generally connected to each other, and you would not want them to be confused with different versions of the same elevator pitch.
Use smart graphics and flowcharts to present your side of the deal and let them come back to you with any questions.
Another crucial thing to remember is not to sit complacently after a single email. Empirical research into the area has shown that most influencers are only convinced to join a company post the second round of chasing.
4. Move to regular content creation
The effectiveness of any influencer's work would lie in the quality and quantity of targeted content she is able to generate. This is where her real power of influencing lies, and as a hiring company you should encourage a congenial environment for quality content creation. Though your influencer is the best person to tell you how to do so, here's what I suggest:
Get them to create content on topics of interest, and add lucrative discounts, goodies or product giveaways. This way you can create an ever burning engine that churns out fresh and persuasive content all the time.
Encourage them to upload pictures or videos of them using your product. These can be shared across the web and made to go viral in no time. Enhanced media in the form of animations, videos and pictures
Over to You
That's it! You are connected to the right set of people and have the right content to share. Now go ahead and captivate your audience…
Happy influencer marketing!