Smartphone Smackdown: HTC EVO 4G vs. Google Nexus One
Can HTC's WiMAX phone best Google's own Android handset?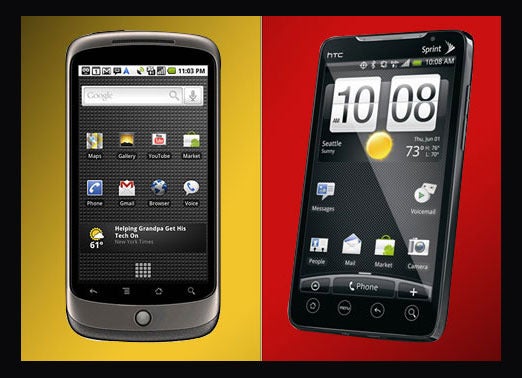 When Google released its Nexus One smartphone earlier this year, it was intended to serve as a showcase for "Android done right." In other words, Google was hoping to set a new bar for Android device manufacturers by releasing a phone with a 1GHz processor that was significantly more powerful than what previous Android phones had used. But at CTIA in Las Vegas this week, HTC stepped up to the challenge by unveiling its own device that not only has equivalent processing power but also is capable of running on Sprint's high-speed WiMAX network. In this slideshow we'll break down the basics of HTC's new EVO 4G and see how it compares with Google's Nexus One.
The processors
This is a pretty obvious tie, since both devices run on the 1GHz Qualcomm Snapdragon processor. This is hardly surprising, since both the Google phone and the EVO 4G were manufactured by HTC in other words, once HTC got its feet wet in manufacturing Google's phone, there was no reason for it not to use the Snapdragon for its own 4G Android phone. From a practical standpoint, the Snapdragon processor gives both devices the computing ability needed so users can run multiple complex applications at the same time.
The operating systems
Again, this is a tie since both phones run on the Android 2.1 operating system. The virtues of Android 2.1, according to Google, include a voice-enabled keyboard that will let you vocally update your social networking sites and speak text into any field, as well as the ability to have a 3D photo gallery. As a Linux-based open-source operating system, Android is a rising star in the mobile OS market, as it is now used in just over 7% of U.S smartphones.
Connectivity
Now this is where things get really interesting. The Nexus One either is or will soon be available for use on every major U.S. wireless carrier. Indeed, having a device that can hop between carriers has long been one of Google's goals for the mobile world, as it has hoped to give users the option of keeping their favorite devices even as they change wireless carriers. So really, the strength of the Nexus One is entirely dependent on the strength of the 3G network it happens to be latched onto.
The HTC EVO 4G, on the other hand, can only be used on Sprint's network. However, it will be the first phone to access Sprint's 4G WiMAX network, which just happens to be the fastest wireless data network currently available in the United States as it typically delivers average speeds in the 2M to 4Mbps range. The downside here is that WiMAX coverage isn't yet nationwide, although Sprint WiMAX wholesaler Clearwire has vowed to launch its services in all major U.S. markets by the end of 2010, covering 120 million points of presence.
The bottom line is that if you live in or near a major city, the EVO 4G could give you the fastest mobile connection speed of any current phone by year-end.
Display screens and keypads
One of the EVO 4G's most striking features is its large 4.3-inch display screen that features a wide video graphics array (WVGA) display of 800x480 pixels. This is a slightly larger display screen than the Nexus One's 3.7-inch display, although both devices feature the same WVGA resolution of 800x480.
In terms of keyboards, both devices have a touchscreen interface without a physical slide-out keyboard. This sort of thing obviously comes down to personal taste, as many smartphone users have preferred to have access to a physical keypad and not rely on touchscreen technology. But the technology has proven popular enough that both Google and HTC have felt comfortable releasing their high-profile devices without the separate QWERTY.
Copyright © 2010 IDG Communications, Inc.
Next Up: Check out these related slideshows