RSA Conference Debuts New Security Gear
A range of vendors chose RSA Conference 2010 to unveil their latest products.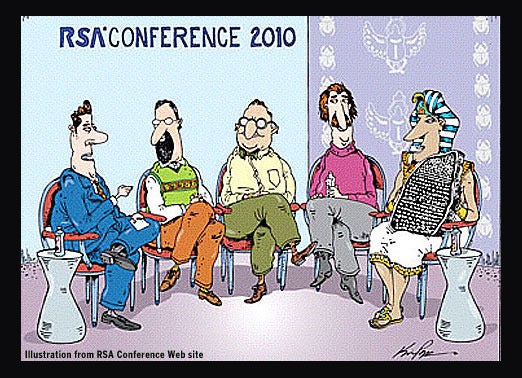 WatchGuard XTM 5 Series and XTM 2 Series
Key features: Ideal for mid-market enterprise organizations with up to 1,500 users, the WatchGuard XTM 5 Series resets the definition of high-security and performance for protecting commercial networks, applications and data. Pricing includes Live Security Service. Ideal for small businesses and branch offices with up to 50 people, the WatchGuard XTM 2 Series provides comprehensive network, application and data security in one easy to manage appliance.
Savant Protection V3.3
Key features: Savant Protection provides Automated Application Whitelisting. The company's patented solution provides total control over all executables on end-user devices eliminating the risks caused by malicious and unauthorized software. More info.
Matasano Flint
Key features: Flint is an open source Web application that examines firewalls, quickly computes the effect of their configuration rules, and then spots security problems and inefficiencies. More info.
Motorola AirDefense Infrastructure Management Solution
Key features: A powerful wireless LAN (WLAN) management tool designed to help IT departments gain better visibility into their networks and reduce operational costs associated with managing fast-changing, increasingly complex and increasingly pervasive wireless networks. Integrates multi-vendor WLAN infrastructure management, a 24/7 wireless intrusion prevention system with built-in security and compliance reporting, and a full set of network assurance tools designed to remotely troubleshoot user connectivity issues and fix WLAN performance problems from a centralized IT helpdesk.
M86 Secure Messaging Service
Key features: M86 Secure Messaging Service is a cloud based e-mail security platform based on M86 MailMarshal technology. Secure Messaging Service eliminates spam and phishing attacks in the cloud, and provides cost effective integrated content filtering with collective intelligence policy update.
M86 Security Reporter
Key features: M86 Security Reporter is a dedicated reporting appliance that provides managers, administrators and executives visibility into all Web-related user activity. It provides customizable, at-a-glance dashboards and executive reports along with intuitive and extensive forensic, drill-down reporting to prove user intent.
Sunbelt Software VIPRE Enterprise Premium
Key features: Next-generation malware detection that combines antivirus and antispyware protection, client firewall and malicious Web site filtering into a single agent running through a central management console to provide endpoint protection with efficient performance and resource utilization. More info.
BeyondTrust's Privilege Manager 4.7
Key features: The latest BeyondTrust Privilege Manager can securely elevate the privileges of Internet Explorer to install Web-based applications and software updates from approved URLs. New features also enhance control over policies. More info.
Axway's File Transfer Direct 1.6
Key features: Axway's File Transfer Direct offers unparalleled data security for large file transfer up to 50GB via an e-mail interface or Web-based client. Only File Transfer Direct integrates Data Leak Prevention into large file transfer to minimize risk and generates a complete audit trail for compliance. Robust new enterprise authentication features ensure data only reaches intended recipients while the new virtual appliance gives IT managers deployment flexibility. More info.
Check Point Abra
Key features: Abra is an encrypted SanDisk high performance USB drive that can turn a PC into a secure, virtual workspace. The device creates a VPN connection from a secure sandbox to corporate computers, making it possible to access corporate resources from any remote computer without the risk of data being left on the machine.
Lumension Risk Manager
Key features: Lumension Risk Manager is software that automates audit workflows, aligns controls with policy requirements, and remediates risk areas. It also automates compliance and IT risk management workflows by providing necessary visibility of people, processes and technology across the entire organization to measure and report against internal and external mandates. It provides a view across more than 400 global regulations, mandates and internal policies.
Arcot's Device DNA
Key features: DeviceDNA is a patent-pending alternative to cookies, flash objects and other traditional device-identification techniques. DeviceDNA uniquely identifies individual devices - PCs, mobile phones, PDAs - by creating a tagless identifier for each one by combining a number of identification factors on each device. Arcot will license DeviceDNA at no charge.
Fortinet's FortiAP-210 and FortiAP-220
Key features: These 802.11n wireless access points work in conjunction with Fortinet security appliances to extend network security to wireless devices. The 210 features a single radio and the 220 supports two. Both devices have internal antennas to discourage vandalism. They support a wireless intrusion prevention system and can be managed from the same console used to manage Fortinet's security appliances.
NeoAccel's NeoCloudSafe
Key features: This software protects data in motion and data at rest within physical machines or VMware or Citrix virtual environments, where it controls the client security check to authenticate users, ensure client device security compliance, and prevent data leakages; sets up and encrypts the remote access tunnels; and provides granular access controls to cloud application servers. For data at rest, it encrypts all the data stored on the cloud application servers so that only the authorized users will be able to read the decrypted data. The software support Windows, Macintosh, Linux and smart phone clients as well as application servers. Further pricing: 1,000 concurrent users, less than $60,000.
Astaro RED (Remote Ethernet Device)
Key features: The new standard in branch office security offers complete and centrally managed UTM security, which is setup in minutes without requiring any technical skills at the branch. More info.
AppRiver's Akamai-optimized hosted Exchange
Key features: For fast, reliable, and secure e-mail on-the-go, AppRiver has introduced the only Akamai-optimized hosted Exchange solution that improves mobile e-mail performance by 50%.
Astaro Mail Archiving
Key features: Astaro's hosted service for e-mail archiving is set-up in 15 minutes, offers unlimited storage and an intuitive Outlook plug-in which lets users find messages in seconds. More info.
ThreatRadar
Key features: ThreatRadar is a unique add-on security service for Imperva's SecureSphere Web Application Firewall (WAF) that provides an automated defense against automated attacks. By integrating credible, timely information on known attack sources into the WAF defense, ThreatRadar can quickly and accurately stop traffic from malicious sources before an attack can be launched. More info.
IPsonar 5.0
Key features: IPsonar 5.0 combines advanced policy management, reporting and analytics with the ability to map every enterprise asset, including unauthorized assets, in order to properly evaluate and address network security risks. More info.
Copyright © 2010 IDG Communications, Inc.
Next Up: Check out these related slideshows